No Comments
Fantasy Football Weekly Preview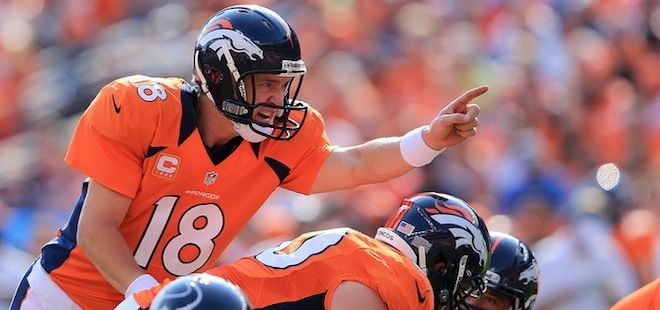 I never thought I'd be SO HAPPY to have the regular officials back, but after watching countless replays of the "Inaccurate Reception" from Monday Night, Ed Hochuli and his traveling gun show I'll be a sight for sore eyes this weekend.  I hope everyone read last week's column and followed my advice, as there was a minimum of 100 points scored between the players I recommended you take a look at.  If you branched out on your own, it's okay, I'm not offended.  We've just met and trust takes a long time to build.  Let's just hope that you come around before your fantasy football team is mathematically eliminated from play-off contention, eh?

Week 4 brings with it our first round of teams on vacation, enjoying their bye weeks.  This is when your ability to find players deep on your bench or on the waiver wire who can contribute becomes so important.  If you can replace your starter with someone who steps in and performs for only one week, those points can be the difference between winning and losing and, by result, participating in the play-offs or watching them as a bystander.  Let's take a look at the picks.
Week 4 Picks
Quarterback
Ryan Fitzpatrick – There's a lot of reasons to like Fitzy:  Harvard educated, a 7th round draft pick made good, a truly manly beard.  These are all fine and dandy but I am highlighting Mr. Fitzpatrick this week due to his match-up with the New England Patriots.  Joe Flacco just got finished torching them for nearly 400 yards and 3 touchdowns, and that's a team with a solid running game.  With the injury problems the Bills have been hampered with at the running back position, the Bills are going to have to throw.  A lot.  I like Fitzpatrick for 300+ yards, 2-3 TDs, but 1-2 INTs to go along with it.
Running Back
Ryan Williams – It's never of a matter of if Beanie Wells will get hurt, but when.  That when was week 3 this year and now Wells is sidelined until at least November 25 with a turf toe injury.  The Dolphins have a good run defense, so don't expect numbers like Jamaal Charles put up last week, but as the sole ball carrier on a surprising 3-0 Arizona team, I like Williams for 80-100 yards, a few receptions, and 1 TD either on the ground or through the air.
Wide Receiver
Denarius Moore – Raise your hand if you had the Raiders down for a top 10 passing offense through the first few weeks of the season.  No one?  I thought so, but don't let that stop you from showing up late to the party.  With Darrius Heyward-Bey severely questionable for Sunday's game due to the horrifying hit put onto him by the Steelers last week, Moore now steps up as Carson Palmer's #1 option and I expect him to deliver a solid game.  The Broncos defense isn't scaring anyone and has given up a combined total of 8 passing touchdowns so far this year.  I like Moore to find the endzone and haul in 6-7 passes for 60-70 yards.
Tight End
Kyle Rudolph – Christan Ponder and the Vikings out-49ered the 49ers last week and in the process, showed off the weapon they have at tight end.  There's no question that Percy Harvin and Adrian Peterson are the most fearsome weapons on the Vikings, but when they get down into the redzone, I like Rudolph to be the target Ponder is looking for.  With two touchdowns last Sunday, he will certainly garner a bit more attention from the Detroit defense, but at 6'6″ and 258 pounds, I'm not sure exactly what they can do besides hope he doesn't hurt them too badly.  Another score for Rudolph with 5 receptions for 50 yards this week.
Injury Report
Don't get caught having an injured player in your starting lineup.  Not only will you be incessantly mocked by your fellow owners, but having a 0 on your box score is going to present a serious hurdle to winning your match-up.  The following players are either confirmed out or looking at the always terrifying game-time decision.
QB:  Matthew Stafford
RB:  Fred Jackson, CJ Spiller,  Beanie Wells, Matt Forte, Willis McGahee, Peyton Hillis, Reggie Bush
WR:  Laurent Robinson, Julian Edelman, Stephen Hill, Darrius Heyward-Bey, Pierre Garcon, Mohamed Massaquoi, Titus Young
TE:  Kevin Boss, Aaron Hernandez, Dustin Keller, Jared Cook