No Comments
Week 5 Fantasy Football Preview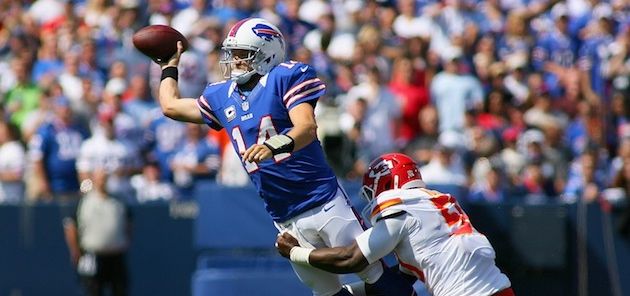 I'm sure that, like me, some of you were bitten by the monsters that were masquerading as the San Francisco and Chicago defenses last week.  Sometimes you just have to throw your hands up and remember that fantasy football is a cruel, unapologetic beast, and that's on a good day.

On a bad day, you watch Brian Hartline put up more points than your entire running back corps combined.  Luckily, I watched this tragedy through the perspective of a friend of mine, but we've all been there at some point.  Let's take a look at week 5 and see if we can insulate ourselves from such heartbreak a little better.
Start Em!
Quarterback
Christian Ponder – While the Vikings may not continue their NFC North leading ways, this week's match up against the Titans should provide Ponder with an opportunity to do some damage.  With Adrian Peterson in the backfield, teams are forced to respect the run and that has allowed Ponder to exceed expectations through the air so far this year.  Ignore last week's performance, start Ponder, and enjoy 250 yards, 2 TDs, and another 20-30 yards rushing.
Running Back
Ben Tate – Don't worry Arian Foster owners, your prize stallion isn't hurt.  The Jets are a hot mess right now and just gave up 245 yards on the ground to the 49ers.  While no slouches in their own right, nobody runs the ball like the Texans and I'm looking for both of their feature backs to tally 100+ yards and find the endzone.
Wide Receiver
Dexter McCluster – Matt Cassel is playing for his job and defenses are going to focus their coverage on Dwayne Bowe.  Someone has got to catch passes and I believe that someone is McCluster, at least for this week.  After falling off a bit from his week 1 performance, I expect a rebound now that he's looking healthier than weeks' past.  I like a lot of quick passes headed his way, resulting in 8-9 grabs, 70 yards, and maybe a score.
Tight End
Jermaine Gresham – The Bengals are out to prove that last year was no fluke and have been throwing the ball at a top ten clip.  Miami is normally stout against the run and this will force Andy Dalton to turn to his receivers, and there is no bigger target than the 6'5" 260lb Gresham.  5 catches, 60 yards, and a score.  Mark it.
Sit Em!
Quarterback
Ryan Fitzpatrick – Last week I told you to slide the Harvard grad into your lineup and he rewarded you with 300+ yards and 4 TDs.  This week?  Avoid, avoid, avoid.  The 49ers are a far more daunting defense than what you'll find in New England and, while the interception total may remain the same, there's just no way he puts up any sort of effective numbers against Patrick Willis and friends.
Running Back
BenJarvus Green-Ellis – History was made earlier this season when the Law Firm fumbled for the first time in his career.  Dreams were shattered, people started questioning other sure things, death and taxes included.  I don't think he repeats the feat this week, but the Dolphins are stout against the ground attack and will overrule any objections made by BJGE to the contrary.
Wide Receiver
Reggie Wayne – The Packers need to right the ship and I think they get themselves back on track at the expense of the upstart Indianapolis Colts.  Already tough against the pass, I expect Clay Matthews to force Andrew Luck into some rookie mistakes and for Charles Woodson to capitalize on them.
Tight End
Brent Celek – An impressive performer so far this year, I don't see Celek being very productive against the Steelers , who may be getting James Harrison back.  The Eagles have been riding some good fortune to victory this year, but I believe that ride is going to come to an end as the Steelers make a statement in this matchup.