One Comment
Porch Sessions: Meet Your Brewer John Fiorilli Vine Street Pub and Brewery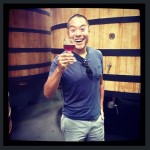 Porch Sessions are meant to take you behind the scenes of your favorite breweries to meet the people who make your beer possible. This week we were lucky enough to hang with John Fiorilli the head brewer of Vine Street Pub and Brewery.
John became Vine Street Pub's head brewer in July of 2009 but his partnership with the parent company extends all the way back from 2000-2003 where he first worked as a manager at Mountain Sun in Boulder. It was there that John began cultivating his interest in brewing.  He would go on to brew at Stewart's Brewing in Bear, Delaware and Flying Fish Brewing in Cherry Hill, NJ before returning to the Mountain Sun family.
PD: What is your philosophy when it comes to brewing?
John: There are no ways to cut corners when producing good beers.  Brewing is all in the details.
PD: What do you listen to when brewing?
John: It's funny because every beer has it's own music. For example when brewing our Blackberry Wheat I always listen to hair metal. The only beer we don't allow music for when brewing is our Nitro Old School Stout. Brewing is part science, part art and part alchemy. At our last brewery we had a section on our brew sheet to write down what we were listening to while brewing that specific beer.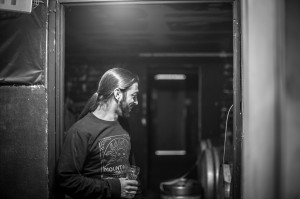 PD: What is your favorite offering for this year's Stout Month?
John: Hands down it has to be the mutual respect collaboration with Odell Brewing, a Belgian Coffee Imperial Stout.  I've been drinking Odell for over 15 years and when their employees elected to collaborate with us, it was extremely flattering.
PD: What is the weirdest thing you've heard from your customers?
John: Oh gosh I hear lots of different things.  Mostly positive but there are also people who aren't afraid to flat out say that my beer sucks or offer suggestions on how to improve it.  I've also heard that our beer tastes like tuna… that was weird.  But I try to take it all with a grain of salt.
PD: What do you love most about working for Mountain Sun?
John: I love that our owners have full trust in our brewing and that there are not financial constraints when it comes to what we're trying to do.  That allows us to work with the best quality ingredients available.
PD: What do you see for the future of the Mountain Sun family?
John: Mountain Sun is all about organic growth. If our brewery and restaurants continue to see the success that we've had thus far I wouldn't be surprised if there were a fifth location within the next five years.
PD: Any surprises we can look forward to in the near future beer wise from Vine Street?
John: The strongest beer we've ever created is close to being ready.  It's a 13.1% Raspberry Honey Super Saison.  I love the idea of looking across the bar and seeing grown men drinking a pink beer from a wine glass.