No Comments
Jack's Abby Brewing | Leisure Time Lager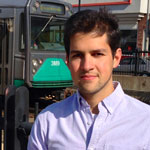 By the time this weekend comes around I will have written close to 5,000 words on beer, interviewed the head of the "best brewery in the world" [1], driven over 500 miles visiting breweries, and taken more pictures of pints than I care to admit. I love doing this, but even the best things can be exhausting, especially since those numbers only scratch the surface of how much thought I try to put into every post and that is not easily quantifiable. Yes, it's beer and beer is great, but it's also writing and writing is hard. At the end of the "day," which seldom is only 24 hours, my brain needs a quick reboot. After years of highly scientific research, I've come up with the perfect reset button: a good, long run and a bottle of the adequately named Jack's Abby's Leisure Time Lager.
I live right by an offline water reservoir, which is only appropriate since running by the water takes me offline more efficiently than anything else. It is especially pleasant in the summer since it's a little windier up there and the water helps keep the temperature down a little bit. But that's only part of the ritual. A post-shower, cold, simple, enjoyable beer is just as important. Leisure Time fits that model perfectly.
This extremely enjoyable wheat beer may be uncomplicated, but that is not a bad thing. All that I mean is that Leisure Time does not make you work very hard for a reward, and I truly appreciate that after days of thinking how to write about all the complicated layers some beers have and how they all fit together, or not. It is a beer that anyone who has ever enjoyed a cold one on a hot day will agree is a beer and an enjoyable one at that, no expertise or thought needed. Comparisons to Tim Duncan and minimalist, basic but excellent style come to mind.
Jack's Abby's bottles – which are all lagers – hold .5L[2]and pouring them into steins is the way to go. Leisure Time forms a nice, frothy, bright white, thin head that retains for a surprisingly long time. Wheat and malt mostly dictate Leisure Time's aroma, with some very delicate grassy and peppery notes coming in at the end. It taste like no other wheat beer I have ever had[3], which is a very good thing. Yeah, you get a little bit of that wheat beer sweetness up front, but right after that you can taste incredible pops of floral hops, orange, citrus and lemongrass that just keep developing and inviting you back after every sip. Since Leisure Time is light bodied, perfectly carbonated, and finishes with a very soft bitter taste it's tough to know when to stop drinking it, especially since at 4.8% ABV, it will be a while before you feel it in your head.
The original "Leisure Time" was an ice company, owned by the father of Jack's Abby's founder, and it is easy to see why they named this beer after him. Like a bag of ice in the summer heat, it is a very simple and essential pleasure. It cools your body and refreshes your mind. Just pour it into a glass and enjoy your Leisure Time. You earned it. Or at least I know I did.
---
[1]I am very very very excited about this. But I also feel like just setting it up took years of my life, as evidenced by the fact I constantly referred to June 5th as May 5th and overall cam across as the most ackward man on earth. Go me!
[2] It's not unusual for collectors of glassware to have 1L+ steins and it's not unheard of for multiple bottles of Jack's Abby to be poured into those. But that's a little too much for me.
---