No Comments
Evil Twin Molotov Cocktail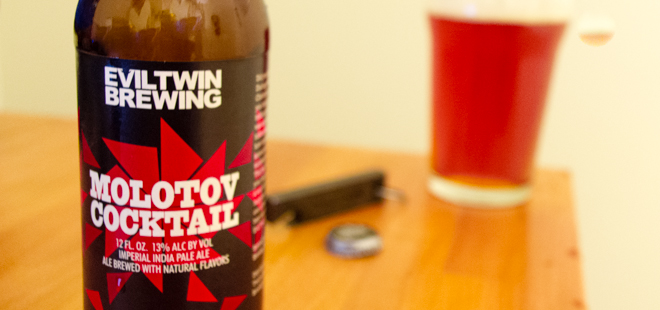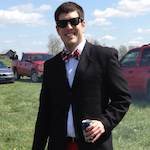 Evil Twin Brewing Company – Molotov Cocktail Imperial IPA
ABV: 13%
IBU: All of Them
This is going to be a bit confusing to those of you who are not familiar with my apartment, ok, well, that makes all of you – but I can smell this beer from my kitchen. I opened it, poured it, and ran to the kitchen to grab a snack. It's a long way from my office to my kitchen, at least 40 feet. And there are walls…like a bunch of walls, at least 2, maybe more (counting becomes difficult somewhere between the 1st and 2nd Molotov).
It's not a bad thing, quite the contrary – I'm a hop head to the fullest extent, but in honesty, I'm a bit ruffled by this one. There's a malty sweetness on the back end of the nose, but its subtle, open a pack of cherry Fun Dip and you smell the cherry powder, not the dipping sticks. The first taste drenches your mouth with the sweetness of eating an entire pack of grape Fun Dip all at once. Then, THWACK, the front of your tongue gets cut with the sharp sourness of eating a pack of sour apple Fun Dip with a razor blade. This soon levels off into the bitterness of a glass of Campari (rimmed with blue raspberry Fun Dip, of course). It's really got the full package of a first rate IIPA, everything a beer drinker could want.
The astute (and sober) reader would note that this beer has 13% alcohol. That's a lot. Even for an IIPA. One of my favorite things about this beer is that, other than the sweetness, there is no indication that it is a double digit bruiser. It challenges you with a sour sweetness then lulls your tongue back to sleep with a bitter, hoppy tummy rub. All the while, you've just put back enough alcohol in one glass to make that day old slice of Domino's on your coffee table look downright delicious (or 4 Fun Dip puns in 1 paragraph seem funny).
My first thought for the prototypical IIPA is Bell's Hopslam, or maybe Avery's Maharaja. These take standard IPA favors and amplify them like so many speakers at a Def Leppard concert. And they are great. But Molotov is different; it takes those IPA flavors and makes them into a bizarro world version of themselves, like Elliott Smith opening that Def Lep concert playing "Behind the Bars" at full volume on a Les Paul. Everything you love, amplified to obscene volumes in combinations you never thought possible.
Some great things come in the most unexpected packages. They seem too fantastic to be true. For example, did you know the bouncy castle was invented by Hitler's 2nd cousin? Or that bears are the 2nd leading cause of non-disease related death in Norway (behind automobile accidents)? Some things are easier to believe than others, but I do wholeheartedly believe that I'll have another Molotov Cocktail.