No Comments
Happy Hour Post | Anheueser-Busch Acquiring 10 Barrel Brewing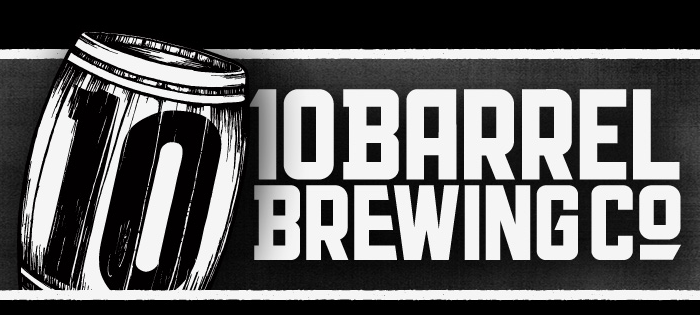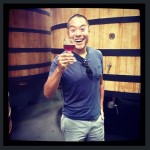 Well it was one of those crazy craft beer news days yesterday where everything seemed the happen at once, which brings us to another edition of the Happy Hour Post (yes this is going out a bit early but HH can start whenever, lets be real). But as per tradition before we get to the big beer news of the day we'll kick things of showcasing something totally non-beer related.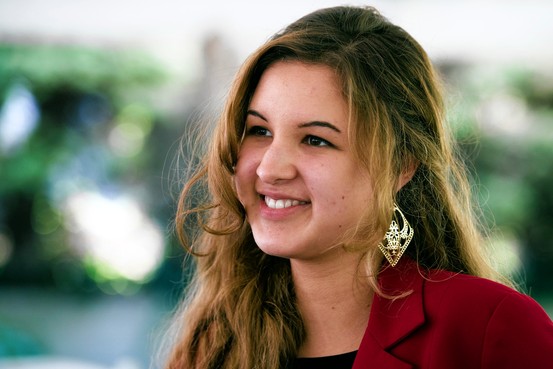 West Virginia, in true West Virginia fashion, elected an 18-year-old WVU freshman, to represent a small district in the eastern panhandle in the state legislature. Saira Blair, who's parents apparently couldn't figure out how to spell Sarah correctly, edged out Democrat Layne Diehl, a 44-year-old Martinsburg attorney by a vote of 63% to 30% proving just what happens when you vote straight ticket along party lines. Blair a fiscally conservative republican becomes the youngest state lawmaker in the country. The verdict is still out on when Saira will announce plans to open Ice Town a la Ben Wyatt from Parks and Recreation. Now on to the news…
Anheueser-Busch Acquiring 10 Barrel Brewing
The big story yesterday broken by Brewbound, was the announcement of Anheuser-Busch acquiring 10 Barrel Brewing out of Bend, OR. The purchase marks AB Inbev's second craft brewery acquisition of the year following their purchase of New York's Blue Point Brewing back in February, and adds to their portfolio which already includes Goose Island in Chicago. if you aren't familiar with 10 Barrel Brewing, this is kind of a big deal. The Oregon based brewery was one of four breweries to earn 3 medals at this year's Great American Beer Festival, tied for the most medals won by any brewery in attendance. This year they are on pace to sell approximately 40,000 barrels of beer. AB's acquisition also includes their brewpubs in Bend, Boise, and their upcoming brewpub in Portland, OR.
There are generally two ways to look at this acquisition. The first, which happens to be the initial viewpoint of most in the industry bemoaning another quality craft brewery falling victim to the big beer titan. Fans of 10 Barrel have raised concern that the brewery would begin declining in quality. That their beloved producer of Apocalypse IPA had sold out and bro-ed down as so eloquently stated by Cartman in South Park.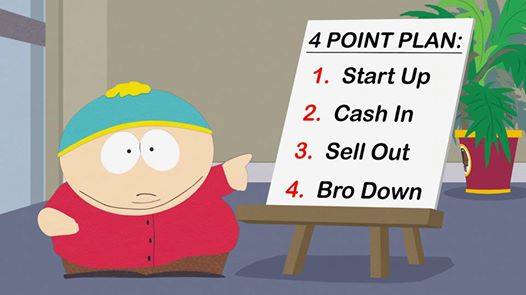 I think selling out is a legitimate concern within the industry, as you'd hate to eventually see prominent mid sized breweries like Bells, Revolution, Allagash, Prarie, or Upland all become subsidiaries of Anheuser-Busch. But is the real concern over quality or over the idea that your local craft brewery no longer remains independently owned?
If the question falls on quality we should take a closer look at how Goose Island as a litmus test of how AB plans on approaching major craft brewery purchases. If Goose was any indicator, this acquisition will only help make 10 Barrel more accessible, and give their team more resources to do what they do best, brew quality beer. Since Goose Island was purchased in 2011, they've been able to expand their barrel aging series with the likes of Gillian, Halia, Lolita, and Juliet, as well as a number of spinoffs of their Bourbon County series.
All About Beer Magazine also raises a valid point that over the past few years, 10 Barrel Brewing has been able to lure brewers Jimmy Seifrit from Deschutes Brewery, Tonya Cornett from Bend Brewing Co. and Shawn Kelso From Barley Brown's, assembling a veritable dream brewer team. It would be foolish for AB to stifle that kind of talent.
Check out the video from founders Jeremy Cox, Chris Cox, and Garrett Wales
Firestone Walker Announces 2015 Release Dates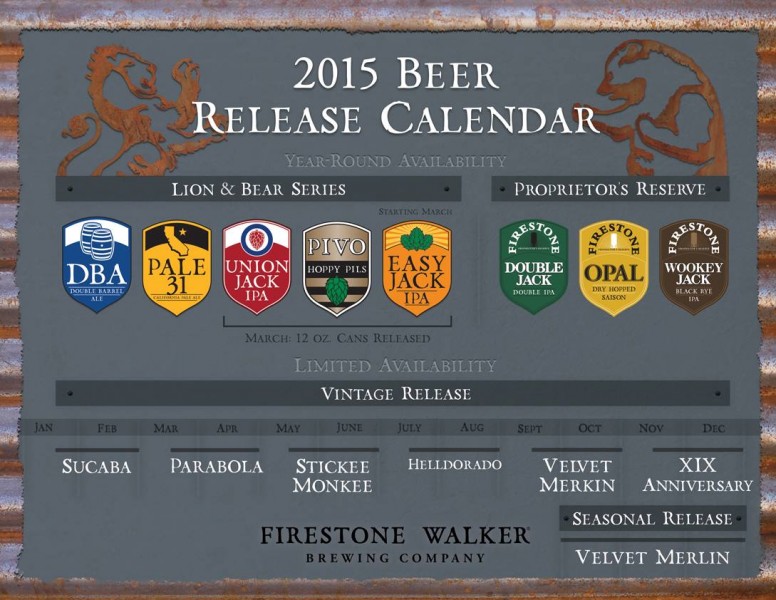 The major items of note include Firestone Walker's can releases of Union Jack IPA, Pivo Pils and Easy Jack IPA, and Helldorado replacing Double DBA. However, seeing graphics like this just remind us all just how solid the Firestone Walker portfolio is from top to bottom. Seriously is there any drop off with their vintage series? No.
Minneapolis Repeals 70/30 Rule
There are some truly bizarre pieces of legislation still out there regarding beer, and Minneapolis happened to strike down one of the more absurd ones on election night. The previous charter stated that neighborhood restaurants had to make 70% of their revenue from food sales and only 30% could come from alcohol sales, because that makes all of the sense in the world. At a resounding vote of 84% Minneapolis residents voted that this law made absolutely zero sense and we're now all better for it!
Ommegang Announces New Game of Thrones Beer Three Eyed Raven Dark Saison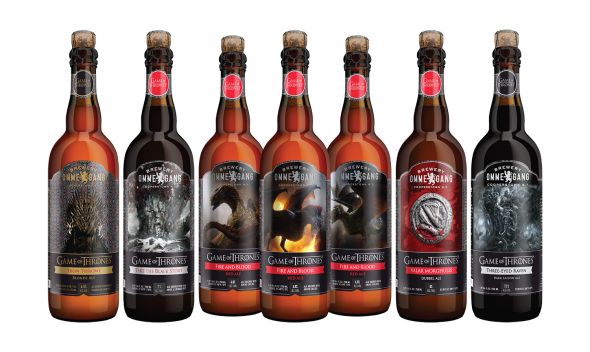 Three Eyed Raven, thee latest in Ommegang series of GoT themed beers was announced yesterday. The Dark Saison will weigh in at 7.2% and will join previous releases based off the HBO show and George RR Martin novels, Iron Throne Blonde Ale, Take the Black Stout, Fire and Blood Red Ale, and Valar Morghulis Dubbel Ale.
As season four wound down, the storyline of Bran and the three-eyed raven reached a shocking climax that portends dark and momentous events in store for the people of Westeros. A dark take on the classic saison style seemed most appropriate for the latest beer.
"A dark saison is a style that we've been intrigued with for a while now and one that's open to a broader stylistic interpretation," said Mike McManus, Brewery Ommegang's Innovation Manager. "When we zeroed in on Bran's storyline with HBO, we knew this was the perfect opportunity to brew something with many different characteristics and attributes – a beer that's not truly one thing or another. It is definitely the most unique beer in the series to date, which is very exciting."
Three Eyed Raven will be released this coming spring.
Deschutes Zarabanda Collaboration with Chef José Andrés Hits Stores This Month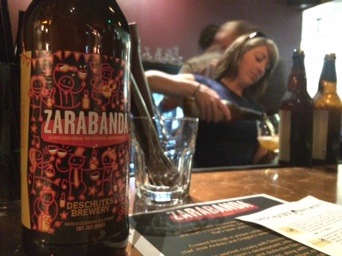 Forget David Chang and his craft beer hating palate (but really David I love you… err your cooking). Renowned Chef José Andrés has teamed up with Deschutes Brewery to create a beautifully complex, spiced Saison. I personally had the chance to try a taste during this year's Great American Beer Festival and it's a phenomenally refreshing yet constantly evolving take on the Saison style. Zarabanda hits store shelves this month and I'd grab a few fast as they'll be gone in a jiffy!
A Few Other Stories to Catch Up On!
Good People Brewing Brings Great Beer to the South
Beermiscuous Revolutionizes Beer Bar Scene in Chicago
Urban Family Brewing's Baby Cakes Allows Us to Examine the Finer Points of Nicholas Cage