No Comments
Roundtable Discussion | Epic Marriage Proposals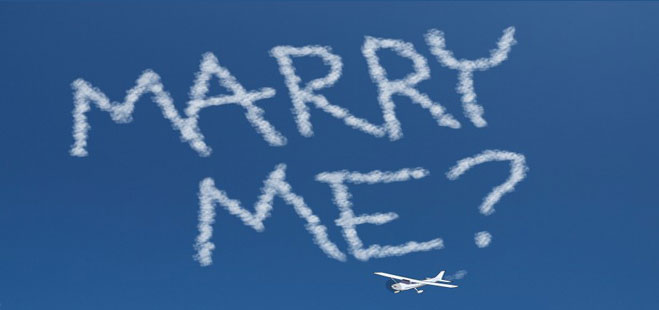 In the build-up to Valentine's Day, we asked the PorchDrinking team to share some of the most epic marriage proposals they've seen, experienced, or heard about. As it turns out, "epic" can take on more meanings than one…Whether you love the holiday or hate it, you'll find something in here to set the mood you're looking for. Read on for tales of heart-melting romantics to public displays of rejection and everything in between.  Feel free to share your own "epic" marriage proposal stories and/or links in the comments below.
The man who proposed to his girlfriend inside a heart-shaped arrangement of 99 iPhones and was promptly rejected. Epic fail!
---
Not really a proposal but recently read a story of a heart transplant recipient who falls in love with his donor's sister.
---
My friend was proposed to in a helicopter over Epcot during the fireworks show in Disney World. Most epic of my friends at least!
---
I am going to be self-centered here. I was proposed to at DCA, where my now-husband and I met. Right near the American Airlines counter. We were flying to see my family, so I celebrated all weekend with them.
---
I'm a little biased… but Brian made a bunch of time capsules that we buried together in all our special places around Oxford before an alleged "Pi Kapp Alumni Event." Little did I know there was no alumni event, but instead he proposed to me on the top floor of the architecture building (where he had returned my "check yes or no" note with a new box marked "absolutely" many years prior)… Turns out all those Pi Kapps (and about 40 of our other friends and family) had traveled from all over and were waiting uptown for us at a surprise engagement party, followed by the obligatory Oxford pub crawl. We were long distance for many years, and Oxford was the only place we both called home that was the same… Naturally we were married there two years later, and Tristan was our epic DJ! My wedding gift to Brian was our names etched on the bicentennial wall next to one another at the new student center, which will serve as our "public" time capsule.
---
I've not proposed myself so I need to live vicariously through YouTube on this one. I think my favorite there is the back of car choreographed and lip-synced proposal that involved all the couple's friends. (Link in case you don't remember it and think I'm crazy: http://youtu.be/5_v7QrIW0zY)
---
Zhang ziyi just got engaged and her proposal featured a drone carrying a white basket with the ring. Not sure if that's romantic but drone usage is a step up.

My friend was proposed to in the middle of a glacier in Alaska after hiking and kayaking for like 3 hours to get to it. I would have been TERRIFIED as a guy to bring a ring on that trip for fear of losing it. Definitely a pretty spot though.
---
I hope there was a video or photos of that Alaskan proposal. Sounds epic!
---
I did it at sunset on the helicopter deck of a cruise ship as the boat pulled out of the bay in St. Maarten with a photographer secretly documenting it. Pointed at the sun as it was going down, she turned to look at it, when she turned around I was on one knee.
---
I proposed to my best friend, Abby, a million times in Vegas. Although I thought it was amazing, she rejected me every time
---
So this is appropriate haha…10 Winning Ways To Propose