No Comments
Event Preview | BrüFrou 2015

The Soft Sell: Hey, remember when you said you liked old hangars and culinary prowess unprecedented and sultry suds more than anything in the whole wide world? You should totes go to BrüFrou Beer + Culinary Pairings 2015 at Wings Over the Rockies Museum at the end of April. You'll love it!
What to Expect: Building upon the local celebrations, BrüFrou elevates craft beer to the next level by pairing it with culinary excellence. On April 25th, PD and crew invite you to join Coloradoans-in-the-know for this palate-pleasing party that is held in this wicked cool hangar with a bunch of breweries you love and maybe some that you haven't had yet but will love soon. Then, they add some bomb-ass, dank-ass nosh to go with it. For an idea of what you can look forward to, check out my recap of last year's event. As I have said before, the addition of food to a beer event is a no-brainer. It definitely helps keep all of the patrons in check with the unlimited pours of beer.
In their second year, BrüFrou has upped the ante and afforded a limited opportunity for 90 attendees to experience fun insights from the super talented brewmaster & chef partners before the festival with their TastyTålks. The 90-minute session will include a beer & food tasting plus open Q&A discussions and the TastyTålks ticket gives patrons a 30-MINUTE EARLY ENTRY to the 1pm Afternoon Tasting Session.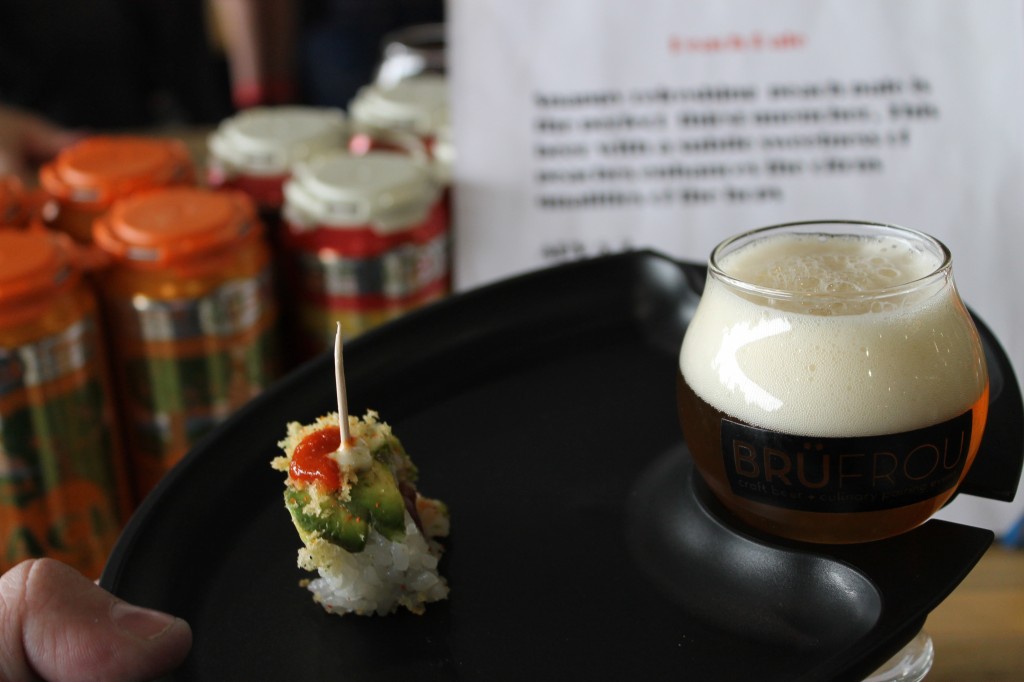 Brewery + Eatery Index:
When: Saturday, April 25, 2015 – 11:00am – 12:30pm TastyTålks, 1pm – 4pm Afternoon BrüFrou Session, and 5pm – 8pm Evening BrüFrou Session.
Where: Wings Over The Rockies Museum
7711 East Academy Boulevard, Denver, CO 80230
(303) 360-5360
Price: $95 FULL PAIRING Ticket, $65 DINING ONLY Ticket, $130 Full Pairing + TASTYTÅLKs, $100 Dining Only + TASTYTÅLKS.
The Hard Sell: Just kidding. I don't need to hard sell you on this. There is over 80 Colorado Brewers & Chefs collaborating on 50+ Unique Pairings in ba-dass ol' hangar.
Let BrüFrou [broo-froo] excite your epicurean senses at the Wings Over the Rockies Museum, a WWII-era hangar in the Lowry community of Denver. There are so many pairings that I am looking forward to! But I really think the Black Bottle Brewery and West End Tap House will pull through with another great pairing this year. I think TRVE Brewing and Biju's Little Curry Shop will surprise us in the best way possible. And I can't wait to try the Powder Keg Brewing Company brew paired with Roaming Bull Brasserie! Anyway, I could dote all day on this amazing event, but I must digress, just buy a ticket. You will be glad you did!
For those on the fence still, BrüFrou has created a special promo code worth $20 off each full pairing ticket for all you readers and social media followers—making this an incredible value. Promo code is "wild20" and is case sensitive. Tickets can be bought online at www.brufrou.com.
Enjoy this post? Like Craft Beer? Please consider sharing this post with friends! Also follow us on Twitter at @PorchDrinkingCO or on Facebook.
Cheers to ye and may eternity find us in as good company as this! Stay Thirsty and Keep Denver Beer'd!