No Comments
Fremont Brewing | Cowiche Canyon Fresh Hop Ale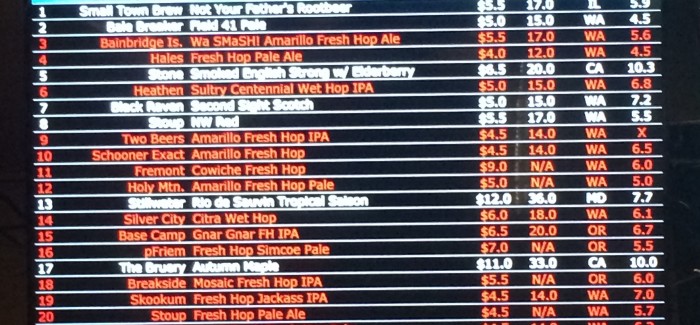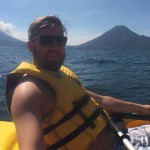 6.0% ABV
Now that we've crossed the threshold from summer into fall, I've found myself thinking about seasonality. Certainly the telltale signs of the change in season are part of it; crisper air, football, and the trees beginning to drop their leaves. But around this time, we also go through a change in the types of things we eat and the flavors we enjoy.
We also see this in our beers. We trade the light and crisp Hefeweizen for darker, richer brews and, of course, all varieties of pumpkin. Now, it's not for me to judge pumpkin or its spices, but I can't help wondering if we've gone a little too far towards crowning it the iconic flavor of fall. After all, I wouldn't be the first to point out that brewers can, and have, brewed pumpkin beers at other times of year. Can't you get a can of Libby's and make a pumpkin pie any time you like? What do nutmeg and cinnamon do the rest of the year? The same cannot be said, however, if you're talking about, as Adam Robbins of Reuben's Brews said, a "real, true seasonal" style, the fresh (aka wet) hopped beer.
Fresh hopped beers are simply that: beers brewed using fresh, versus dried, hops. Hops are generally dried as soon as possible because they are prone to rapid spoilage. This happens so quickly, in fact, that if you want to make a fresh hopped beer, you've got to brew it within 24 hours of harvesting the hops. Since the hop harvest only happens one time per year, I'd call that about as seasonal as you can get.
Through the drying process, the hop flavor changes. You lose some volatile aromas and flavors, you intensify others, and you change even more, so a beer brewed with the dry version of a certain hop side by side with the fresh will be very different; think dried versus fresh herbs. Drying can intensify and concentrate some flavors, but using the fresh version provides an opportunity to showcase either herbs or hops in their entire, and perhaps purest, form.
I'd venture to say no place in the country is more equipped to brew this style than the Pacific Northwest. The vast majority of hops are grown here, in particular in the Yakima Valley of Washington. That's not to say others aren't making delicious fresh hop beers, just that it's probably logistically more challenging for them. So if you're NOT in the Pacific NW and you're finding fresh hopped beers, thank your brewers. The phenomenon certainly seems to have been embraced by the brewers in the region with most limiting their hop bill to varietal or two as a showpiece.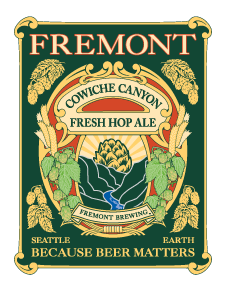 One that truly stands out comes from Fremont Brewing and, as they call them, the "hop-growing wizards of the Yakima Valley". The Cowiche Canyon Fresh Hop Ale is a pale ale built around organic Simcoe and Citra hops. You'd think an IPA would be the format to really highlight hops, but in fact the less intensely bitter fresh hop flavor makes a 6.0% ABV pale ale the ideal choice.
Cowiche pours cloudy and golden in color. The aroma is distinctly hoppy, but only in a way I know from smelling the hops growing in my backyard (and yes, I did homebrew a fresh hopped beer this year!). The flavor is one of an herbaceous greenness, with an underlying earthiness that calls back the summer that's coming to a close versus anticipating the winter around the corner. I suppose I've been conditioned to tolerate double IPAs and could be wrong, but I wouldn't describe this as a bitter beer. Or at least I'd say it's not bitter in terms of a piney, harsh bitterness, but more a grassy, lemony one. The Vienna malt in the brew likely adds to the clean, subtle sweetness that highlights, rather than detracts from the hop profile. It's truly delightful, recognizable as your old friend the pale ale, but pleasantly different at the same time.
I've seen Cowiche Canyon on draft lists, in 12 oz. cans and in 22 oz. bottled form, meaning there's no shortage of options to find the beer, at least in Seattle. If you live here, drink one (I know I have in all 3 formats). If you don't, call a friend who does. Don't have any friends in Seattle? Well, try to be happy for us and I wish you Godspeed on finding a fresh hopped beer in your area. Because really the point of "seasonality" isn't just that it's a traditional time of year consume something. It's about enjoying the hell out of something because you know that, soon enough, it will be gone.
https://instagram.com/p/70wXXgiKCj
---