No Comments
Eff Chicago: A Minnesotan's Impression of the First, Funkiest and Favorite Breweries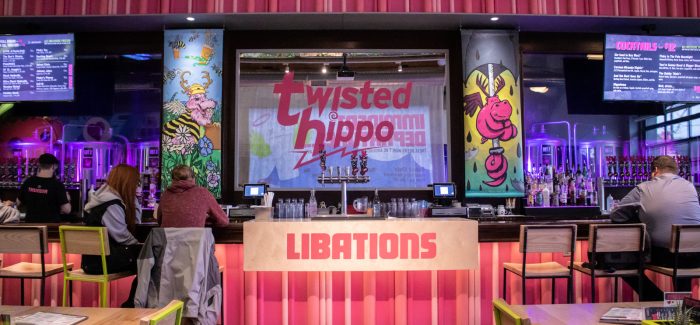 It's been a few weeks now since we made a quick beercation to Chicago and Milwaukee. We thought about compiling all 17 breweries we visited into a single post but decided that wouldn't be any fun for us to write or you to read. We considered highlighting our top five favorite breweries in each city but thought that would be too cliche.
Instead, in a moment of clever wit, we decided to feature three breweries in two posts each — the first brewery we visited, the funkiest brewery and our favorite brewery in each city. We hope you enjoy "Eff Chicago"!
First
The first brewery we visited in Chicago was Mikerphone Brewing!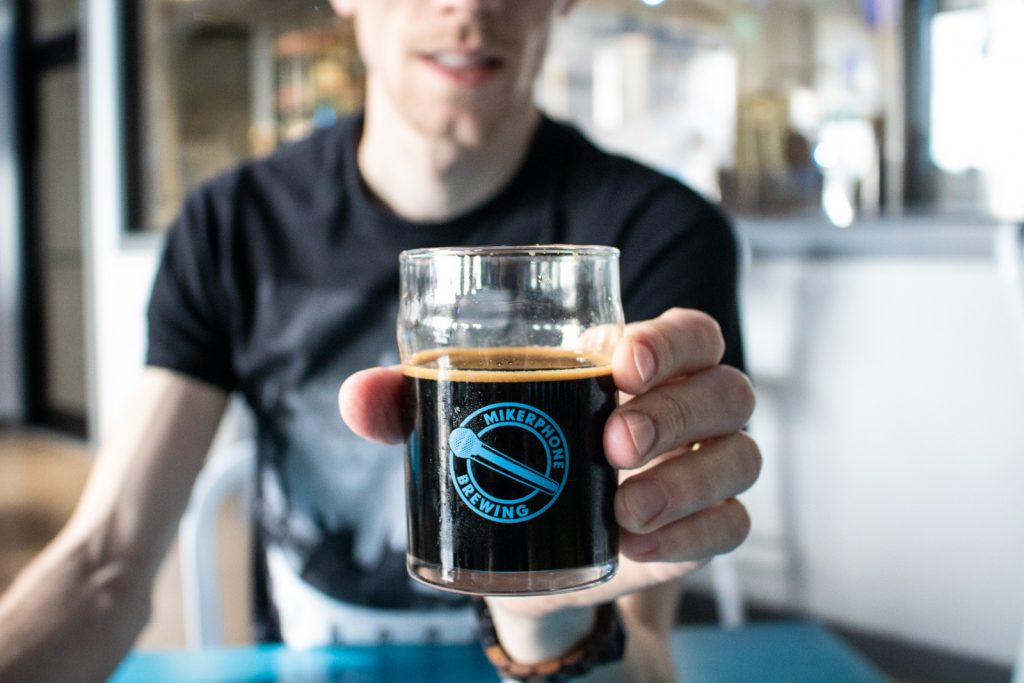 Technically located in a suburb (Elk Grove Village), it was conveniently situated en route to where we would be staying near downtown Chi-town. We'd heard and seen quite a bit of positive things about Mikerphone leading up to our visit — any brewery who collaborates with Madison's Untitled Art must be a great brewery! — and we were excited to visit for ourselves!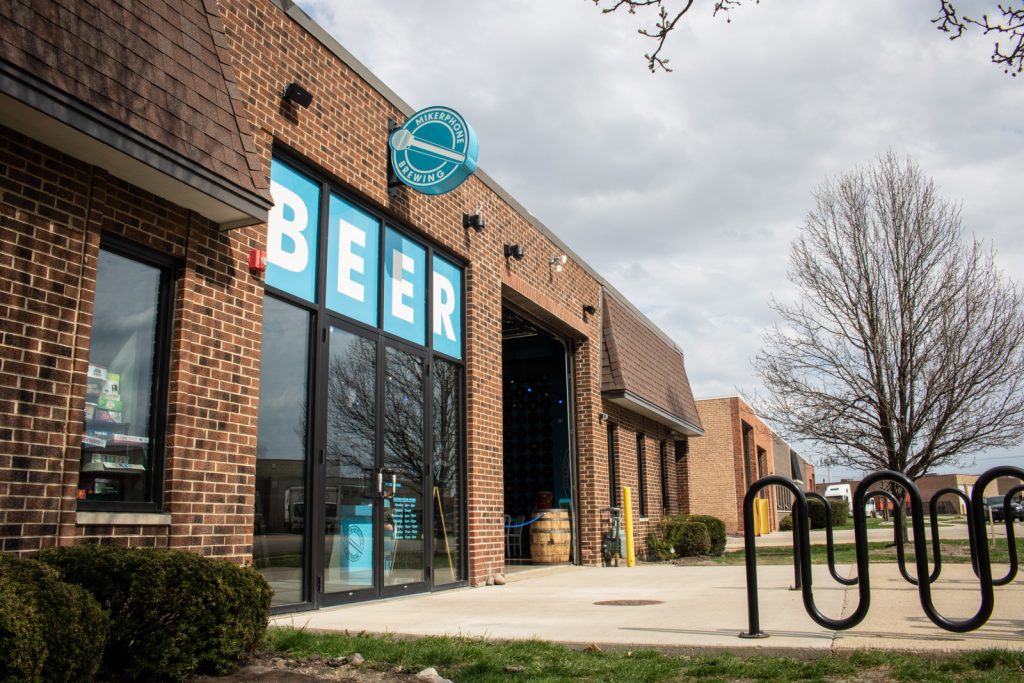 Mikerphone's one of those breweries that fools you. From the outside it's austere and unassuming; but inside is where the party's at!
"Craft beer inspired by music," is Mikerphone's slogan. From beer name to interior aesthetics, that musical influence is definitely evident!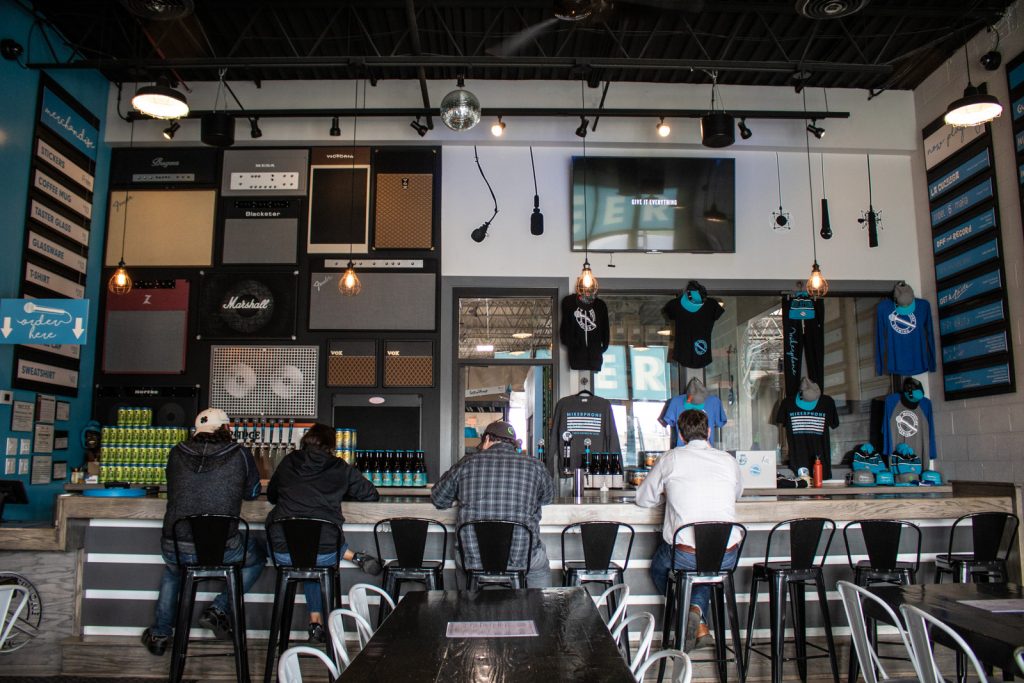 Mikerphone inarguably had some of the most complex beers we tasted in Chicago! With names and flavors like "ANOTHER BRICK IN THE WALNUT" (Oatmeal Raisin Cookie-Inspired Imperial Brown Ale w/Raisins, Walnuts & Spices named after Pink Floyd's "Another Brick in the Wall"), IMPERIAL SMELLS LIKE BEAN SPIRIT(Breakfast Stout w/Maple Syrup & Coffee named after Nirvana's "Smells Like Teen Spirit"), BARREL AGED IMPERIAL SMELLS LIKE BEAN SPIRIT DOUBLE MAPLE & VANILLA (Bourbon Barrel Aged Breakfast Stout w/Tugboat Coffee, Vermont Maple Syrup & Vanilla), and LA CUCALAGA (Mexican Lager w/Lime Peel name after the popular Spanish folk song "La Cucaracha") we felt somewhere between amazed and overwhelmed.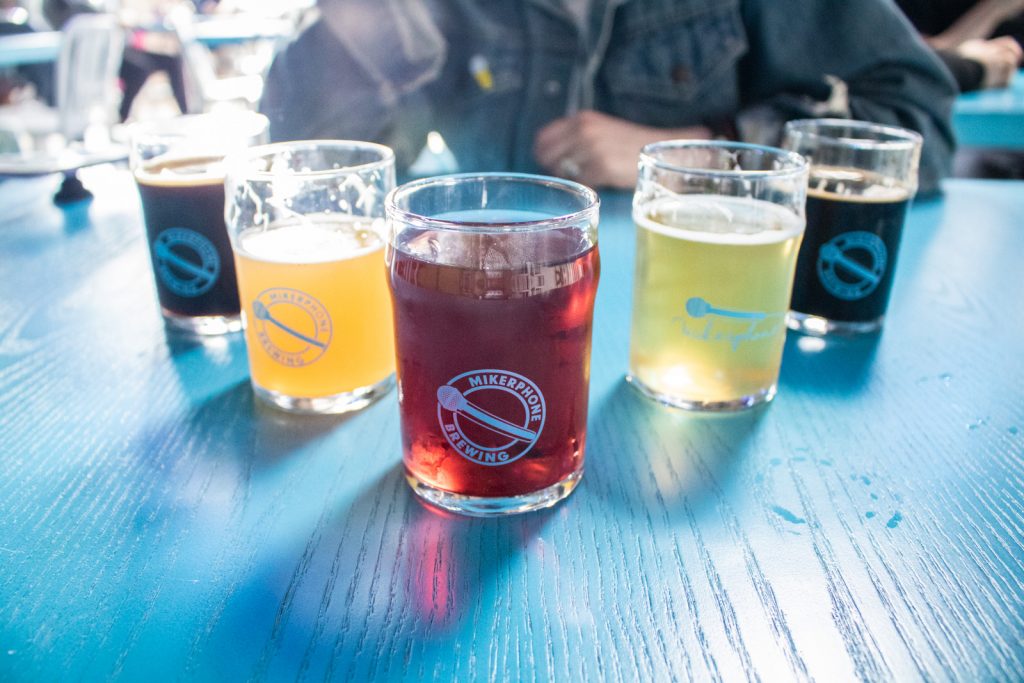 Still, Mikerphone Brewing was definitely worth the stop, a great first brewery to our time in Chicago and a highly-recommended one from us!
Funkiest
From inside out, Twisted Hippo is nothing short of funky!
The brewpub wasn't even on our radar as we planned our visit to the Windy City. But as we passed it on our way to a different brewery, we couldn't help turning around and stopping in!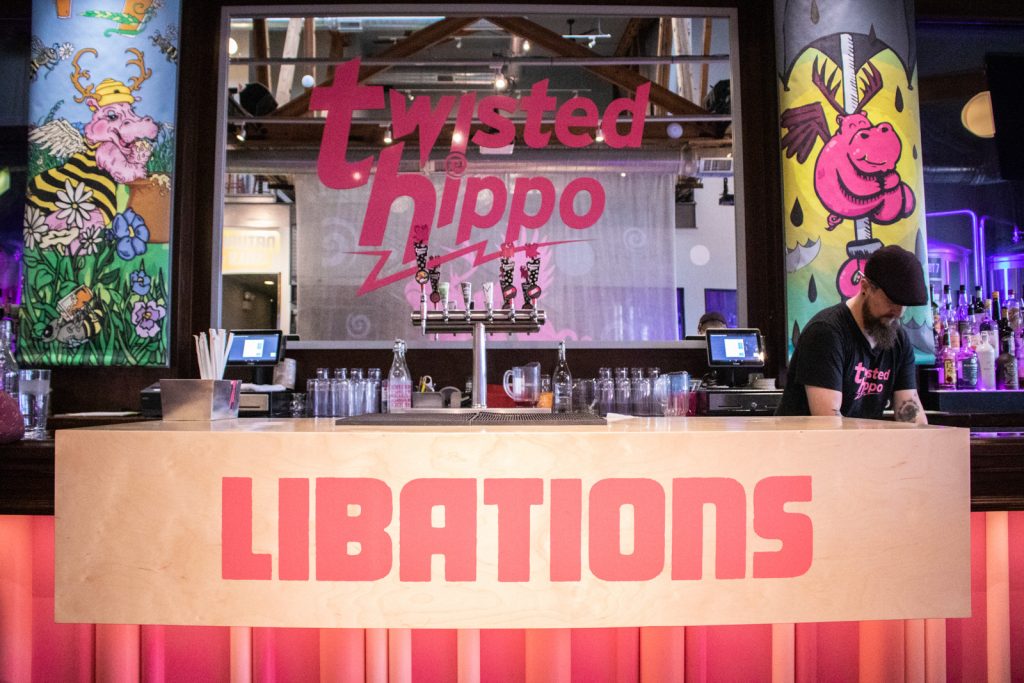 We've certainly seen some bright and colorful taprooms, but Twisted Hippo was next level with it's funky facade, bright pink and lime-green color scheme and bizarrely-likeable, winged, antler-crowned hippo logo.
Had we not just come from dinner and still had breweries to check off, we would have more fully indulged in the funky taplist. Beers like grapefruit Gose; passion fruit Brut IPA; candy bar brown ale and peanut butter, banana and bacon ale definitely made it hard to choose just one!
The menu, too, with options like charcuterie plate, "sandos" (sandwiches and burgers), housemade mac 'n cheese, breaded mussels and more looked delicious; we'll just have to make another trip back!
If funky's your thing, we suggest Twisted Hippo!
Favorite
Our favorite brewery in Chicago was Off Color Brewing.
Off Color was pretty, well, off color. A brewery, it looked, felt and sounded more like a cocktail lounge. The beertender had a nonchalance that surprised us, communicating mostly in noncommittal head nods and half-hearted grunts. The few patrons at the bar seemed uninterested, preoccupied in their work, hushed smalltalk or drinks. Atmospheric lounge music more befitting a speakeasy played softly through the sound system. It was a very odd taproom experience, to say the least.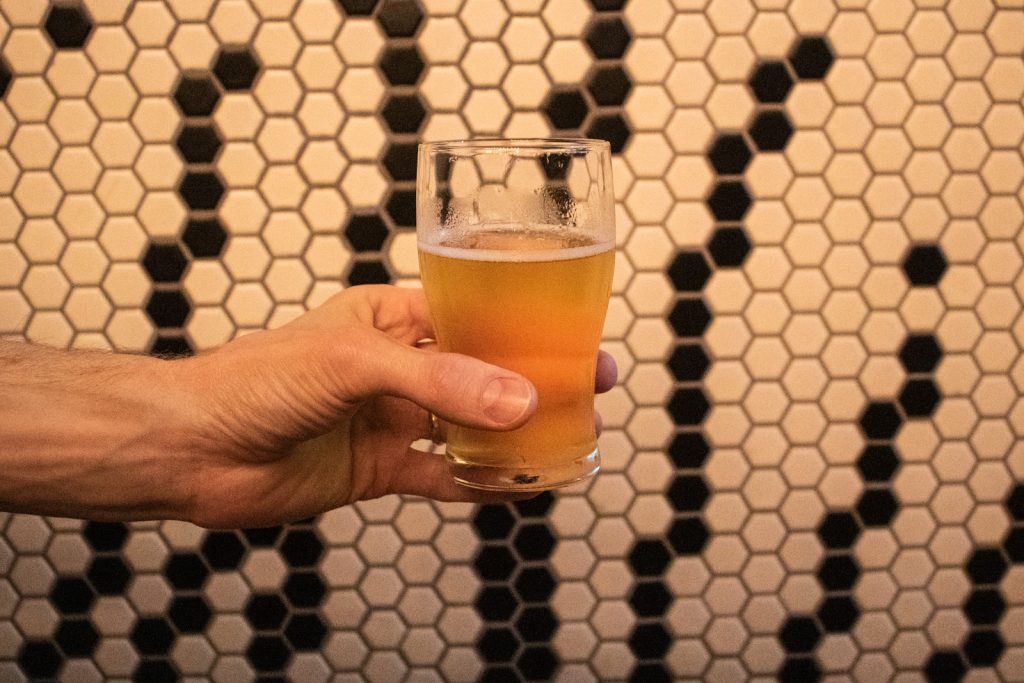 Then again, maybe we shouldn't have been surprised. "We brew beer," reads their website. "Sometimes we do other stuff, but not as well." You have to appreciate their candor! The rest of their website is equally listless; the FAQ's section is almost laughable with questions and answers like "What's that thing called?" "It's a science tube" and "Why did you do [insert thing here]?" — "We were probably drunk". Still, if beer is the one thing Off Color claims to do well, we'd have to agree!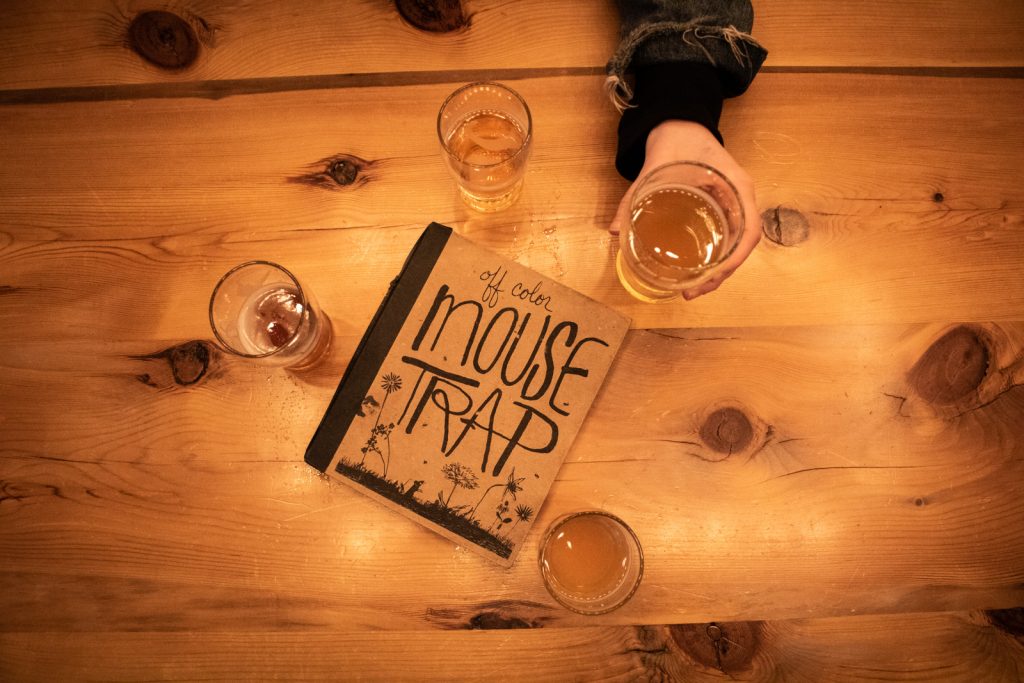 Off Color's beer reminded us of why we fell in love with craft beer — the OG saisons, farmhouse and Belgian-style ales, and Berliner Weisses took us back to our first "Woah, that's really good!" beer moments. The taplist included a number of other options including fruity ales, goses, stouts, lagers and table beers though we were more than happy living in the past.
Off Color Brewing was recommended to us by some fellow MN beer blogger friends, and now it's our turn to recommend it to you! Just don't park in the PetSmart/BuyBuyBaby/Jimmy Johns parking lot nearby; they do tow, and it will cost you $220 to get your vehicle back!
Thanks for "eff-ing" Chicago's awesome craft beer scene with us!
---