No Comments
Ultimate 6er | Six Beers for DC Beer Week 2019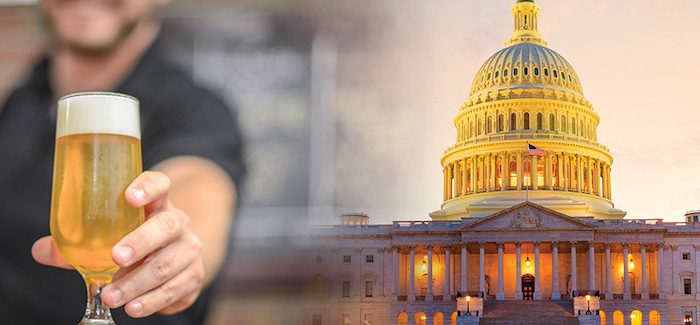 Another DC Beer Week is upon us, taking place in the nation's Capital from September 8-15, 2019. This annual event, hosted by the DC Brewers' Guild, continues to grow in size each year, both in the number of breweries and in the events taking taking place across the district. With 11 breweries now open inside the city limits and dozens more within the metro area, the Washington, DC beer scene is rapidly becoming another craft beer hub along the East Coast.
To celebrate the 11th Annual DC Beer Week, we've put together six of the top beers being produced by DC breweries right now. Our list only includes breweries inside Washington, DC proper (sorry Virginia and Maryland).
Joint Resolution | DC Brau
https://www.instagram.com/p/BxAcobgAkoI/?utm_source=ig_web_copy_link
DC Brau is the Godfather of the Washington beer scene, opening as the city's first package brewery in 2011, but it was surprisingly slow to the Hazy IPA trend overtaking the nation. Joint Resolution was their answer to the Haze Craze, released in March of 2019, and immediately became a DC Brau flagship from the start, replacing a Belgian-style ale called The Citizen in the standard line-up.
Joint Resolution is a 5.5% ABV Hazy IPA with a mid-level bitterness using Chinook and Michigan Copper hops ("among others" according to DC Brau). It tends to be a bit hoppier than other Juicy IPAs, with mango, orange and tangerine flavors overlaying a traditional piney base. You can find Joint Resolution on tap in their Northeast DC taproom or in 12-ounce cans along the mid-Atlantic coast. DC Brau is also a main co- sponsor of DC Beer Week.
Diamonds, Fur Coat, Champagne | Right Proper
https://www.instagram.com/p/BuxY-N4BYJl/?utm_source=ig_web_copy_link
Right Proper Brewing in Northwest DC is known for their sours, and Diamonds, Fur Coat, Champagne is their flagship Berliner Weisse in line with this tradition. This very easy-drinking, 3.8% ABV beer has been dry-hopped with Hallertau Blanc. It is initially fermented on lactobacillus before being finished with an in-house mixed-culture of wild yeast. This produces a low-sugar product, allowing the addition of grapefruit peel and elderflower late in the boil.
Basically Diamonds, Fur Coat, Champagne is the real "Champagne of Beers." See more on this beer here.
https://www.instagram.com/p/BV2pdogFAGY/?utm_source=ig_web_copy_link
White IPAs are rare in the wild, but 3 Stars Brewing has made its version, the Ghost IPA, a flagship offering. With 3 Stars having brewed over 200 different beers in just a few short years, this says something about the quality of this particular beer as a fan-favorite for the DC crowd.
Ghost is a traditional White IPA, which is essentially a mix of an American IPA and a Belgian Wit. It's both fruity and spicy in varying degrees, with a lighter profile on the front-end and hoppy bitterness on the back. It is hopped with Amarillo, Citra, Columbus, and Simcoe, coming in at 5.9%. You can find it on distro in the DMV, NYC, Boston, Delaware and Florida.
https://www.instagram.com/p/BTy7eRSgdGq/?utm_source=ig_web_copy_link
Lagers are back, baby, and Atlas Brew Works has one of the finest in DC with its District Common. The beer is a crushable 5.1% ABV lager brewed of biscuit malt with Czech Saaz hops. Atlas actually uses the lager yeast fermented at a warmer temperature to provide some ale-like flavors, perfect for the end of summer.
If you get a chance, the Atlas tap room is located in a trendy new neighborhood known as Ivy City. The brewery hosts a ton of events, including a bi-weekly heavy metal show.
https://www.instagram.com/p/B1wQuqVBK5M/?utm_source=ig_web_copy_link
Red Bear Brewing is brand new, opening in March of 2019 in Washington's NoMa district (North of Massachusetts Avenue). With real estate so expensive in DC, many of the breweries are farther out, but somehow Red Bear found something close to downtown and has been producing solid beer for the last couple of months.
The OktoBEARfest is ready for primetime going into September. It's a very good Märzen with a hefty malt backbone, so get it while you can! Red Bear does not yet sell cans or distribute widely, so you'll have to get this on site. It will be worth the trip to see the new brewery and try out the other amazing beers on tap.
https://www.instagram.com/p/Bq-87Uxhg7X/?utm_source=ig_web_copy_link
Bluejacket is the brewery masterpiece of Greg Engert's Neighborhood Restaurant Group beer empire (ChurchKey, The Sovereign, Rustico and 15 other spots), and a visit here won't leave you disappointed. The massive space sits next to Nationals Stadium and features 20 rotating beers at any given time. So, choosing just one Bluejacket beer is nearly impossible.
However, one beer stands out among the rest – Lost Weekend. This single-hop Citra IPA is fruit-forward with citrus (duh), tangerine and peach notes lending to a bright and fruity taste. Bluejacket is well-known for serving its beers at the correct temperature, 48 degrees in this case, which experts will tell you brings out the most flavor in the beer. Lost Weekend could certainly lead to a lost weekend, if you know what I mean.
BONUS BEER: Each year's DC Beer Week, the DMV breweries do a collaboration beer known as the Solidarity Brew. This year's version is a Kellerbier, and it will be tapped starting at Bluejacket on September 8. 
Featured Image Photo Credit: Brewers Association
---