brussels Archives – PorchDrinking.com
October 30, 2018 | Taylor Laabs
I was lucky enough to attend Oktoberfest, but that's only part of the 11-day beer journey I took across four cities in early October. Outside of the Bavarian beer fest, Munich has a bunch of awesome beer history, quaint beer gardens and famed beer destinations like Hofbrauhaus. Much like Munich, the Belgian capital of Brussels is steeped in brewing tradition thanks to its array of world-renowned trappist breweries and Belgian beer bars like the Delirium Cafe. These two beer-fused cities offer an embarrassment of riches to any beer lover, but it's the beers and experiences I had in the other two cities I visited: Budapest and Amsterdam, that really opened my eyes to just how diverse and vibrant the beer scene is in Europe. From beer baths in Budapest to a craft brewery situated under a picturesque windmill in Amsterdam, my beer experience in Europe was amazing. Here are my main takeaways from the unique beer scenes in each city I visited.
November 24, 2015 | Cecelia Kathleen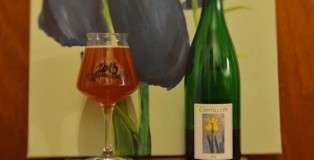 Style: Unblended Lambic | ABV: 5.0%
Most people have a favorite flower, and mine just happens to be the iris. The iris flower is also the symbol of the Belgian city Brussels. This magnificent European metropolis was built on marshes and swamps, where fields of yellow irises grew in abundance. The yellow iris flower is even on the city's flag. Brasserie Cantillon, founded in 1900, is located in Brussels, the Belgian capital.