Cherry Street Brewing's 5 Year Anniversary
December 12, 2017 @ 12:00 pm

-

December 17, 2017 @ 12:00 am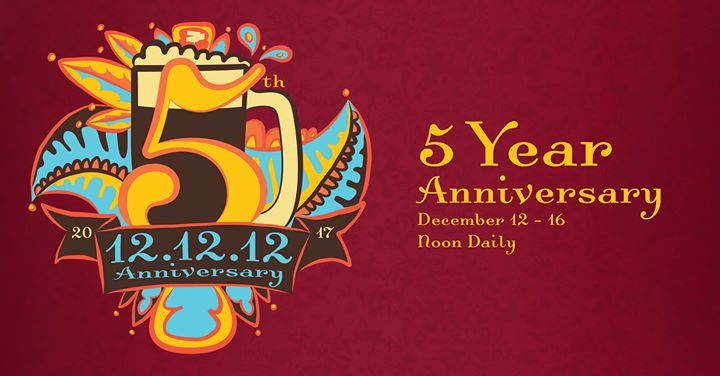 Hey folks, wow, I cannot believe we are announcing our 5 Year Anniversary is in December. Since our Anniversary is 12/12, and it is a Tuesday, and it is our 5 Year, we are going to have a 5 Day/5 Year Anniversary Party starting Tuesday 12/12 – Saturday 12/16. Here is the calendar of activities. More specific beer announcements will come.
Tuesday 12/12 – 12/12/12
-Tapping of 2017 12/12/12 and Elijah Craig 12yr 12/12/12. This is a 12 malt, 12 hop, 12% English Barleywine both aged for 12 months.
-Tapping of 2015 and 2016 Barrel Aged 12/12/12.
Wednesday 12/13 – Cherry Street Brewing's 1st Beer Dinner
– 5 Beers, 4 Courses
-Plenty more info to come.
-Limited to 40 spots. Reserve now!
–https://www.xorbia.com/events/cherrystreetbrewing/cherry-street-5-year-anniversary-beer-dinner
Thursday 12/14 – Vintage Barrel Aged Beers
Tapping of barrel aged favorites hiding in the corners of the coolers.
Friday 12/15 – Fan Favorites
Bringing favorites back from the past and also adding new twists to current favorites.
Saturday 12/16 – Gold Medal Day
Tapping of O.A.S.I.S. Stout from 5 different barrels and the blend.
-Apple Brandy, Tequila, Rum, Bourbon, Red Wine, and Port Barrels
-Blending all 5 to make our 5 Year Anniversary Blend