2 Comments
Hop Culture's 'Beers With(out) Beards' Aims to Promote Inclusivity for Women in Beer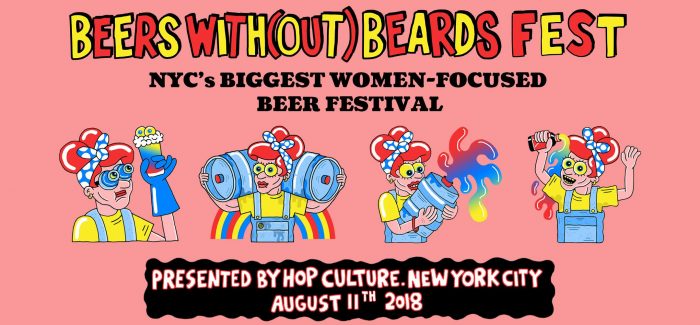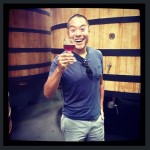 The craft beer industry was founded on the pillars of community, collaboration and inclusiveness. However, in an industry so historically dominated by men, those ideals haven't always (and sometimes still) don't apply so openly to women. Even today, we see examples of misogyny, sexual harassment and unequal treatment in the workplace lingering from the "old boy's club" mentality that so rampantly pervaded those who previously ran America's beer establishment.
However, change is afoot from the likes of Kim Jordan, Lauren Salazar Limbach, Natalie Cilurzo, Julia Herz and countless others who have become pioneers for change. This weekend, our friends at Hop Culture, another tremendous beer publication based in New York, aims to create their own social change through beer in the form of Beers With(out) Beards.
Consisting of a full week of programming, ranging from beer dinners to panel discussions, bottle shares, to beer and yoga, all culminating with a headlining beer festival, Beers With(out) Beards seeks to feature the accomplishments of women in beer. It's headlining beer festival will feature breweries founded by women or helmed by women brewers.
Hop Culture was founded in January 2017 by Duke University alumni Kenny Gould and Travis Smith, who developed the business plan for the publication together in college. We spoke with Grace Weitz, the brains behind Hop Culture's Beers With(out) Beards about the event, and what went into reinventing the festival experience to create a more impactful experience as a vehicle for social change.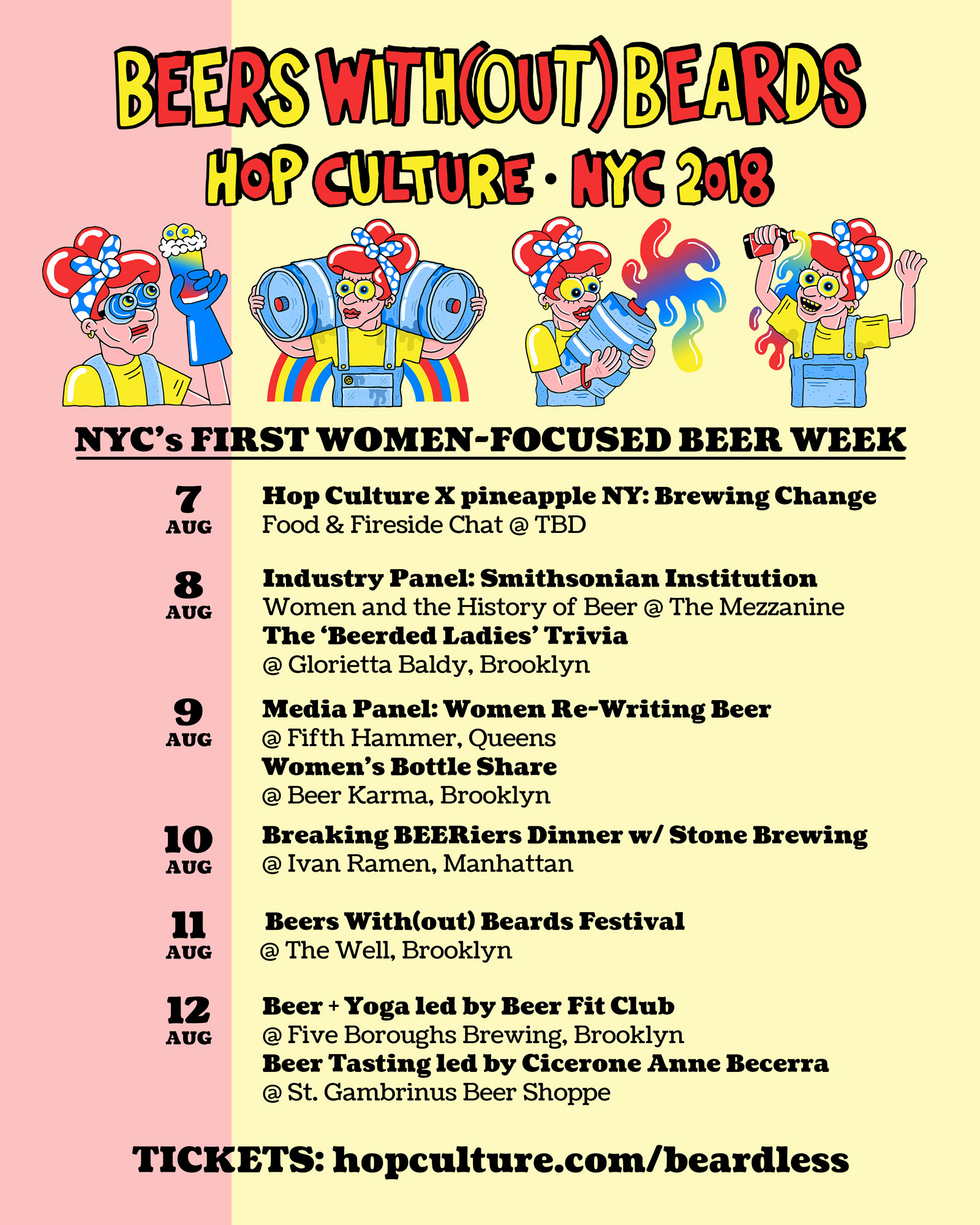 PorchDrinking:

Beers Without Beards sounds like a tremendous celebration of women in beer, how did this event come about?
Grace Weitz: If you think about the last beer you had, what do you think of first? Perhaps it was an IPA, you might think about notes of pine or orange peel. If you had a Stout, you might picture oatmeal and chocolate. Now think about the person that brewed that beer. Are they short, tall, small, did you picture a man with a beard, or picture a woman? We wanted to change that perception of associating brewers with only bearded men, and that's where that festival came about.
In Beers Without Beards, you all have added a full week of programming including several educational sessions. How important was it for you all to create more than just a beer fest?
It originally started with just the festival portion, similar to our other event, Juicy Brews. But we decided we wanted to create more spaces for potential conversations around how women are perceived in the industry. Kenny and Travis told me just to plan my dream week. So I sat down and parcelled out what would make this week dynamic and engaging, from beer dinner, to panels, to really great networking spaces that are also entertaining, such as beer and yoga, and beer tasting workshop with the first woman Certified Cicerone.
Tell us more about that workshop.
Certified Cicerone, Anne Becerra, who's also the beverage director at Treadwell Parks, will be leading a beginner course at St. Gambrinus Beer Shoppe, for those looking to expand their knowledge of beer. Attendees will enjoy samples of 5 diff beers broken down by ingredient. You'll taste how different types of malts, hops and yeast strains create different beers. Anne is great at breaking it all it down in an easy, relaxing format.
What other festivals did you all draw inspiration from in creating this week of programming?
What we're excited about the fact that it's the first and largest festival of this nature that features a whole week of programming. We took inspiration from FEMales Fest in South Florida, but that's still just a one day fest. It's an honor to put together something so comprehensive and for it to be at the forefront of creating a festival around women in beer.
The past two years have seen significant progress in raising awareness for sexual misconduct, harassment and predatory behavior in a number of industries. With beer being such a historically male-dominated industry, it's not been excluded from these types of behaviors. What can be done here in our own industry to move us toward a more inclusive environment, and did that factor into the creation of Beers Without Beards?
Having festivals like Beers without Beards is a step in the right direction, there are still leaps and bounds that can be done to promote better inclusivity in beer. The Brewers Association hired the first diversity ambassador J. Nikol Jackson-Beckham, whose sole job is to talk about how breweries can be more diverse. It takes the whole community to help make this change. With Beers without Beards, we wanted to create a space for men and women to come together, and we do want to emphasize that both men and women are welcome. But we also want everyone to recognize the achievement of women in craft beer.
What do you hope people take away from Beers without Beards?
The whole focus is to empower the role of all women in craft beer. We wanted to celebrate women who own breweries, women who are opening breweries, women brewers, women brewing beer at home, women write about beer, women who  podcast about beer, and women who just enjoy drinking beer. Our aim is to alter the scALES of the demographics of women drinking and working in beer. In June the BA came out with a report, stating that women make up 31.5% of people drinking beer. The scales are shifting ever so slightly, and we hope to have a tangible effect on that statistic. 
Check out the Pour List for Saturday's Beers With(out) Beards Festival
Brewery
Beer
Drake's Brewing Co
Hays
Drake's Brewing Co
Lusu's Lovechild
Drake's Brewing Co
Flyway Pilsner
Eagle Rock Brewery
Populist
Eagle Rock Brewery
Manifesto
Eagle Rock Brewery
Amwolf
Garrison City Beerworks
Synapse Pale Ale
Garrison City Beerworks
Equilateral IPA
Outer Range Brewing Co
DDH Shelter DIPA
Outer Range Brewing Co
Luminous Flux Belgian Blonde
Equilibirum
dHop0
Equilibirum
Energy Wave
Scratch Brewing Company
Lemonbalm Sour
Scratch Brewing Company
Forest Ale
Stone Brewing
Stone Brewing Pomma Said Knock You
Out

Stone Brewing
Stone White Ghost Berliner Weisse
Three Weavers
Knotty DIPA
Three Weavers
Seafarer Kolsch
21st Amendment Brewery
Hell or High Watermelon
21st Amendment Brewery
Brew Free or Die Blood Orange IPA
Black Project Spontaneous
& Wild Ales
SUPERCRUISE: CAB FRANC
Black Project Spontaneous
& Wild Ales
SUPERCRUISE: MAL | MER
Black Project Spontaneous
& Wild Ales
OXCART (Blend B)
Black Project Spontaneous
& Wild Ales
OXCART (Blend A)
Five Boroughs Brewing Co.
Tiny IPA
Five Boroughs Brewing Co.
Pilsner or Gose
Five Boroughs Brewing Co.
Rosé Saison
The Ale Apothecary
Sahalie
Triple Crossing Brewing Co.
Mosaic Triangles IPA
Triple Crossing Brewing Co.
Nectar and Knife DIPA
Radeberger
Radeberger Pilsner
Fifth Hammer Brewing Co
Savvy Seamare
Fifth Hammer Brewing Co
Azacca Quokka
Fifth Hammer Brewing Co
Summer Sour: Blackberry
Fifth Hammer Brewing Co
Lil' Coco Roasty
Lineup Brewing
TBD
Moustache Brewing
TBD
Strong Rope Brewery
Queen of the Hive
Strong Rope Brewery
Pistil Whip
Transmitter Brewing
Apricot Sour
Transmitter Brewing
Mahogany Saison
Transmitter Brewing
NY2 Oat Grisette
Interboro Spirits & Ales
El Pres Pilsner

Interboro Spirits & Ales
Made You Look IPA
Industrial Arts
Torque Wrench
Industrial Arts
Rocklandia
Industrial Arts
Metric Pils
Grimm Artisan Ales
Present Perfect Passionfruit Berlinerweisse
Grimm Artisan Ales
Gravity of Smile DIPA
Plan Bee Farm Brewery
Pickleback
Plan Bee Farm Brewery
Barn Beer
---