No Comments
Hinterland Brewery | Saving Gracie Gluten-Free Hazy IPA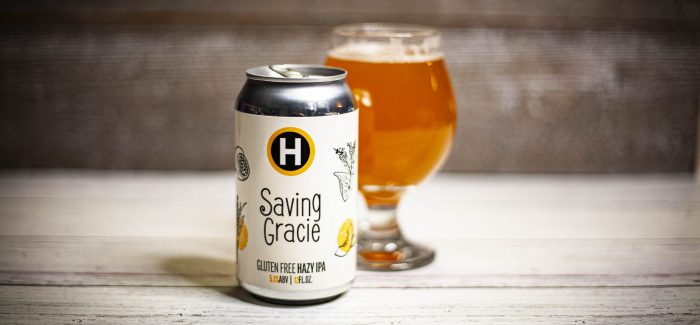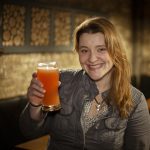 Hinterland: (noun) a word of German origin meaning "the land behind"; an unexplored, uncharted area full of possibility, opportunity and adventure.
Founded in 1995, Hinterland is Green Bay, Wisconsin's first modern-day brewery to emerge from the late 1980s craft beer boom. Founders Bill and Michelle Tressler, who were both just 24 years old at the time, moved back home from a rock band drumming, magazine editing, corporate career adventure in California to open a brewery of their own. They rented an old cheese factory outside of town and bootstrapped their way through startup, nearly burning down the factory in the process. Eventually, the Tresslers and their head brewer Joe Karls moved operations into a turn-of-the-century meat processing plant in downtown Green Bay. The small, charming space worked well enough for Hinterland until 2017 when they got a once-in-a-lifetime opportunity to expand. They sold the building and brewhouse to Copper State Brewing Company.
Today, Hinterland Brewery is best known for its incredible location in the Titletown District, directly across the street from Green Bay's iconic Lambeau Field. Their prime placement attracts tourists from all over the country, which is reflected in their premium pricing and upscale, farm-to-table dining options.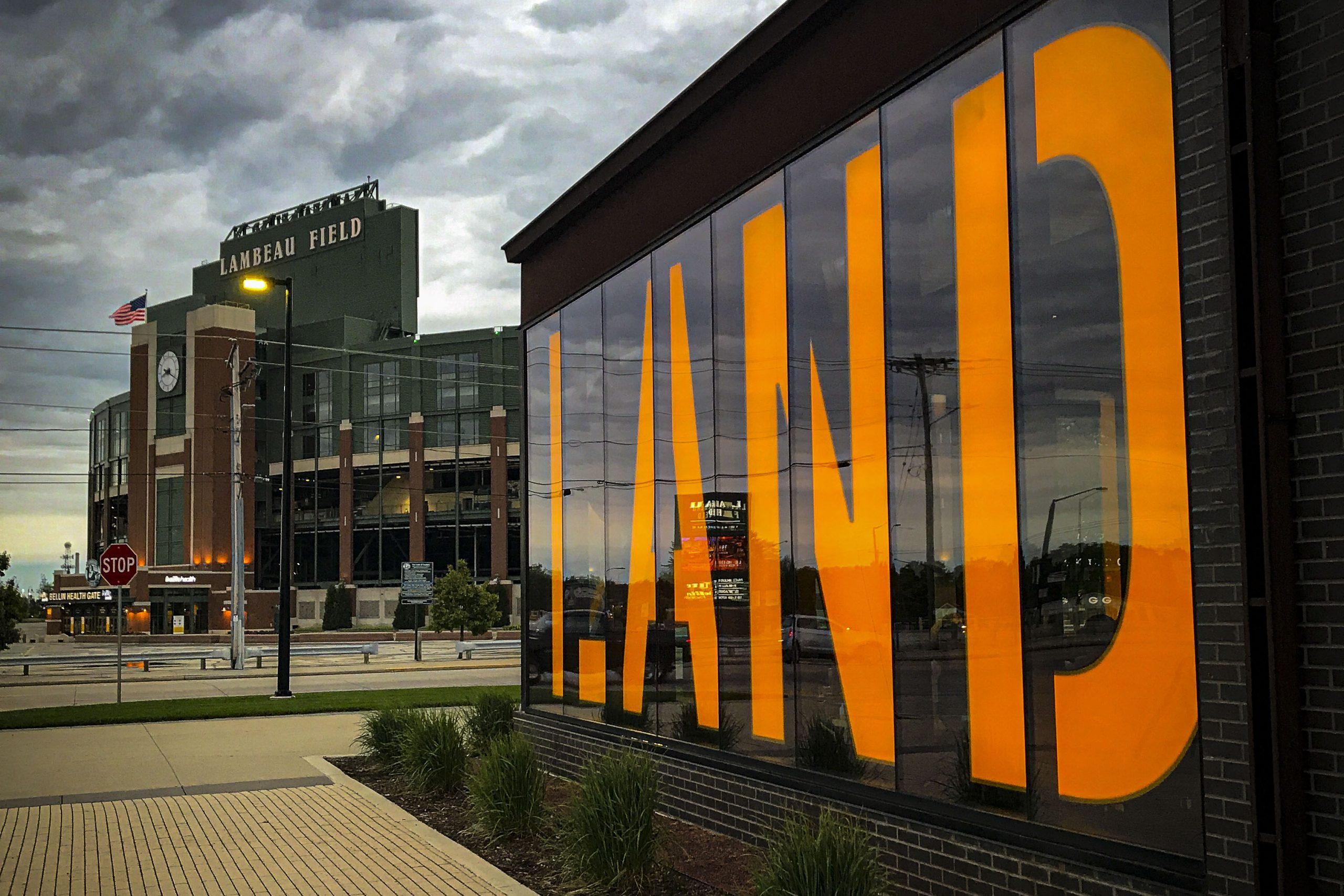 The Brewery Architecture
Hinterland's atmosphere is a unique blend of modern industrial design and a woodsy, up-north vibe, heightened by the distinctive smell of a wood-fired oven and barbecue pit, and the gargantuan, two-story, wood-burning fireplaces that anchor either end of the large beer hall. Taxidermy northern Wisconsin creatures adorn the walls in untraditional ways, mixing with large-scale woodland murals, deep, rich colors, and the bold, simplistic architecture of the space to create an artistic, polished feel.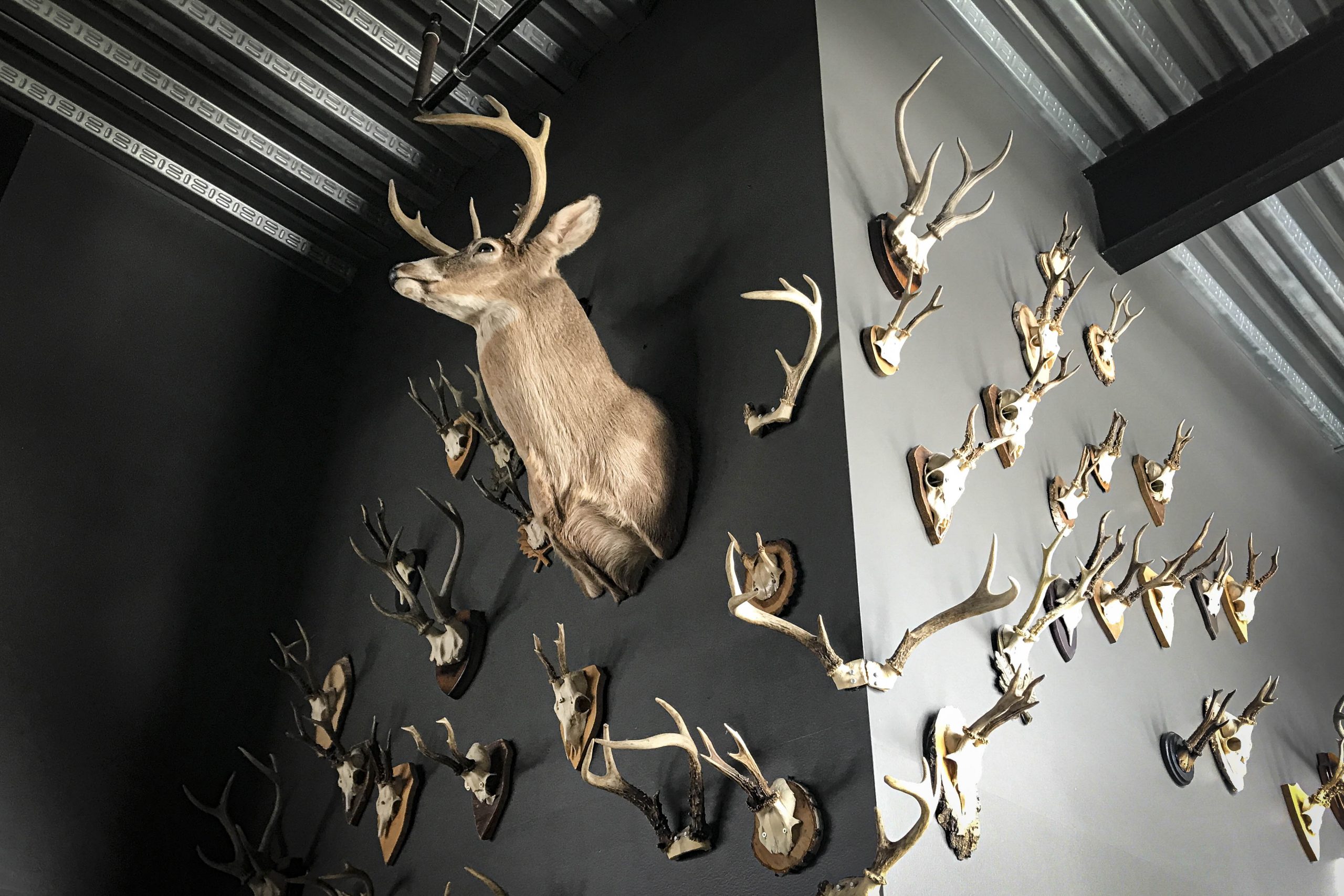 Climbing the angular steel staircase up reveals an astounding view of Green Bay's crown jewel, Lambeau Field, slightly masked by an enormous letter H. The upper level houses the High Gravity Test Kitchen, Hinterland's culinary playground that occasionally features special multi-course meals and beer pairings.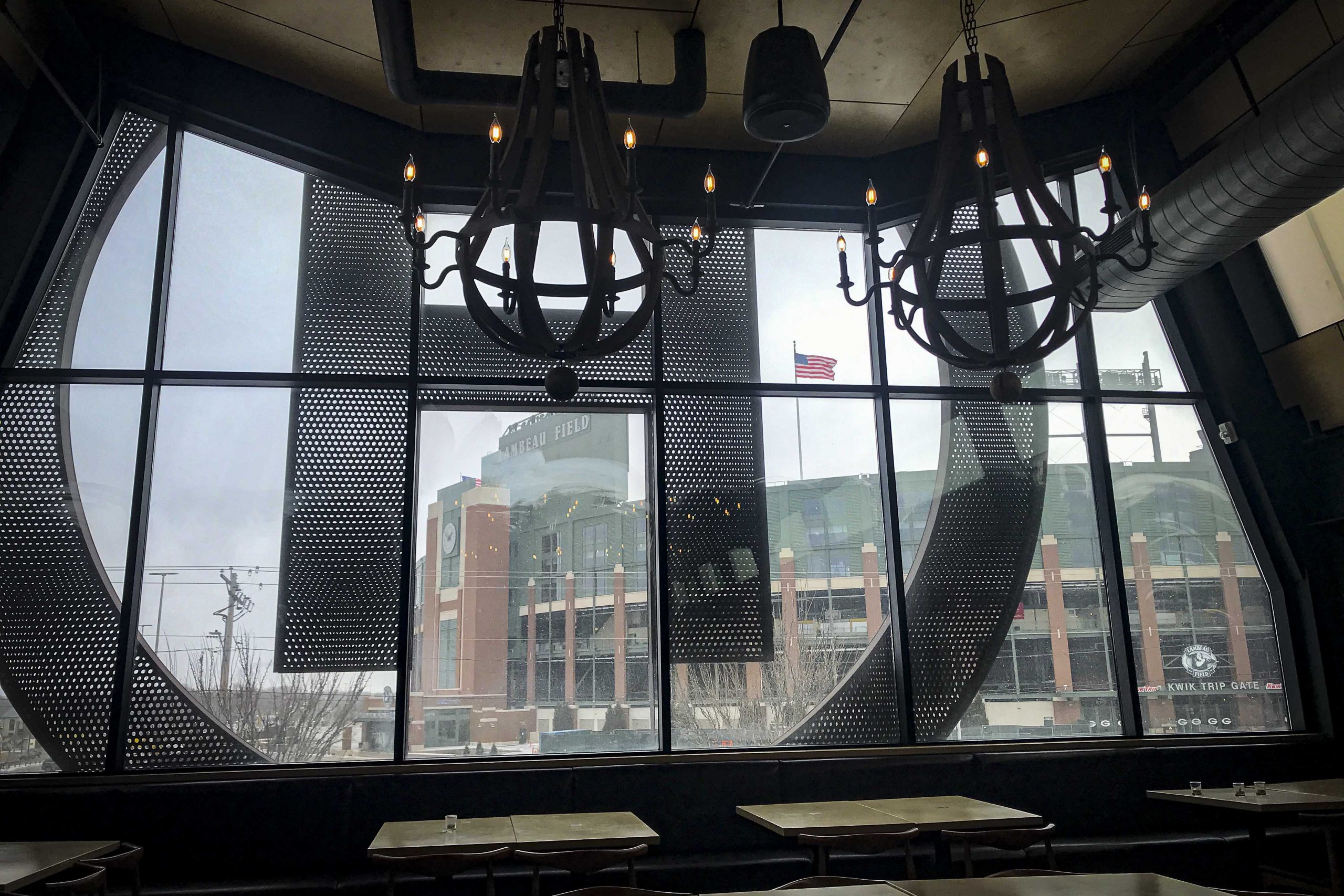 Hinterland's brewery, officially named Green Bay Brewing Company, is separated from the main restaurant by a wall of windows. The 30-barrel brewhouse sits directly on the other side of the glass, and patrons can watch the brewers make magic while waiting to be seated. Brewery tours are normally available on weekends; however, tours have not yet resumed with the resurgence of the COVID-19 pandemic.
Adventure has always been part of Hinterland's brand identity. "For me it's part discovery of old traditions mixed with applying new technology and science to achieve a desired outcome or flavor. The craft brewing community has always pushed innovation in terms of beer flavor, ingredients, bitterness, aroma, haziness, and overall understanding of what beer's potential is," said Bill Tressler.
Whether it's a unique cherry twist on a wheat beer, or a creamy, tropical milkshake IPA on nitro, Hinterland's beers tend to finish on the sweeter side. This characteristic is driven by their customers' preferences. "Customers vote with their wallets and tell us what to make more of. Beers become irrelevant when people no longer purchase them. We listen to our customers… They happily tell us what they're excited about," Tressler explained.
An Adventurous Gluten-Free Hazy IPA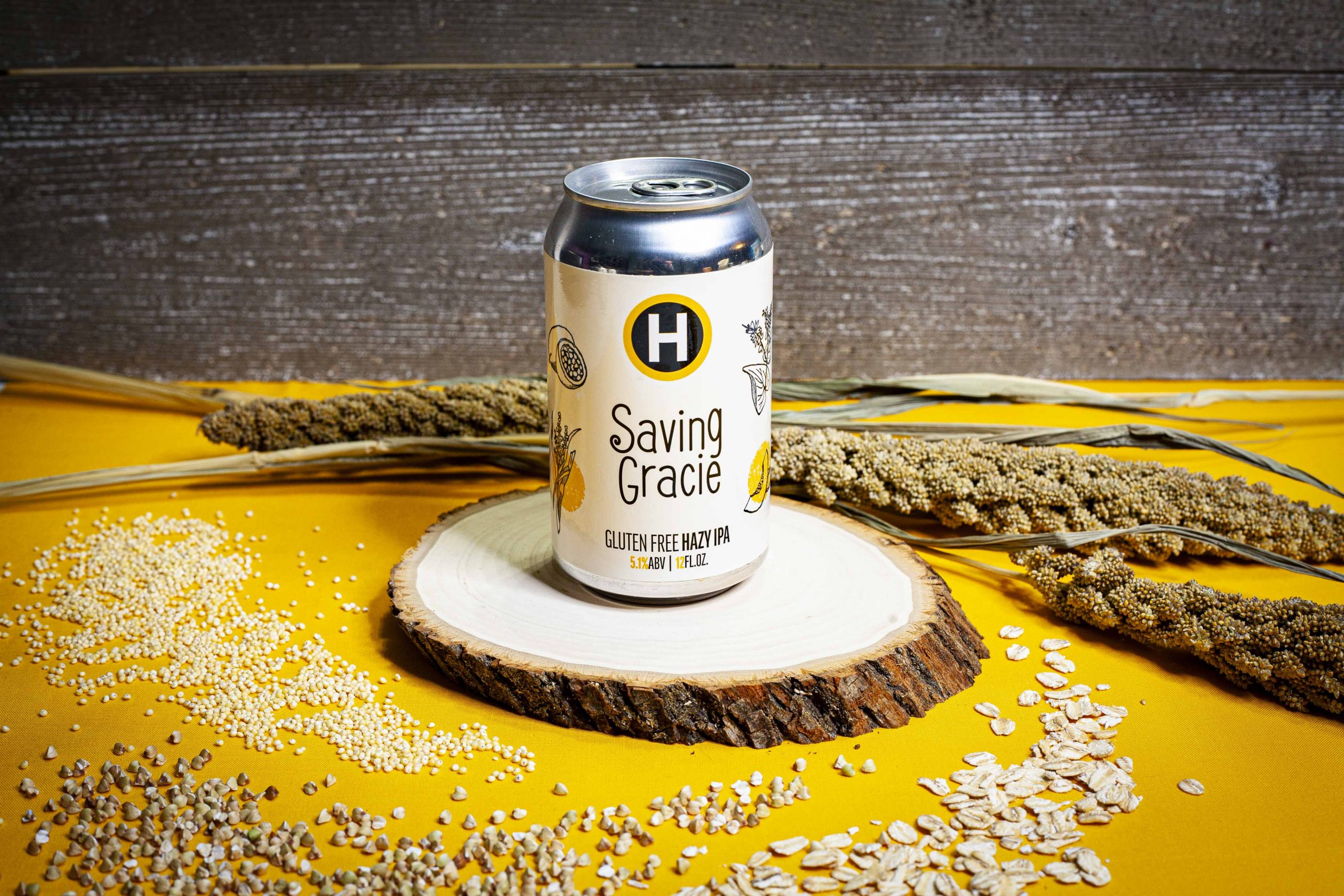 The Tresslers' daughter Grace, a beer lover and Hinterland ambassador, had been searching for a great-tasting gluten-free beer option that competes with her favorite IPAs. Most commercially available gluten-free beers tend to be similar to the mass-produced domestic lagers, lacking in flavor compared to a full-bodied, conventional craft brew. For an IPA lover like Grace, avoiding gluten really limits the available options. That's why Tressler decided to create a gluten-free hazy IPA that all beer lovers could enjoy—especially his daughter.
Hinterland has had a gluten-free IPA on tap in the past, which was met with questionable success, at least according to Tressler. While Experimental GF IPA contained a lot of the same ingredients as the final recipe, the team was unfamiliar with the malt flavors and wasn't sure what to expect. While this first attempt at a gluten-free IPA went over decently with Hinterland's customers—one Untappd user said "probably the best GF IPA I've had"— Tressler thought it had too much of a grassy flavor profile and he wasn't satisfied, so the project was put back into development.
The brewing team's research led them to Grouse Malt House in Wellington, Colorado. Grouse Malt House was founded by Twila Soles in 2007, after her diagnosis with Ulcerative Colitis. If anyone has the creation of gluten free malts down to an art, it's Soles and her team. With Soles' help, a new recipe was developed for a mash that would be as delicious as it would be completely gluten-free.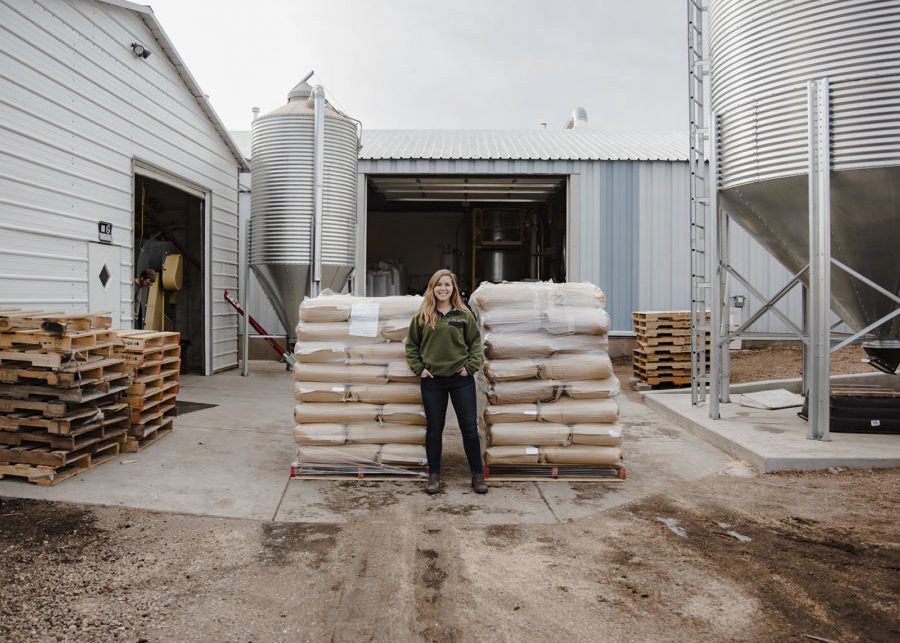 Saving Gracie was brewed with a few types of malted millet and buckwheat, sourced from Grouse Malt House, as well as oats for haziness and mouthfeel. With the addition of crisp Lemondrop and Galaxy hops, the first batch of Saving Gracie hit the target on the dot.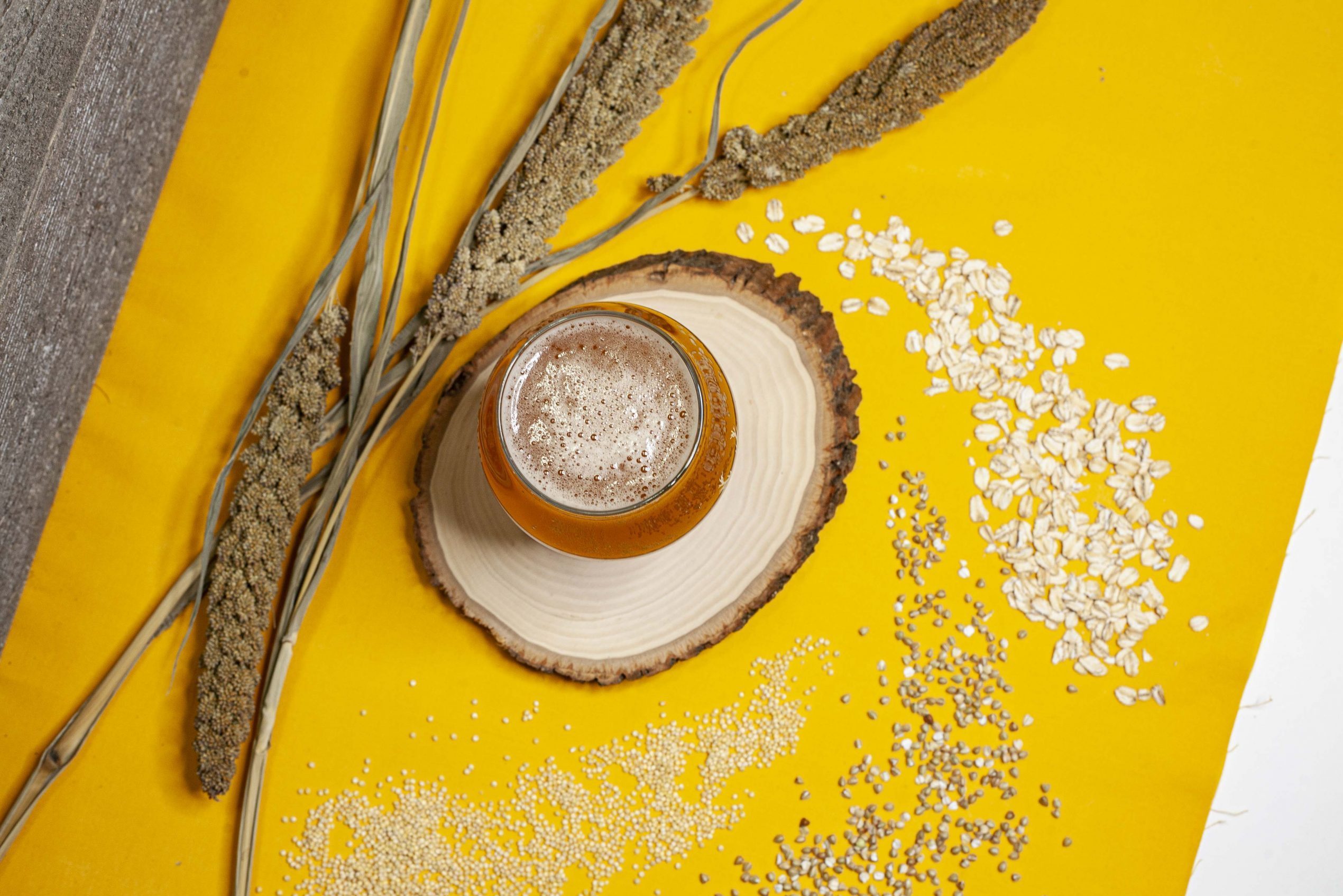 "This brew day was a little unusual," said assistant brewer Neil Froelich. "There were a few things we did differently to get the best flavors and sugars out of the malt as possible."
Aside from the ingredients and a few tweaks in mash temperatures, the brewing process for a gluten-free beer is pretty much the same as a conventional beer: mash, boil, ferment, process, carbonate. Then drink.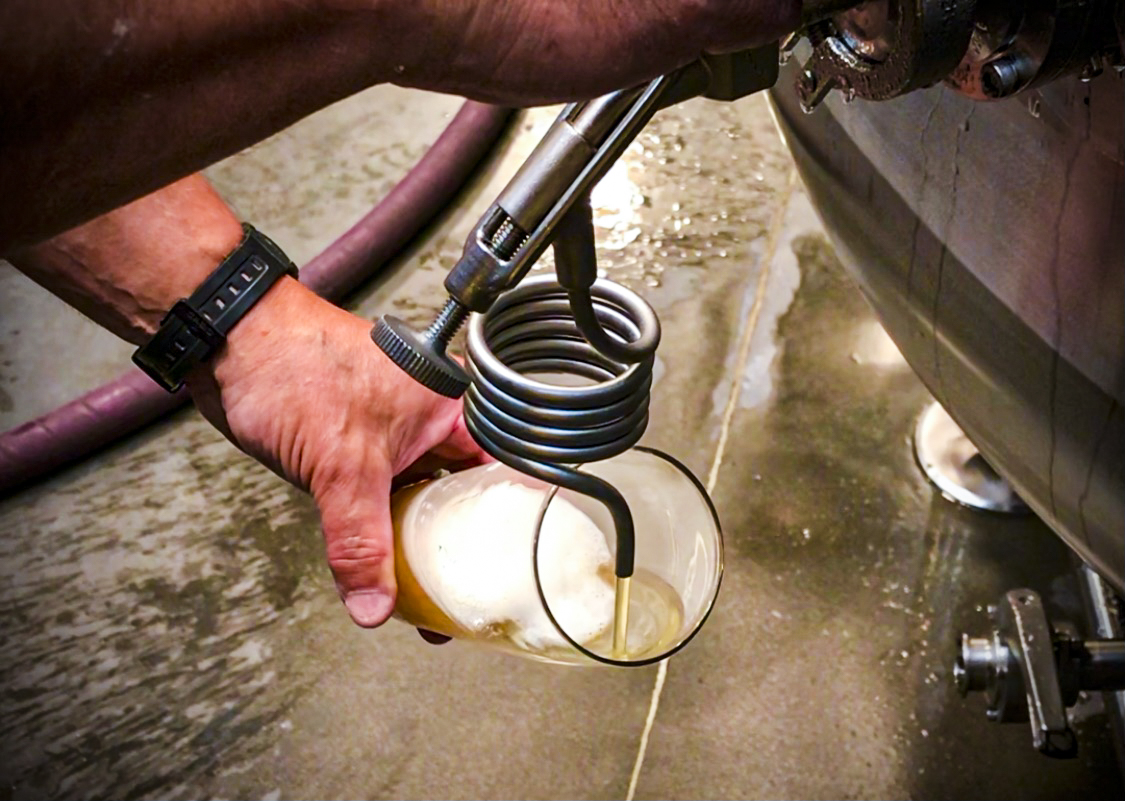 The Tasting
Sampling a brand-new beer directly from the brite tank is an exciting experience. As the golden liquid trickles from the pigtail spout into a glass, it develops a smooth, white head. Fresh and aromatic, Saving Gracie's hop-forward nose is reminiscent of citrus and melon from the Lemondrop hops, with a spicy, piney bite. The first sip is a bit of a hop shock, but the smooth, full body of the beer leaves a sweet sensation after the sharpness fades. The second sip reveals the complexity of the bittering Galaxy hops; more citrus, stone fruit and tangy passionfruit. This beer is deceptively malty and doesn't lack anything for being an alternative brew, and the 5.2% ABV encourages a second pour.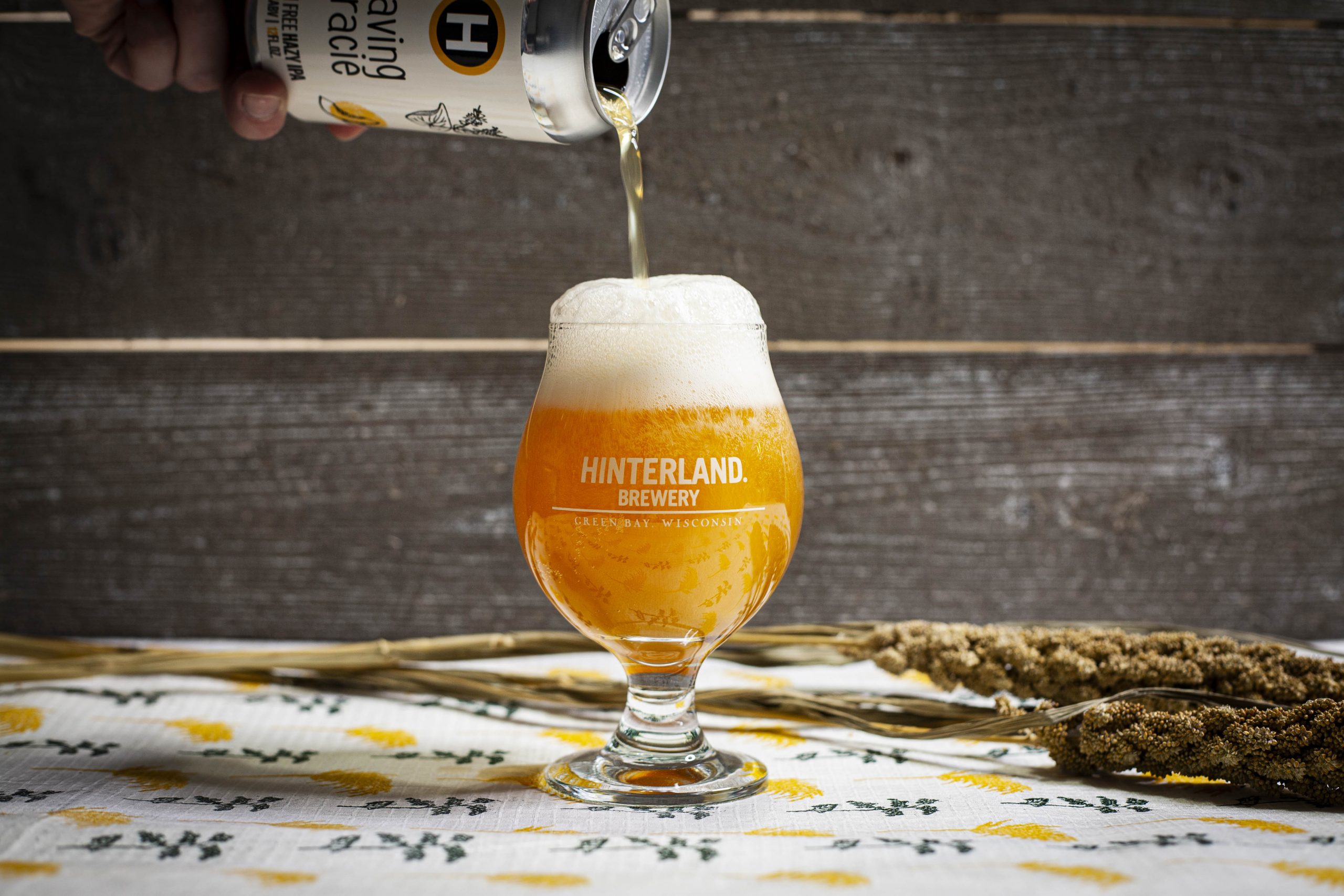 The beer itself is beautiful, and it comes in an equally attractive 12-ounce vessel. The can label looks very different from anything Hinterland has put out in the past, and that was Tressler's intention. He believes this unusual beer deserves a unique look that stands out in a crowd, as he is confident that Saving Gracie can—and will—compete with conventional Hazy IPAs on store shelves.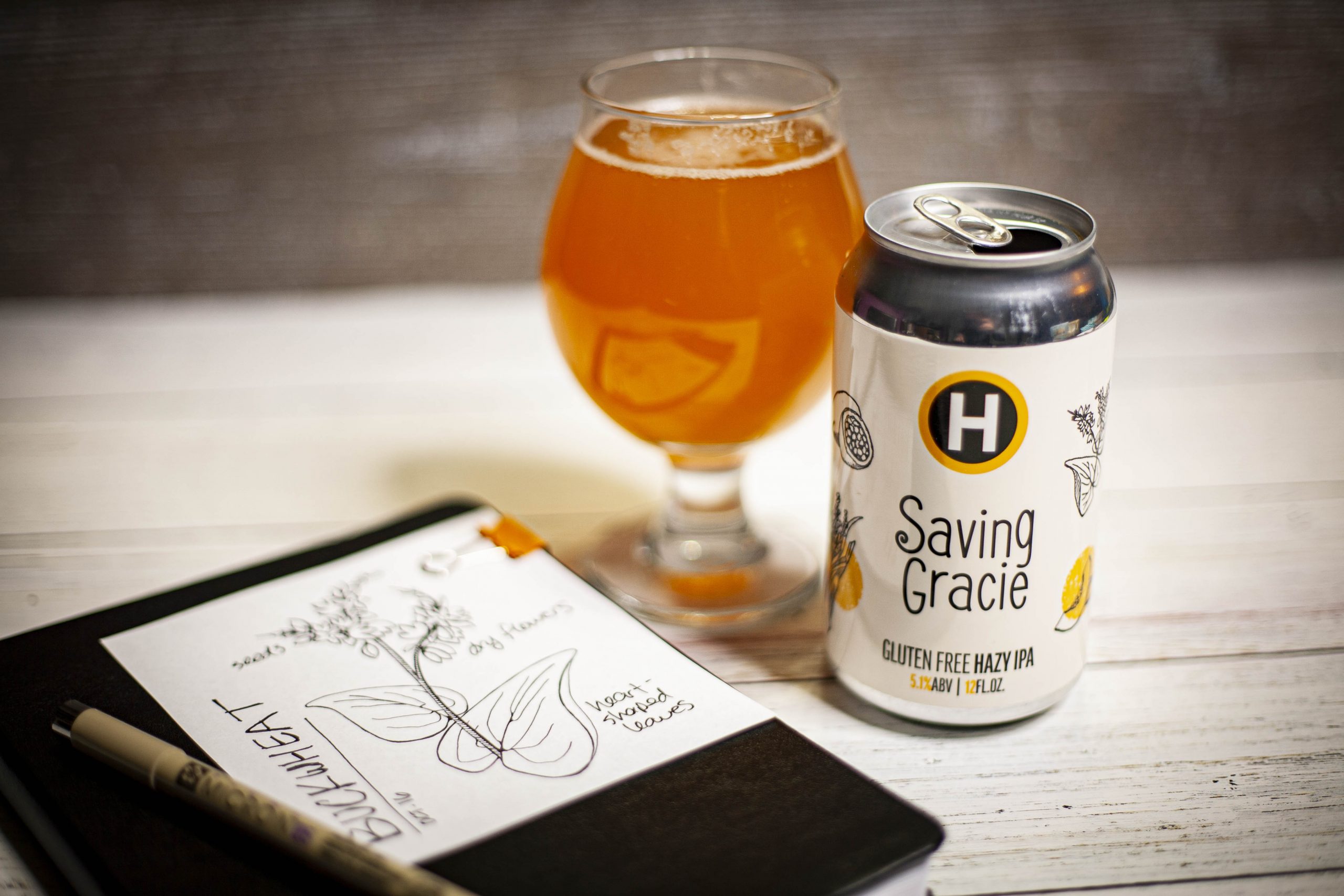 Admiring the label while sipping this deliciously hazy, golden-yellow IPA inspires the drinker to taste slowly and thoughtfully, searching for the flavor notes depicted in the quirky, hand-drawn ink illustrations. Resembling the field sketchbook of a wilderness explorer, the label art somehow fits right in with Hinterland's adventurous brand despite being so vastly different from everything that has come before it.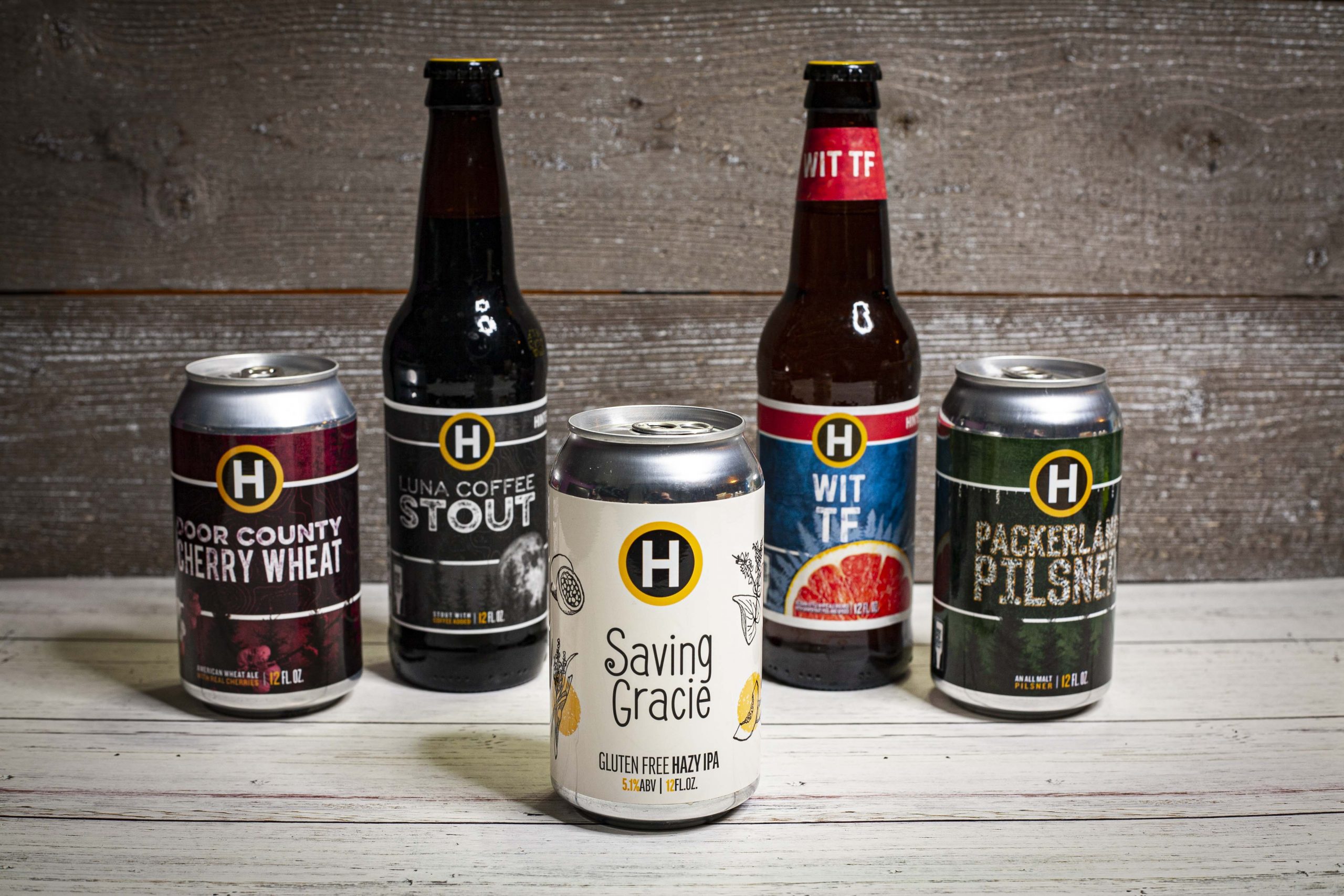 Want to get in on the adventure? Saving Gracie will only be available in the state of Wisconsin (for now), at Festival Foods locations and through Kay, GenBev and Beechwood distribution locations. Or better yet, pay Hinterland a visit and try it fresh from the tap.
---