No Comments
Michigan Beer Chronicles Part 2 | Traverse City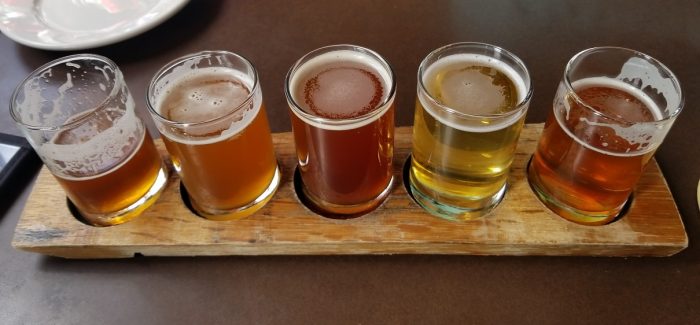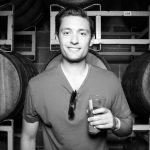 Thanks to the permeation of their ad campaign throughout Chicago, my initial impression of Traverse City was that there was going to a brewery every block. That turned out not to be true – and that's probably a good thing. While a good deal of breweries can be reached via a leisurely stroll on Front St., a lot of the other worthwhile spots are a bit more spaced out, which forces you to explore the unique history and scenery that makes Traverse City one of the better tourist destinations in the Midwest. We got the chance to experience a good deal of what the city had to offer through a variety of brewery stops on Saturday and Sunday, along with a trip up the peninsula to visit the Old Mission Lighthouse and the scenic grounds of the Jolly Pumpkin brewpub. Here are my highlights.
Saturday
Breweries Visited
Highlights
The Backstory of Earthen Ales
Thank god for well-informed Uber drivers. On the way to Earthen Ales, our driver turned into a virtual tour guide, describing the unique history of the property that Earthen Ales resides on. The brewery, along with a bevy of condos, coffee shops and restaurants, are built on the reclaimed expanse of land that once housed a mental health complex in the early 1900s. There's almost 1,000,000 sq feet of land and buildings throughout the sprawling estate. It's a bit eerie at first, but it's also really cool to see how the grounds have been reinvigorated with new business.
Enter Earthen Ales. The founders and co-brewers, Jamie and Andrew Kidwell-Brix, both worked in urban planning and gravitated towards each other thanks to their shared interest in home brewing. When they saw the huge urban development project happening at the former Northern Michigan Asylum, they made a leap of faith and bought a small corner of the property, which soon became Earthen Ales. The small taproom and brewing operation has cool views of the forest and a complex tap list that challenges the taste buds. My favorites were their earthy but smooth A2 IPA and the fascinating Mas Bock, which might be the most unique maibock I've ever tasted, mostly because it was aged in tequila barrels. With a built-in consumer base found in the growing condo community nearby, it's hard not to see Earthen Ales being successful for many years to come.
Sampler Tray Success
We had a lot of beer flights during our trip. With three people visiting multiple breweries in one day, it's often the most efficient way to try out the full array of what a brewery has to offer without getting blitzed at the same time. Perhaps the best flight we had was at Right Brain Brewing, thanks to the size and quality of the pours. Right Brain offered a flight of 6, 6oz pours for $15, which gave us a great opportunity to try out their wide array of IPAs and experimental brews. Some of my favorites included their Dead Kettle IPA and Spinal Tapper DIPA. I actually ordered a full pour of Spinal Tapper because it was so refreshing, with the right blend of bitter and citrus. They also have a crazy beer that is made with asparagus and it's actually not too bad, which is a testament to the brewers here.
Sunday
Highlights
More than just a Brewpub
The drive up the peninsula of Traverse City is one of the most scenic ones I've experienced. With the cherry trees almost in bloom and Lake Michigan divided down the middle by a two-lane road, the scenery is picturesque. Jolly Pumpkin's brewpub made sure to capitalize on this, with great views overlooking the lake and a carefully renovated brewpub and adjoining restaurant that pays homage to the troubled hotel it once was.
While their sours, especially the tart cherry flavor of La Roja, and hand-crafted spirits were excellent, my favorite part of the journey to Jolly Pumpkin was learning about the building's creepy heritage. The folks at Jolly Pumpkin and the adjoining Old Mission restaurant aren't shy about it either as the tragic story of Genevive Stickney is on the back of the menu. Genevive's husband, who originally owned the inn, left her for his mistress, which led Genevive into depression and eventual suicide in the Inn. Many of the waiters we asked swear that they've seen her ghost roam the halls – she's even said to make an appearance in the photos of unsuspecting vacationers. I checked and haven't seen her specter in my photos, but her ghost won't stop me from visiting Jolly Pumpkin again if I'm nearby.
GW's Little White Lie
We didn't originally plan to visit Monkey First Brewing due to its hidden location in the State Street Marketplace, but the big Monkey Fist logo adorning the white brick outside caught our eye and piqued our curiosity. I'm glad we did. While they don't have a lot of taproom space, their beer list is strong, led primarily by their Peninsula Hopper IPA and GW's Little White Lie. Named after our 1st president, Little White Lie is a deliciously simple Witbier, with subtle notes of Michigan cherries and a dry finish. It's a really great summer beer that I wish I could order in Chicago consistently.
Walking
An underrated aspect of our Sunday was that we were able to walk to the final four breweries on our trip, as they were located near or on Front St. While Michigan has a massive amount of breweries (I think 360+), a good deal require you to drive from place to place, which puts a big responsibility on the DD and cuts into your time at each brewery. Trekking through downtown Traverse City on a sunny day was a really fun experience and helped stretch out my legs which had previously been wrapped underneath a barstool for several days.
Honorable Mention
I'd be remiss to do a recap on Traverse City without mentioning their awesome array of wineries. While the wine wasn't a priority to us, it was hard to miss the 10+ different winery signs we saw driving up the short peninsula to get to Old Mission point. We eventually made our way to the Italian-inspired Mari Winery, which looked like a vista adorning the Italian countryside as we drove by. The wine was good, I really liked their chardonnay. This ends my wine review.
As I struggled up the shockingly steep Sleeping Bear sand dunes on our final day of the trip, I realized that this was the first real exercise I've had in five days. During that time, my parents and I visited 23 breweries and one winery, with each offering a unique experience that I will remember for a long time. But there's more to Michigan than just the beer. Maybe next time I visit The Mitten I'll make it a point to see more of the lakefront, more wildlife, more sand dunes. But then again, I'm not counting on it. Cheers!
Check out Part 1, Part 2 and Part 3 of the Michigan Beer Chronicles
---