No Comments
Michigan Beer Chronicles Part 3 | Touring the Caves of Founders Brewing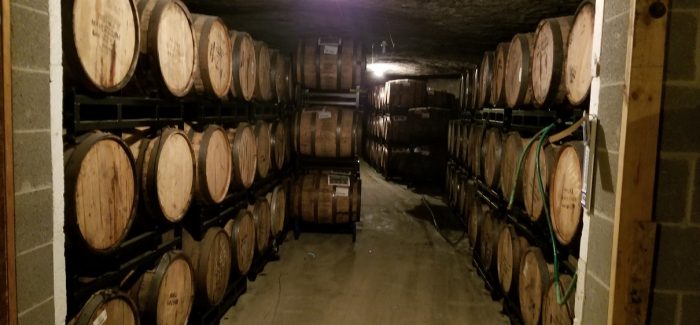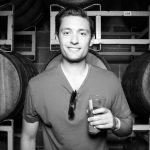 There's few things darker than standing in a pitch black cave. The lack of light heightens your other senses immensely. As the lights went out in the famed Grand Rapids barrel storage cave of Founders Brewing Co., my nose lit up with the smell that any barrel-aged beer fan should be familiar with—bourbon. Founders' head cellarman Jason Heystek is used to it by now, just like he's used to scaling the rows of bourbon, tequila and wine barrels that line the former gypsum mine. Five minutes into our tour of the caves, Jason had already found a comfortable seat on-top of a KBS barrel. Much like the booze-soaked liquid that warms the body, Jason exudes a sense of comfort and enjoyment that reverberated throughout the group, making our tour almost 90 feet underneath Grand Rapids, a truly unforgettable experience.
As soon as you hop off the freight elevator, your senses are hit by the dull smell of bourbon and a bitter chill. It permeates every step of the journey, which makes sense given that a good deal of the roughly 8,000 barrels stored in the cold cave expanse were initially bourbon barrels on their first run. Before Founders hosted a huge chunk of their famed barrel operation down here, co-founders Dave Engbers and Mike Stevens were partying on its premises. Both were friends with the former owner of the gypsum mine, who often held college bashes throughout the 6 miles of cave space that is now owned by Founders. I assume the beer served at those parties was a bit lighter than what is housed here today.
The gypsum mine is a massive expanse of one-off rooms, small corridors, and unusable mine space. Founders only uses one of the six miles in the old cave, mostly because the rest is out of commission and unstable – wrecked by dynamite usage in its heyday. But the part that they do use would bring a tear to the eye of any Founders fan. It's filled with rows and rows of barrels, stacked two to three high and ten or so deep. Each section is designated by a certain movie or pop culture icon that Jason Heystek knows like the back of his hand.
Checking out the @foundersbrewing caves. Fresh KBS 🙏🙏 pic.twitter.com/wZcKq5Bm0S

— Taylor Laabs 🍺 (@TaylorLaabs) May 18, 2018
In the above picture, Jason is pouring a Kentucky Breakfast Stout housed in bourbon barrels for over five years. He's proud of each of his creations, as each are unique in their own way. The black liquid spouting from this particular is heavy on the port and whiskey flavors, offering little to no body thanks to the oxidation caused by the aging. It's a beer that makes you appreciate the delicate balancing act that goes into barrel-aging. One step too far either way, and the beer loses its consistency and body.
Thankfully, Jason and his larger cellar team are masters of their craft. He is also a pro at scaling barrels and contorting his body to procure samples from barrels located off the main walking path. During the tour, we also taste a KBS aged six months in a Henry McKenna bourbon barrel, a deliciously rich ale aged in a 1991 Heaven Hill bourbon barrel, and a vanilla porter trapped in its wooden cask since 2016. Each tasting offered an informative course about how you can pull different flavors out of a beer by putting it in different barrels and taking it out at different times. My favorite, however, had to be an Imperial Lime Gose aged in gin barrels – it tasted like the barrel-aged version of a margarita.
Leaving the caves was definitely a sad walk, but it was also nice to enjoy fresh air and natural lighting after being in the still cave for over an hour. Near the end, the lights flickered out one last time, leaving me with fleeting images of the massive size of the barrels. Each barrel houses about 53 gallons of delicious Founders liquid, and each has a specific destiny. Some are too old or too wild to ever see the light of day; others will be new and returning stars to Founders acclaimed barrel-aged series. Now, all we have to do is wait.
Check out Part 1, Part 2 and Part 3 of the Michigan Beer Chronicles
All photos courtesy of Taylor Laabs.
---