#brackets Archives – PorchDrinking.com
March 19, 2015 | Drew Troller 1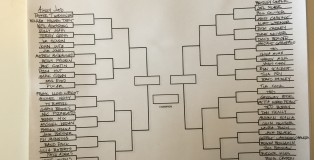 It's a tale as old as time. Or, at least as old as March Madness bracketology.
You look over the bracket. You study up on the teams. You consider expert opinions. You even look up Vegas odds for every game. And finally you make smart, well-informed, clever picks for the NCAA tournament. And you enter your bracket into the office/school/family/friend pool.
And the winner of the pool? That one damn entrant who has never seen a basketball game, and picked teams based on which school has the best colors, or what names sound funniest, or even just whatever teams they'd heard of.
The beauty – and agony – of March Madness is that no one can predict what will happen. The race often goes not to the strong or the clever or the patient… but to the random. So here at PorchDrinking, we've come up with a very pop-culture way to pick your bracket.  Read More