No Comments
Ultimate 6er: Gettin' Off Grid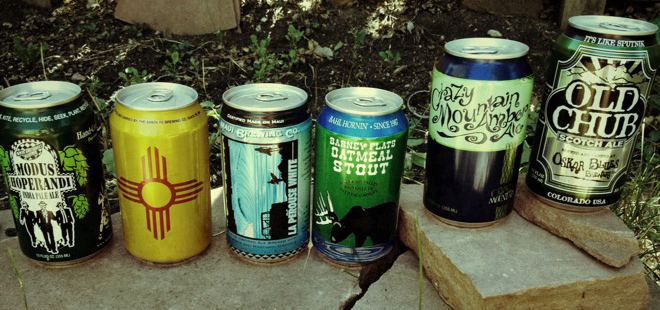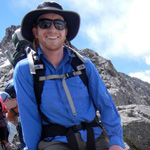 Many of the writers here at PorchDrinking work hard and play harder in the beautiful state of Colorado which we call home. Somewhere in everyone's soul is a need for exploration and discovery. I enjoy wandering the path less taken and it often takes me way off grid. In this ultimate 6er I exclusively review beers that are canned. Why you ask?
1) They are lighter weight. Both when you carry them in and when you pack 'em out. I urge people to follow Leave No Trace principles. Don't be that jackass that leaves glass bottles in the fire pit for the next visiting campers. 2) They are much easier to pack and the container is smaller for the same volume of liquid than their bottled brethren. 3) You don't need to travel with a friend that haz level 6 bottle opening skillz. Back of the knees, forearms, crappy cell phones and eye sockets are all devices that I have seen used to open bottles. If you're the featherweight traveler, cans don't require an opener at all. 4) Definitely the most important characteristic of cans is that they have minimal insulation. Yes, your beer does heat up faster… but it cools down just as fast. Dunk that can in the nearest river, stream, lake or cornice and the time between submersion and crisp consumption is amazingly short. You will also notice that none of these reviews will include discussion of the appearance or aroma of the beers. Do you carry a pint glass into the woods? I didn't think so. And for the smart-asses out there, don't pour these beers into a Nalgene bottle or Camelbak bladder. I guarantee you future liquids will never taste good.
Maui Brewing – La Perouse White
A unique Belgian-inspired ale that may as well be brewed by hula skirt and coconut shell bra clad Samoans. This beer tingles the tongue with the sweet flavors of mandarin oranges up front and an inviting spiciness that I attribute to the coriander with which this beer is brewed. The beer finishes slightly tart, begging for quicker consumption. It is incredibly thirst quenching. The Belgian pear-like esters balance out the ever-so-slightly spicy hop finish. Carbonation is on the higher end keeping the finish dry and refreshing. Suggested pairing: A fly fishing rod and your favorite high alpine stream, or your preferred water based activity. Kayaking and rafting are also highly suggested.
Crazy Mountain Brewing Co. – Amber Ale
Brewed in the beautiful high country where the mountains are a plenty and people travel from around the world to enjoy real powder – this beer is a perfect balance for all travelers. The biscuit and slightly toasted artisan bread flavors are prevalent but make way for a beautiful caramel, almost nougat-like center, akin to that snickers bar that you have hidden in your glove box for when you get stuck in I-70 traffic. There is a minimal roasted malt character that brings dark chocolate to mind and the beer finishes clean with a nicely rounded body and medium to low carbonation. This could easily be the only beer in your 6er. Suggested pairing: Crazy Mountains.

Santa Fe Brewing Co. – Happy Camper IPA
The name says it all. This beer is delicious. Where it differs from other traditional American IPAs is the hefty malt backbone. The cracker and caramel like malt flavors explode upfront as the opening act for the grassy and earth-driven hop finale. This beer has a strong bitter finish. Suggested pairing: Utah. Anywhere where the dirt is red, and the geology looks like a moonscape. You pick the activity.
Ska Brewing – Modus Hoperandi
This is everything I want in an IPA. Some toasty malt backbone presents itself nicely upfront followed by a big citrusy flavorgasm half way though. Grapefruit and orange rind come to mind with a clean hop bitterness lasting into the finish. There are some floral hop notes as well. Suggested pairing: Pedaling on winding single track through high-alpine wildflowers.
Anderson Valley Brewing Co. – Barney Flats Oatmeal Stout
If you're like me you think stout and you think an evening warmer in an igloo. But this beer is lighter than other stouts and is in the running for top swing-season warmer. There are some roasted notes, but nothing overpowering. The smooth oatmeal finish leaves creamy leftovers on the tongue with some chocolate notes. You know when you sump the pan of campfire chocolate pudding? Bingo! That's the flavor! The bitterness is enjoyable and less harsh than other stouts with big black coffee bitterness. Suggested pairing: Sunscreen, and changing aspen leaves.
Oskar Blues Brewing – Old Chub
A review of canned beer would not be complete without the game-changing company that brought us CANdemonium. This beer has a rich malty profile and caramelization flavors that make me think of a second aunt laboring over the stove with a candy thermometer. Midway through I am reminded of my favorite dried fruits in the bag of GORP that taste oh so delicious at mile 10; dates and raisins. There is an ever-so-slight bit of roastiness in this fine brew that lingers on the palate through the finish. This is a big bodied beer with a decidedly sweet impression. Suggested pairing: With an ABV of 8% this beer pairs nicely with a fresh set of waterproofed Kinco gloves and a pair of snowshoes or AT skins. This is most definitely the winter wonderland warmer.