No Comments
Sports Week-in-Review: Football in Full Swing Edition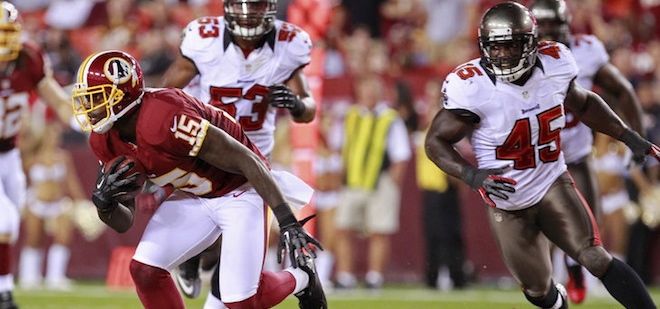 I haven't had cable television in over a month. No Gossip Girl, no Say Yes to the Dress, and worst of all, no SportsCenter or live sports. In that month I've moved, gotten a new roommate, and worst of all, was asked to write about the current events in the Sport-o-sphere. How am I going to do that without television!? I need that feeling of an unnecessarily large remote in my hand (seriously, does anyone even use the back half of that thing?), needlessly flipping back and forth between channels; otherwise watching the NFL isn't truly watching the NFL.
Despite all of these devastating setbacks, I've reached down deep into what I just learned is called "perseverance" and bring to you the week in sports.
Week 2 Truths: No TV means no football on Sundays … or does it? Although I couldn't watch it from the comfort of my own couch, I was lucky enough to find my way to a TV screen at least once this week. And on the holiest of days, no less. Quickly I'll go through each and every match up on the gridiron this past weekend, and like any good sports writer, will hopelessly extrapolate what each and every result means to those teams' season.
Da Bears vs. Packers: Take a deep breath, all is right with the world, the Packers ran away with a victory here. Any number of factors could have played into such a thrashing. It could have been this guy wishing the Green Bay corners "good luck" in covering Brandon Marshall and Eric Weems. Not only a nice gesture, but one Jay Cutler himself helped come to fruition, only to blame it on someone else.
[yframe url='http://www.youtube.com/watch?v=vOEd4DIFwiQ']
Can you say Lombardi Lands in Lambeau again this year? Because I just did, even though they can only seem to beat divisional opponents so far … hmmm.
Bucs vs Giants: The future is now! Doug Martin and Josh Freeman have been touted as the future of football in Tampa Bay and they showed it by putting up 34 points on the G-men! Wait, the Giants still won? That Eli Manning character must be incredible! So incredible, in fact, he made Victor Cruz a household name last year. Who's it going to be this year? Hakeem Nicks? Oh, he's done for 4-6 weeks? This current event stuff is hard.
Raiders vs. Dolphins: Congrats, Ryan Tannehill on your first win as a professional quarterback. Just so we're clear, the Raiders are NOT in your division, but the Pats, Jets, and Bills are. You're welcome. Additionally, no one was killed in Oakland over the current 2 game losing streak. Chalk that one up in the W column.
Texans vs. Jags: Arian Foster, Ben Tate, Matt Schaub and crew made a mockery of Jacksonville with 379 total yards of offense. Don't feel too bad, Jacksonville is a mockery of a football team. Next.
Browns vs. Bengals: Andy Dalton looked like his rookie self (which is usually a compliment reserved only for Cam Newton) with over 300 yards passing and 3 TD's … from my fantasy team's bench. Speaking of great rookie performances, Trent Richardson may be this year's DeMarco Murray; almost 200 yards of total offense and two touches? Get some, young man.
Chiefs vs. Bills: Matt Cassel scored higher in fantasy points this week than Tom Brady. I mean what? How did the Chiefs lose by 18? Oh, that's right, you're the Chiefs. I mean, come on man! No Fred Jackson for Buffalo and they still put up 35 on you? Is there a line in the contract that as a team you MUST allow no less than two rushing TD's a game? C.J Spiller should take you all out to a nice steak dinner. No excuses, play like a champion … or play like the Chiefs.
Eagles vs. Ravens: By far the most exciting and interesting games from the second week came from teams with birds on their helmets (I see you Arizona). How does Philly do it? Two wins in two weeks by a combined two points, despite two interceptions (and a fumble) from Vick. Keep it going guys! 16 weeks, 16 wins, by a combined 16 points. Meanwhile, the Ravens will be fine after such a crushing defeat. Winning their division and being one step away from the Super Bowl (that's right, another AFC Championship appearance) should heal all wounds.
Saints vs. Panthers: The Saints have once and for all settled the debate that a good coach means a good football team. Or is it that a good linebacker in Jonathan Vilma makes a good football team?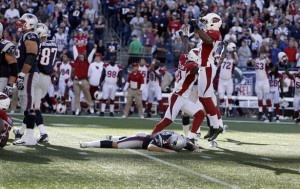 Arizona Cardinals vs. Patriots: Best game of the weekend. Bar none. Not only did the Cardinals go into Gillette Stadium and get a rare W, they did so with a blocked field goal as time expired AFTER turning it over on a routine run play attempting to seal it. Much like the Saints v. Panthers game, I thoroughly enjoy watching a team the NFL "experts" consider a "Super Bowl contender" (and therefore, unbeatable) go down tragically at home. Cardinals to the NFC Championship, Pats ousted in week 17 with a loss to the Dolphins, sure why not? That completely contradicts my prediction for Ryan Tannehill … this current event stuff is hard.
Colts vs. Vikings: Congratulations #1 overall draft pick Andrew Luck for your first win as a professional quarterback. You and Chuck Pagano can celebrate your firsts together for one week, at least. Granted, beating the Vikings is like the Varsity beating JV, but that's OK because you play the C-team Jaguars next week. Paradise in Indy at least until October, or until Peyton Manning comes to the homecoming game … high school puns. As for the Vikings, if you love something, let it go. If Adrian Peterson comes back, then you know … he's retired. Get him out of there before he goes the way of Barry Sanders.
Rams vs. Redskins: Midway through the 2nd quarter, Washington was already up 21-3. Ho-hum, another easy loss for the Rams, at least until Sam Bradford finally decided to show his true upside and throw for 310 yards and 3 TD's. Where did you come from Danny Amendola? With nearly a 50% fantasy owning jump this week, I know where you'll be going… Robert Griffin III's new moniker should be CNII, because with the loss of Brian Orakpo on the defensive line, RGIII's rookie season will be a sequel to Cam Newton's; ridiculous production without the W's. It's a tough league.
Cowboys vs. Seahawks: My beloved 'Boys are at it again. With the way they've played the first two weeks, they will be on their way to the title. The "Most Frustrating Team to Watch" title, that is. The team with the stars on their helmets was dominated from beginning (fumble on the opening kickoff) to the end (late touchdown drive by Seattle) on both sides of the ball. If Seattle could play every game in 12th Man Stadium, they'd be the best team in the league. Marshawn Lynch once again "put da team on his back" with 122 yards rushing.
Jets vs. Steelers: *Yawn* I'll pay attention to the Jets like I paid attention to the Broncos last season, after week 6 when it's TEBOW TIME! *Yawn* The Steelers can beat a marginal AFC opponent, what's new? Next.
Titans vs. Chargers: The Chargers are 2-0. With another win this coming week over the Falcons … OK with another win in two weeks over the Chiefs and the typical late season San Diego run the Bolts have all but wrapped up the AFC West. Please don't stop reading Broncos fans; you'll soon see I have your beloved Mannings in the playoffs too, but as a wild card. This is the year the Chah-juhs (as the Governator would say it) make a run … until the divisional round, then the unbreakable, un-climbable, un-go-aroundable wall known as New England they seem to always run into will once again appear.
49ers vs. Lions: The 'Frisco Footballin' 49ers once again win the "Handshake Bowl," and pretty … handily?
Matthew Stafford and the man-beast that is Calvin Johnson never really got going to the best of their abilities on Sunday night, credit the '9ers D for that. Alex Smith and company, meanwhile, look like the realest deal in the NFL right now (20-31 passing with 226 yards and 2 TD's, both to Vernon Davis, for Smith).
Falcons vs. Broncos: Last, but certainly not least is the hometown game. The Atlanta Redonk-u-lously Talenteds v. the Denver Mannings; and what did we learn? That Peyton Manning actually IS human. Some here in the 5280 are already calling for Manning's head on a stick. 3 picks and a fumble!? Unacceptable. Unless you're Tim Tebow, or Kyle Orton, or Jay Cutler, all of whom had 3+ turnover games in their tenure as Denver Broncos with little to no backlash. It was more of a quiet acceptance of mediocrity then, but not with a 4 time NFL MVP at the helm! Come on, man. He's been outta the game for over a year, you should be praising the orange sunsets that his down game came in week 2, rather than in week 10+. Pokes still make it to the playoffs, like I said as a wild card, and behind a Peyton Manning that will have 16 games of polish by that time, will surprise many people.
There are other sports currently being played that aren't football!?
Shockingly, yes. Here, quickly, are some of the highlights of those other "sports":
Not again!: The NHL has once again locked out its players due to wage labor disputes. What is Russia and Kazakhstan doing right that we aren't?
***- Bud Selig and Major League Baseball have come out in a statement saying that if Melky Cabrera wins the batting title, they will not bar him from it despite serving a 50 game suspension for breaking the substance abuse policy. The title should be given to the individual with the highest batting average over the ENTIRE SEASON, not ¾ of one. Congratulations, Mr. Selig, your legacy in this dying sport (thanks in part to you) will look something like this: Bud* Selig, commissioner** of baseball*** through the steroid era****.
85 is the Loneliest Number: Chad Johnson Ochocinco Johnson officially filed his divorce papers this week from his wife of 2 months. New record! I do kind of feel bad for the guy, though. Once the most exciting, electrifying and unpredictable wide receivers in the game, now merely a tabloid darling, CJ85 has had a rough go of it in the last year. Keep your chin up Chad, I'm sure someone in the CFL is looking for some excuse to pull more fans to their home contests. If not, go play MLS…or MLB, the Rockies sure could use a spark plug. (Chad Johnson was a pro prospect in football, soccer, and baseball. He chose football for the money.)
See ya, Pia!: Pia Sundhage's last game as the US Women's National Soccer Team's coach played out much like the others, a resounding 6-2 victory over Australia in the great state of Colorado with goals by Abby Wambach and Alex Morgan (I just drooled on my keyboard); a fitting end to a highly successful career that included over 90 wins, 2 gold medals, and a World Cup Final appearance. Not only did Sundhage continue a now long-standing tradition of excellence in women's soccer for the US, she did so by always pushing her players to continue fighting, no matter what the circumstance. This was evident in many "signature" wins in exciting fashion with game winning goals coming in the 90th+ minute and later on multiple occasions. The excitement and success from her time as the US coach has forever changed the landscape for soccer in this country. Take a step back and think about this one for a second. In the last 5 years (Sundhage's tenure) coverage and recognition of US Men's AND Women's National Team soccer has increased, and coverage of the Champions League, BPL, La Liga, and other top tier soccer competitions have come squarely into the social zeitgeist of American culture. As a life-long soccer player and fan I must say: Thank you, Pia Sundhage. Thank you.