#mtbeer Archives – PorchDrinking.com
November 13, 2018 | Jeremy Fuerst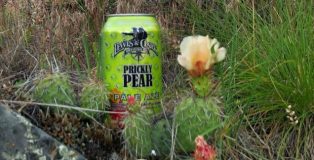 In a way, it is fortunate that President Thomas Jefferson wasn't able to read his distant successor's "The Art of the Deal." If he had, he might have learned that one does not kick the tires after making a $15 million purchase (as providence would have it, Jefferson's profligacy was vindicated and the French ended up looking like suckers). So it was that in May 1804, Meriwether Lewis and William Clark boldly commanded their corps to paddle furiously upstream from St. Louis, Missouri.
One full year later, Lewis and Clark found themselves in present-day Montana. By August 1805, two events critical to the expedition had happened: Lewis and Clark successfully navigated the Missouri River past Great Falls and what is today known as Helena, Montana; William Clark celebrated his 35th birthday with nary a beer in sight.
Luckily for you, the extended family at Lewis and Clark's namesake brewery have labored so you do not have to be so deprived. For your next expedition (e.g. trip to the bottle shop) or special occasion (e.g. Tuesday), we suggest Lewis & Clark's Prickly Pear Pale Ale.