#slowcook Archives – PorchDrinking.com
January 22, 2015 | Chelsea Mitchell 3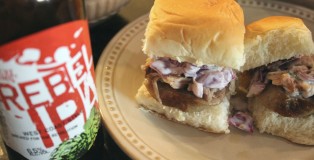 What is the one thing everyone does on NFL Sunday? Pig out, of course. No matter what team you're rooting for, I'm sure you'll be shoveling food and beer into your pie hole while your eyes are glued to the TV. To honor this feast of snacks, I'm bringing you a recipe for some epic sliders. First, you will make a hoppy orange pulled pork with Rebel IPA to properly perfume your house before the party. Next, you will make a creamy peanut coleslaw so the pulled pork can have a crunchy friend in this tiny sandwich. Then… sausage. Because a 'pig out' slider clearly needs extreme amounts of pork. Finally, you will pile it all up on a Hawaiian sweet roll because they are the best and the only real way to properly transport this much pork into your gullet. Good luck to all the teams and may the pork be with you.
April 16, 2014 | Chelsea Mitchell 2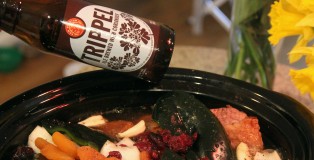 Happy Passover, Jews and non-Jews! If you're a shiksa like me, you'll probably be forced to celebrate one way or another. What is a shiksa, you ask? Oh, just a non-Jewish girl trying to temp a Jewish boy into marriage (I think it might be working). Whoever you are, its always fun to celebrate Passover and all Jewish holidays because they usually require a constant supply of food. And whenever food is involved, there's always a way to incorporate beer. Along with the latkes and kuge, I decided to slow cook a brisket in beer for 6 hours. The beer of choice was Trippel by New Belgium. This ale is brewed with coriander, which makes it the perfect herbal addition to the dish. It's also the perfect addition to your belly. Since this recipe requires three bottles, you'll be forced to buy a six-pack.  I won't force you to drink the rest but I highly recommend it.