3 Comments
Cooking with Beer | Pig Out Sliders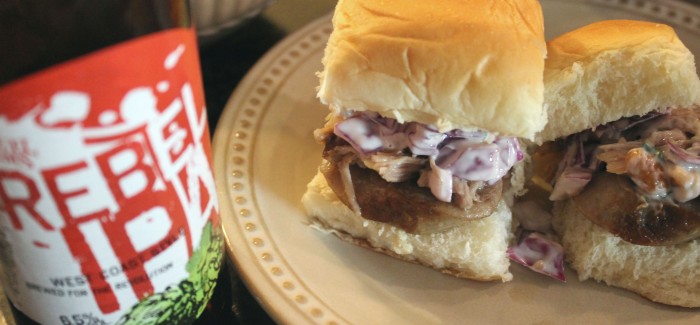 What is the one thing everyone does on NFL Sunday? Pig out, of course. No matter what team you're rooting for, I'm sure you'll be shoveling food and beer into your pie hole while your eyes are glued to the TV. To honor this feast of snacks, I'm bringing you a recipe for some epic sliders. First, you will make a hoppy orange pulled pork with Rebel IPA to properly perfume your house before the party. Next, you will make a creamy peanut coleslaw so the pulled pork can have a crunchy friend in this tiny sandwich. Then… sausage. Because a 'pig out' slider clearly needs extreme amounts of pork. Finally, you will pile it all up on a Hawaiian sweet roll because they are the best and the only real way to properly transport this much pork into your gullet. Good luck to all the teams and may the pork be with you.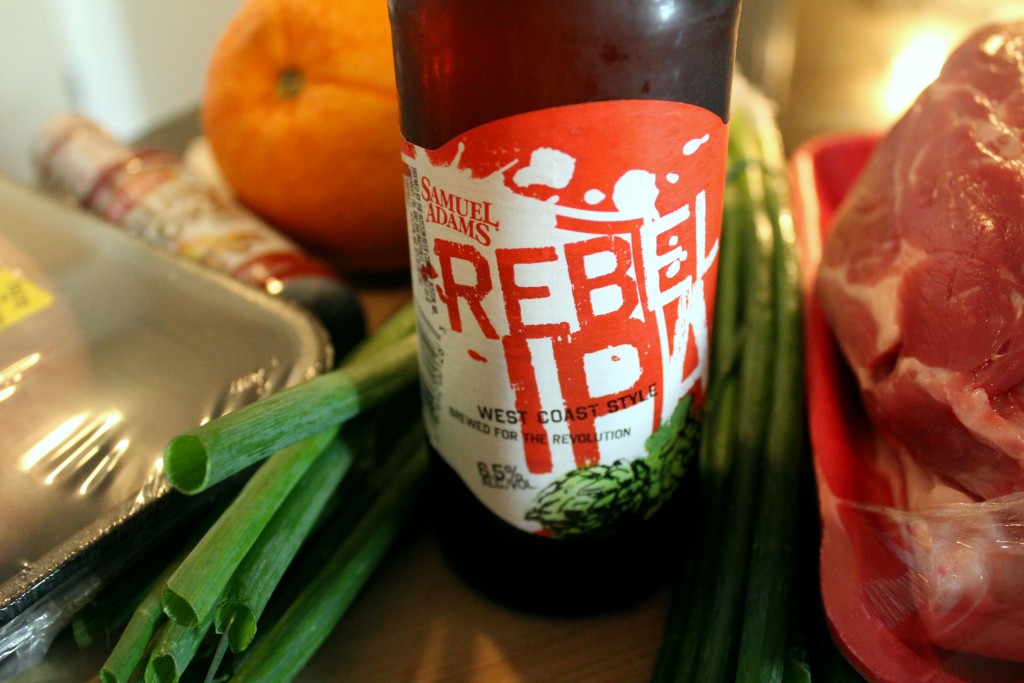 Ingredients
Hoppy Orange Pulled Pork:
4 lb pork shoulder
2 tbsp butter
1 cup chopped green onions (buy two bunches)
1 very large navel orange or 2 small navel oranges
3 garlic cloves, minced
2 jalapenos, chopped (veins and seeds removed)
1/4 cup brown sugar
1 tsp ground ancho chili peppers
1/2 tsp cumin
1/4 cup white wine vinegar
2 bottles of Rebel IPA by Samuel Adams Brewery
You will need a Crock Pot.
Creamy Peanut Slaw:
3/4 cup red onion, chopped
1 1/2 cups red cabbage, chopped
1 1/2 tbsp fresh cilantro, chopped
1/3 cup peanuts, chopped
4 tbsp fresh squeezed orange juice
2/3 cup olive oil mayo
1/2 tsp salt
Assembly necessities:
Hawaiian sweet rolls
1 Kielbasa or 'German sausage'
Directions
In a large pan, melt the butter on high heat and brown that big ol' hunk of meat. For me, it took about 3 minutes to get each side just right.
While the pork is browning, wash and chop the veggies and add them to a bowl along with garlic, spices, brown sugar, and vinegar. Then, give it all a good stir.
Cut the orange(s) into big chunks.
In the Crock Pot, lay out some orange slices and scatter some of the mixture in the bowl on top. Add the pork to the pot and top with the rest of the ingredients. For the final touch, pour in two bottle of Rebel IPA. Cook on high for 5 hours.
For the slaw, combine all of the ingredients in a bowl and stir well.
Assembly!
Cook the sausage and cut into medallions.
Open up the Hawaiian sweet rolls.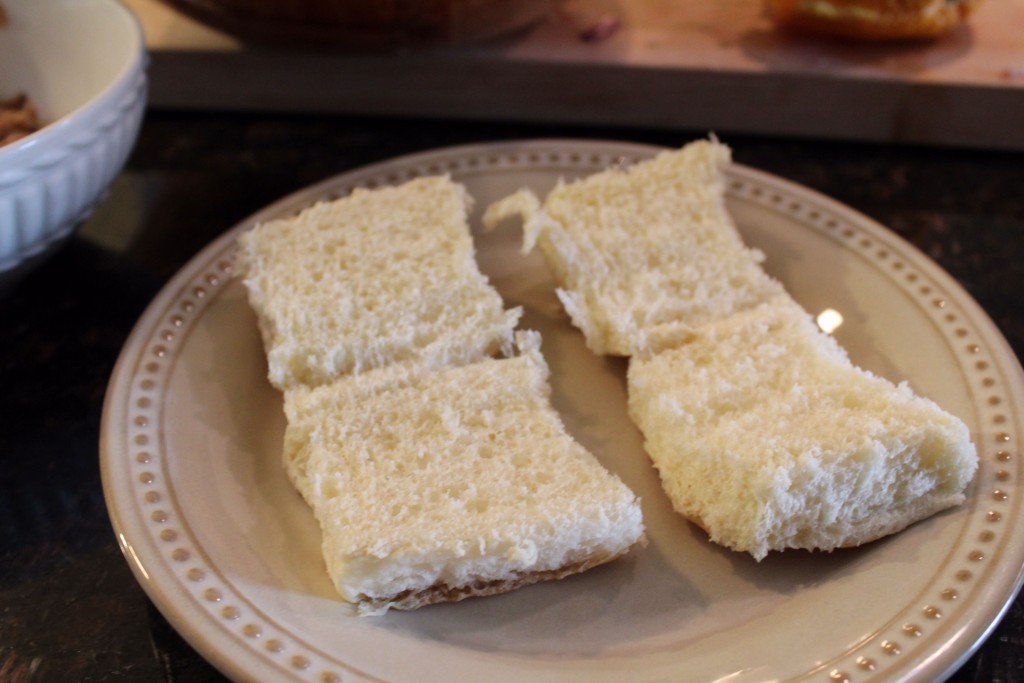 Pile on the sausage.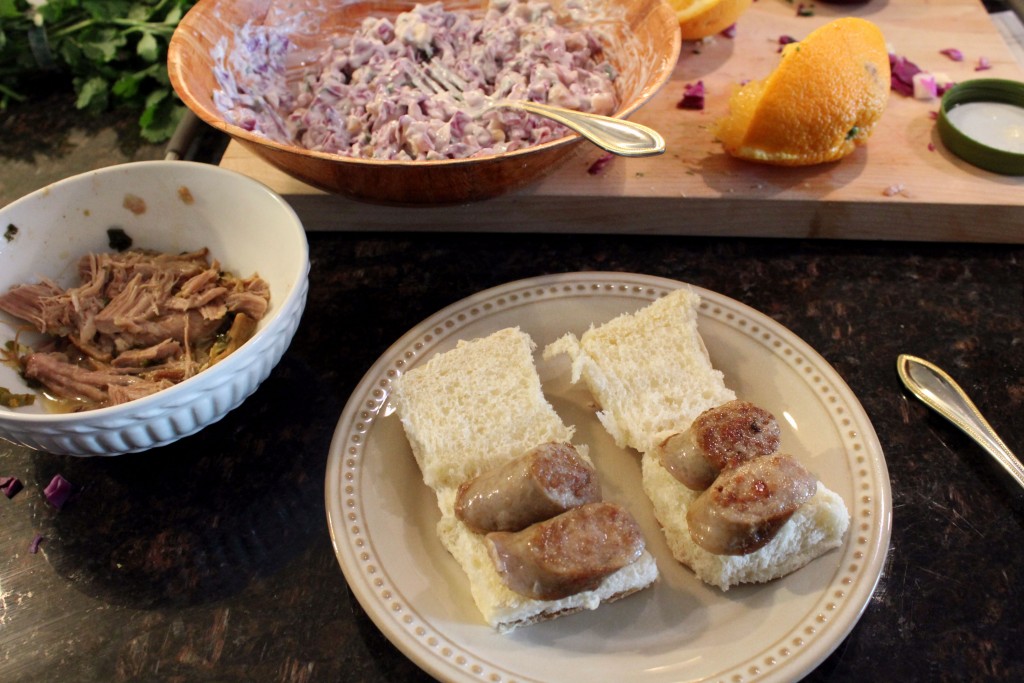 Top with pulled pork, adding even more pig to this party in your mouth.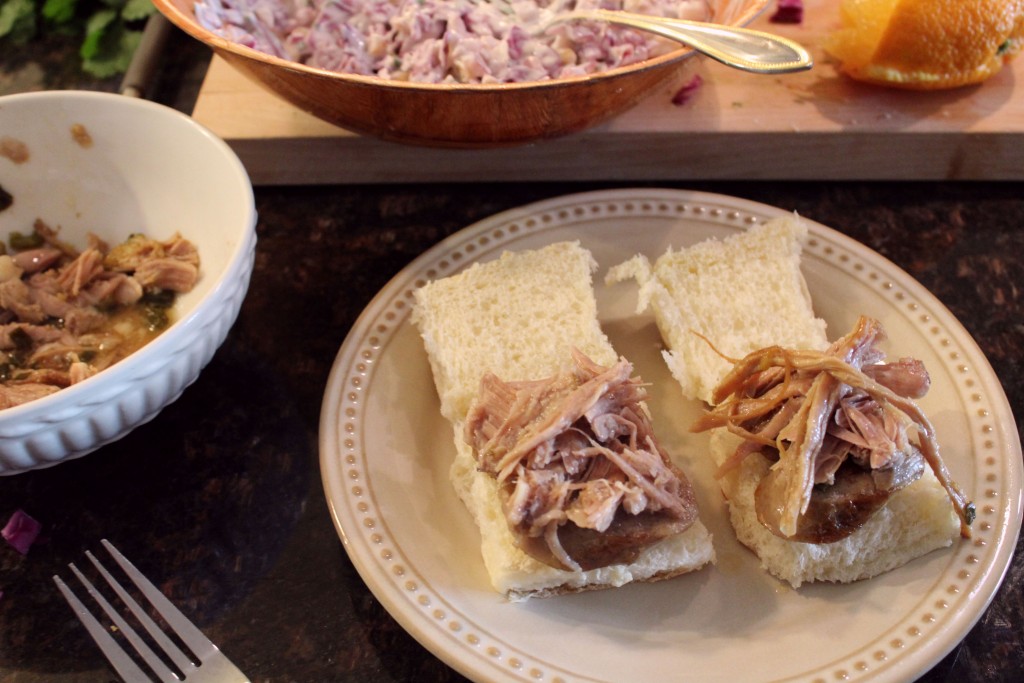 Love cooking with beer? Check out the Cooking with Beer section or DrinkandSpoon.com for more boozy recipes.
---