January 8, 2019 | Taylor Laabs 1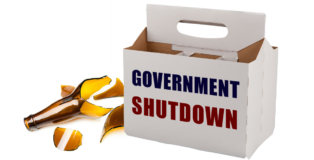 Avg. Reading Time:
2
min
The government shutdown is now in its third week due to the debate over a border wall and has resulted in noted consequences for federal workers, government entities and general governmental functions. While many are more pressing, perhaps the one many craft beer fans should keep an eye on is how it impacts the Alcohol and Tobacco Tax and Trade Bureau (TTB).
One of TTB's functions is approving new beer labels, licenses and ingredients that are vital to the continued business of any craft brewer, winery or distiller. As long as the government keeps its doors shut, the TTB does too, which means any meaningful innovation or initiative from craft brewers come to a grinding halt as the government body will not "review or approve any new submissions" during the shutdown.  Here are some of the major implications if the government decides to extend the shutdown further.