No Comments
PorchDrinking Playlist: Folkin' Around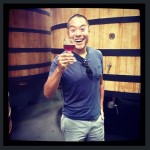 * Editor's Note: The PorchDrinking Playlist will feature weekly post to help aid in your porch drinking sessions. Some like the one today, will be themed toward specific genres.
Going forward, please visit us on Facebook, Twitter or post comments to recommend songs we should use in our next installment. We're always happy to receive feedback.
Our porch has heard it's share of musical genres during our recurring porch drinking sessions. But the one constant we typically fall back on, is some good old fashioned folk. We're talkin' bluegrass-y, pickin' and grinnin', banjos, harmonicas, mandolins and crazy awesome vocals. I've compiled a list of just those kind of folk jams to accompany your next PorchDrink. Summer isn't quite over yet so kick back, relax, and folk around a bit. Let me know what you think and whether there are any others we should add to the next compilation! P.S. both the Avett Brothers and Mumford and Sons will be releasing new albums in September … before we get to the playlist here's a preview of the Avett Brothers' upcoming single Live and Die.

Matt Costa- Josephine
Matthew and the Atlas- I Will Remain
The Head and the Heart- Down in the Valley
Chatham County Line- The Carolinian
Langhorne Slim- Electric Love Letter
The Shins- Gone for Good Alternative Version
Delta Spirit- Trashcan
The Avett Brothers- Denouncing November Blue
Old Crow Medicine Show- Levi
Humming House- Cold Chicago
The Avett Brothers- The Fall
The Civil Wars- Barton Hallow
Good Old War- Coney Island
Langhorne Slim- I Love to Dance
Baywood- I Can Breathe Again
Trampled By Turtles- Wait So Long
Old Crow Medicine Show- Wagon Wheel
The Nitty Gritty Dirt Band- Classical Banjo I
The Lumineers- Stubborn Love
Mumford and Sons- The Boxer