4 Comments
2015 Chicago Beer Festival Pour List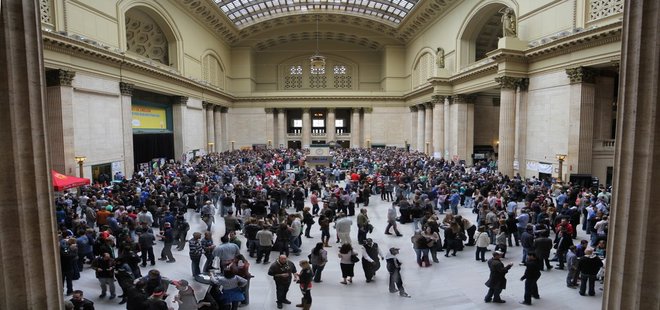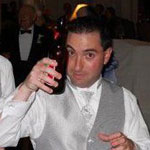 What: The Chicago Beer Festival
When: Saturday March 21st
Session 1: 1-4pm
Session 2: 6-9pm
Where: The Great Hall at Union Station
How Much: $40 Buy Tickets Here
Website: www.thechicagobeerfestival.com/
Twice a year since 2012, beer lovers flock to The Great Hall at Union Station to take part in The Chicago Beer Festival. On March 21st over 60 breweries will be pouring their brews and those in attendance will have their choice of over 150 beers to sample.
Those interested in attending can purchase tickets for $40 plus fees and get to choose between the early session 1-4pm or the late session 6-9pm. Each person in attendance will receive 40 taster vouchers to use amongst the different breweries.
Held once in the spring and once in the fall, the event allows the breweries to showcase their well-known regular beers, but also their seasonal varieties as well. While a majority of the breweries are located in Illinois, the breweries are from more than just Chicago. From the city to the far suburbs and beyond, the wide variety of breweries allows those in attendance the opportunity to sample breweries they might have never heard of before.
A handful of breweries are from outside Illinois though. While many will recognize familiar names like Bell's and Founders, Drewry's from South Bend, Ind. just began distributing in a handful of stores in Chicago and around northern Illinois.
The brewery with roots the farthest outside of Illinois is Crabbie's. Started in the United Kingdom, Crabbie's will be on site sampling their original alcoholic lemonade as well as their cloudy variety.
This year's lineup includes some familiar names from past festivals like Local Option, Transient Artisan Ales and 3 Sheeps Brewing Company, but it will also have more than 15 new breweries.
Newcomer Moody Tongue Brewing, which specializes in "culinary brewing," will feature three beers including their sliced nectarine IPA as well as two other beers. Triptych Brewing from Savoy, Ill. will also be making its first appearance at the event. Triptych is a small microbrew that got its start with the help of a Kickstarter campaign.
A list of what each brewery will be pouring can be found below. Please note that this list is subject to change and does not include every brewery at the festival. Every brewery was contacted to provide its pour list but not everyone responded.
| | | | | |
| --- | --- | --- | --- | --- |
| Brewery: | City: | State: | What Are They Pouring: | ABV: |
| Ale Syndicate | Chicago | IL | Trinken Lowen – Citra-hopped Altbier | 4.7 |
| | | | Seven Flowers – Double IPA | 8 |
| | | | Petrillo – Pale Ale | 4.8 |
| | | | | |
| Illuminated Brew Works | Chicago | IL | Pazuzu's Pedals – Belgiun Porter | 5.8 |
| | | | Kallistic – Golden Ale | 7.4 |
| | | | Hasselhopf – Belgian Pale Ale | 5.8 |
| | | | | |
| Smylie Brothers Brewing Company | Evanston | IL | Smylie Brothers IPA | 7 |
| | | | Smylie Brothers Farmhouse | 5.5 |
| | | | Applewood Porter | 8 |
| | | | | |
| Pollyanna Brewing | Lemont | IL | Eleanor – Porter | 6.8 |
| | | | Mazzie – American Pale Ale | 5.4 |
| | | | Behind Abbey Doors – Belgian Brown Ale | 6.4 |
| | | | | |
| Lagunitas Brewing Company | Chicago | IL | Lagunitas IPA | 6.2 |
| | | | Lagunitas Pils | 6 |
| | | | TBA Seasonal | |
| | | | | |
| Bucket List Brewing | Chicago | IL | Breaking 80 – American Pale Ale | 4.7 |
| | | | Hellfire Club – English Brown Ale | 7.5 |
| | | | East End – Extra Special/Strong Bitter | 6.2 |
| | | | | |
| Iron Spike Brewing Company | Galesburg | IL | Flatback IPA | 6.5 |
| | | | Dark Territory – Chocolate Stout | 8.5 |
| | | | TBA | |
| | | | | |
| Middle Brow Beer Company | Zion | IL | Milk Eyed Mender – Stout | 8 |
| | | | Summer In Pain – Belgian IPA | 6.5 |
| | | | Australian Galaxy Hops | N/A |
| | | | | |
| Carson's Brewery | Evansville | IN | Red Dawn – Amber Wheat | 5.5 |
| | | | Brown Cow – Brown Ale | 5 |
| | | | RIPA – Red IPA | 7 |
| | | | Eville – Pale Wheat Ale | 5.1 |
| | | | | |
| Noon Whistle Brewing | Lombard | IL | Bernie – Milk Stout | 5 |
| | | | Face Smack – Berliner Weisse | 4 |
| | | | That Lady – Belgian Pale Ale | 5 |
| | | | | |
| Mercenary | Chicago | IL | The Charlatan – Pale Ale | 5.9 |
| | | | Fat Pug – Milk Stout | 5.6 |
| | | | | |
| SlapShot Brewing | Chicago | IL | Pale Ale | N/A |
| | | | Triple Deke – Belgian | 8.2 |
| | | | 1926 – Rye Pale Ale | 5 |
| | | | | |
| JT Walkers | Mahomet | IL | Grand Chief – Imperial IPA | 10 |
| | | | Crazy Gals – Rasberry Ginger Saison | 5.2 |
| | | | Walker's Original Cream Stout | 5 |
| | | | | |
| Urban Legend Brewing Company | Westmont | IL | Sweet Lacey's Revenge – Farmhouse Ale | 4.7 |
| | | | Scylla's Grasp – Mosaic Pale Ale | 5.2 |
| | | | The Creature – Imperial Black IPA | 8.5 |
| | | | | |
| Atlas Brewing Company | Chicago | IL | Triceratops Rodeo IPA | 7.4 |
| | | | Farmhouse Wheat | 5 |
| | | | Freight Handler Milk Stout | 5 |
| | | | | |
| Triptych Brewing | Savoy | IL | Book'em Brettano – IPA | N/A |
| | | | 2nd Anniversary Imperial IPA | 10 |
| | | | Belgian Tripel | N/A |
| | | | | |
| 51st Ward Beer Company | Westmont | IL | Intermediate Clerk Typist – IPA | 7.7 |
| | | | Krispy Kaream Cream Stout | 7.8 |
| | | | TBA | |
| | | | | |
| Local Option Bierwerker | Chicago | IL | Sweet Leif – Biere de Garde | 6.5 |
| | | | Outlawger – Pilsner | 5 |
| | | | | |
| Vice District Brewing Co. | Chicago | IL | TBA – New Double IPA | N/A |
| | | | Habitual – Black IPA | 7 |
| | | | Arianna – Belgian Blonde | 5.2 |
| | | | | |
| Crabbie's | United Kingdom | | Crabbies Original Lemonade | 4 |
| | | | Crabbies Cloudy Lemonade | 4 |
| | | | | |
| Baderbrau | Chicago | IL | Chicago Pilsner | 4.8 |
| | | | Red Velvet | 6 |
| | | | Naked Selfie | 6 |
| | | | | |
| Destihl Brewery | Bloomington | IL | Abbey's Single – Beligan Pale Ale | 4.9 |
| | | | Black Angel Stout | 6.7 |
| | | | Counter ClockWeisse – Berliner Weisse | 3 |
| | | | Weissenheimer Hefeweizen | 5.2 |
| | | | | |
| Small Town Brewery | Wauconda | IL | Not Your Father's Root Beer | TBD |
| | | | | |
| Rolling Meadows Brewery | Cantrall | IL | Abe's Ale – Double Brown Ale | 8.5 |
| | | | Springfield Wheat – Hefeweizen | 5 |
| | | | Lincoln's Lager – Pale Lager | 6.5 |
| | | | | |
| Pig Minds Brewing Co. | Machesney Park | IL | Sweep The Leg IPA | 5.5 |
| | | | Vanilla Bitch Slap – Red Lager | 5.5 |
| | | | Joe Daddy Imperial Coffee Stout | 8.2 |
| | | | | |
| Arcade Brewery | Chicago | IL | Dubbeltime – Belgian Dubbel | 8.3 |
| | | | Final Level – Extra Special/Strong Bitter | 6.3 |
| | | | Grapefruit IPA | 6.3 |
| | | | | |
| Brickstone Brewery | Bourbonnais | IL | APA – American Pale Ale | 6.25 |
| | | | HopSkipNImDrunk – Double Pale Ale | 7.75 |
| | | | Right Swipe – Session Pale Ale | 5.25 |
| | | | | |
| Cademon Brewing Co. | Genoa | IL | Highland Memory – Scottish Ale | 5.8 |
| | | | Demonic Stout | 6 |
| | | | Vanilla Demonic Stout | 6 |
| | | | | |
| Wild Onion Brewery | Lake Barrington | IL | Misfit IPA | 7 |
| | | | Chinwaggin' Irish Red Ale | 4.8 |
| | | | Phat Chance Blonde | 5.2 |
| | | | | |
| Rude Hippo | Chicago | IL | Bee's Sleaze – Golden Ale | 6.5 |
| | | | Honey Basil – American Amber | 7.4 |
| | | | Black Card Stout | N/A |
| | | | | |
| Begyle Brewing | Chicago | IL | Hophazardly American IPA | 7.1 |
| | | | Free Bird American Pale Ale | 5.5 |
| | | | Flannel Pajamas Oatmeal Stout | 5.4 |
| | | | | |
| Lake Effect Brewing Company | Chicago | IL | Espresso Gone Stout | 7 |
| | | | Bitchin' Blonde – Belgian Style Ale | 7.5 |
| | | | | |
| Drewrys Brewing Company | South Bend | IN | Drewrys Premium Lager | N/A |
| | | | | |
| Crystal Lake Brewing | Crystal Lake | IL | Beach Blonde Golden Lager | 5.3 |
| | | | Slalom King Rye IPA | 7.5 |
| | | | | |
| Lena Brewing Company | Lena | IL | Coffee Caramel Pecan Stout | 5.5 |
| | | | Bloodshed ESB | N/A |
| | | | Uncle Tyson's Dunkelweizen | 4.4 |
| | | | | |
| Blue Nose Brewery | Hodgkins | IL | True Justice Pale Ale | 6 |
| | | | World War – Lager | N/A |
| | | | Mystery Stout | N/A |
| | | | | |
| Church Street Brewing | Itasca | IL | Crimson Clover Red Irish Ale | 5.5 |
| | | | Bob's Your Dunkel | 4.9 |
| | | | Fire IPA | 6.2 |
| | | | | |
| Brothers Griff Brewing Co | Naperville IL | | Viking Spring – Belgian Witbeir | 11 |
| | | | Beet It! – Munich Helles | 5.5 |
| | | | Silky Drawers – Belgian Speciality Ale | 7.5 |
| | | | | |
| Aquanaut Brewing Co | Chicago | IL | Maiden Voyage – Rye IPA | 6 |
| | | | The Search – Extra Special/Strong Bitter | 5.4 |
| | | | Misterioso – Coffee Porter | 5 |
| | | | | |
| Moody Tongue Brewing Company | Chicago | IL | Caramelized Chocolate Churro Baltic Porter | 7.7 |
| | | | Dehydrated Tangerine Cacao Wheat | 5 |
| | | | Sliced Nectarine IPA | 6 |
| | | | | |
| Founders Brewing Co. | Grand Rapids | MI | All Day IPA | 4.7 |
| | | | Imperial Stout | 10.5 |
| | | | Rubaeus | 5.7 |
| | | | | |
| Cahoots Brewing | Oak Park | IL | No S'more Imperial Stout | 9.1 |
| | | | | |
| Bell's Brewery | Kalamazoo | MI | Special Double Cream Stout | 6.1 |
| | | | Oarsman | 4 |
| | | | Two Hearted Ale | 7 |
| | | | | |
| Rogue Ales & Spirits | Newport | OR | Rogue Fruit Salad Cider | 6.4 |
| | | | Rogue Brutal IPA | 6 |
| | | | Rogue Hazelnut Brown Nectar | 5.6 |
| | | | | |
| Banging Gavel Brews | Chicago | IL | Chicanery Russian Imperial Stout | 10.1 |
| | | | Red Handed Irish Red Ale | 7.1 |
| | | | Legit IPA | 5.6 |
| | | | | |
| One Trick Pony Brewery | Lansing | IL | Spotted Saddle – American Pale Ale | 6.2 |
| | | | Storm Cat – Amber Ale | 6.7 |
| | | | Marsh Tacky – Stout | 6.2 |
| | | | Major – Scotch Ale | 8.6 |
| | | | Brabant – Belgian Golden Strong Ale | 8.1 |
| | | | Christmas Stallion – Imperial Spiced Porter | 10 |
| | | | Spurs In My Flanks – Imperial Red Ale | 7.8 |
| | | | Chestnut – American IPA | 7 |
| | | | Lordoso – Belgian Pale Ale | 6 |
| | | | Black Beauty – Smoked Porter | 6 |
| | | | | |
| 3 Sheeps Brewing Company | Sheboygan | WI | Really Cool Waterslides – IPA | 6.2 |
| | | | Baaad Boy Black Wheat – Black Wheat Ale | 5.5 |
| | | | | |
| Ten Ninety Brewing | Chicago | IL | IPA | 6.3 |
| | | | Apricot – Pale Wheat Ale | 5.9 |
| | | | ReplicAle – Amber/Red Ale | 7.5 |
| | | | | |
| Brooklyn Brewery | New York | NY | 1/2 Ale Session Saison | 3.4 |
| | | | East IPA | 6.9 |
| | | | Cuvee La Boite – Spiced Grand Cru | 8.2 |
| | | | Hammarby Syndrome – Swedish Strong Ale | |
| | | | | |
| Scorched Earth | Algonquin | IL | Hickster – American Cream Ale | 5.5 |
| | | | Foraging Swine – Smoked Ale | 5.2 |
| | | | The Bitter Chocolatier – Imperila Stout | 9.1 |