One Comment
25 Super Bowl Beers | Colorado vs Carolina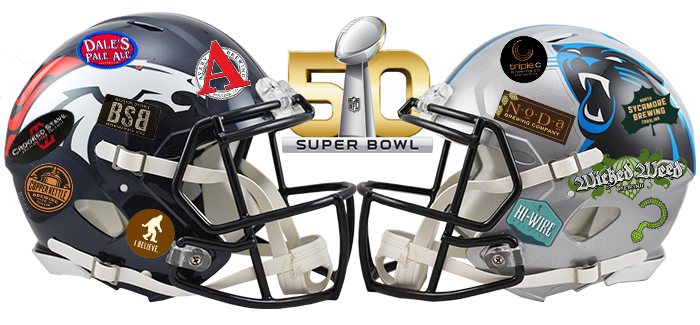 Super Bowl 50 pits the Denver Broncos and the Carolina Panthers in a historic matchup replete with many storylines. Will the grizzled veteran in Peyton Manning, back on the field after a foot injury that sidelined him, walk away with another Super Bowl ring, in what many believe will be his final season? Will the under-the-radar Carolina Panthers, led by the young gun QB Cam Newton, along with one of the league's best defenses take the Lombardi Trophy home to Charlotte for the first time in team history?
Although we fall on opposite sides of this rivalry, PorchDrinking.com's Denver and Southeast teams came together to find 25 Super Bowl beers we think tell the story of Panther Nation vs. the Orange Crush 2.0. It's up to you to decide which beer state is better!
Denver Broncos
This big, bourbon barrel-aged imperial coffee stout (15% ABV) represents the Broncos D really well: Full of energy, hard hitting, and it will probably leave you lightheaded when it's over. Both Tweak and the Denver defense are highly rated, but often forgotten until seen in action. Like the Orange Crush D, this beer is best when tackled by a group.
Black Shirt Brewing is making some of the best beer in the city right now, and their Red Evelyn might be the best showcase of that. It's only appropriate to set aside a special beer to celebrate the Bronco's third Super Bowl win, and this large format (bomber sized) Double IPA is just the way to do it.
https://www.instagram.com/p/_FtZCDooy4/?taken-by=blackshirtbrew
If you've ever tried Copper Kettle's flagship beer, you know how spicy and good it is… just like Von Miller. Continually drinking it is like Von's pass attack: extremely potent and it gets more intense as the game goes on. Both Von and Mexican Chocolate Stout seem intimidating, but still very approachable (Von should only be approached off the field because he is practically the Tazmanian Devil between the sidelines).
Both of the Denver's top wide receivers are in extreme demand, just like anything from Casey. DT and Emmanuel Sanders are both flashy, something ladies love, and most importantly, you don't want to leave it alone or else it is gone.
If you're cheering for the Orange Crush, this refreshing apricot-flavored beer is perfect for the unseasonably warm temperatures Denverites are used to seeing mid-winter. It's a little on the sweeter side but it's also the perfect gateway beer. The low ABV won't knock you on your butt if you're sipping throughout the game.
Like the dance moves Broncos players unleash after a big sack, this beer is funky and good in all sorts of ways. This farmhouse saison pours orange and like the Broncos team, is really well balanced. At 6.2% ABV, you feel comfortable drinking it, but be careful; it can sneak up on you.
Titan is the Peyton Manning of beer. It has been a staple in Denver's craft beer scene longer than almost anything else out there. Also, Titan is not something craft beer aficionados think of all the time, but when you put it in your starting lineup, it gets the job done and you won't be disappointed.
https://www.instagram.com/p/9wslY5JSp8/?taken-by=greatdividebrew
Little Machine is close enough to Mile High Stadium that your beer will shake during a pre-game flyover. Like the Denver crowd at home games, this 10% ABV beer is nothing to ignore. Both are overall sweet, but if treated wrong, they can lead to a bad experience.
The Broncos have shown throughout the year that they aren't committed to any individual player — only what is best for the team. Mockery showed the same spirit with Commitment-Phobe, an incredible quad that combines both a whiskey-aged and a red wine-aged version to create the best possible option. The Broncos switched from future hall-of-famer Peyton Manning leading the team to Brock Osweiler, then back to Peyton. Both the Broncos and this Mockery creation have shown great depth that leads to great success.
Following the theme of orange cans, Consilium is brewed with lactose and oats (did someone say Oatmaha?!). The beer's name refers to judgement and wisdon (does that remind you of a certain game-changing quarterback that's 6'5″, 230, laser rocket arm?). And like a certain player that I will only mention one or two more times, this easy-drinking ale is pale and finishes strong.
Kick off your game day the right way with a glass of this Grapefruit IPA. This is a citrus hop bomb and will help get your mind right for the Broncos victory. The brewery is only a stone's throw away from Mile High Stadium and the grapefruit beer makes a great breakfast on your way to the stadium on game days.
This one comes from Wynkoop brewery, which was co-founded by Governor Hickenlooper, and is one of the oldest active breweries in the state. This sticky, malt forward caramel red pays tribute to the home state of Colorado and the brewery is in the hearth of downtown.
Toss Up
If Super Bowl Sunday is Peyton's last rodeo as expected, he needs to go out on top. This heavy red beer packs a ton of different flavors that play well together when brought together. Having a G'Knight is a great way to go out: sweet, complex and even sentimental (Read up on its origins).
Peppermint Mocha Ten FIDY was part of the 2015 Ten FIDY Brevard release day party. As if the imperial stout isn't ridiculously good alone, but OB threw down and added peppermint to the recipe to make magic happen. And magic, my friends, is what Cam and the Panther Nation faithful are counting on Sunday.
Carolina Panthers
Carolina brewery Fonta Flora marched into GABF 2015 and brought home gold for the Beets, Rhymes and Life in the Field Beer category and that's exactly what the Panthers expect Sunday. Plus, the beer's irresistible artwork features a beet with headphones, totally reminiscent of how you picture athletes going into game mode.
https://www.instagram.com/p/5poIaYlMoa/?taken-by=fontaflorabrew
The Charlotte Observer's Scott Fowler says every time Panthers wide-receiver Ted Ginn, Jr. steps on the field, he's ready for the "Ted Ginn Experience," which Fowler describes as full of dazzling kick returns and heroics as much as it's full of dropped passes and heartbreaking lost opportunities. But ask Panthers fans, and they're counting on Ginn to be ready for Prime Time come Super Bowl Sunday.
Flying under the radar nationally, but winning in every way, NoDa's Hop Drop N' Roll is the spirit beer of the Carolina Panthers. Fans in CLT know both belong in the big leagues — Newton in the same sentences with Manning and Hop Drop N' Roll in the same breath as Two Hearted.
Red Oak's Amber Lager is as solid an option as you'll find in central North Carolina. The name alone evokes ooos and ahhs. The fragrant smell and crisp, clean, well-balanced flavor ensures a supremely enjoyable drinking experience. Bottom line, when you need to get that extra yard, go with Red Oak.
The guys at Southern Pines Brewing Co. tell Porch Drinking that Duck Hook Cream Ale is the beer that brings even self-proclaimed non-craft beer lovers into their brewery time and time again. Not only is this a cream ale that'll please a room full of football fans who might not be ready for an aggressive-nosed IPA, but Duck Hook reminds of the good ole' button hook football play.
It takes precision, time and sacrifice to make it to the Super Bowl, and the brewers behind Charlotte's Sugar Creek XV understand putting in time to craft an unforgettable product. The brewery describes the beer as their "labor of love": four hop varieties, three Belgian malts and three different yeast strains, aged more than a year in American Tennessee Sorghum Whiskey barrels to turn into a beautiful mix of dark fruits surrounded by the warmth of the whiskey. Sugar Creek XV weighs in at 15% ABV and 320 IBU.
Quarterback Cam Newton showed up for Super Bowl week in zebra-striped, yellow flowered Versace pants. Those pants shouldn't work on anyone, but somehow Cam Newton makes everything work right now. The Salty Coconut Red Ale from Charlotte's Sycamore Brewing is the same way: it defies the odds. You expect salty goses dance on your tastebuds. Big red ales can be a tangy mix of bitter, sometimes spicy and malty. You'd expect to find coconut complimenting a silky brown ale — but Sycamore brings all those flavors together to create this memorable beer.
https://www.instagram.com/p/BBNomLQKFb9/?taken-by=jonathanstewar1
No one saw this season coming for the Carolina Panthers. "They had a losing record last year, and few gave them a chance to be good, let alone this good," says Sean Breslin, founder of Breslanta.com, which covers sports and hot topics across the Southeast. At the beginning of the season, most sports analysts would have told you Carolina was on a Road to Nowhere.
Charlotte's Unknown Brewing sits less than half a mile from the Panthers' Bank of America Stadium. It's a straight shot down S. Mint Street, so perfect for pre-gaming during the season — though admittedly a far walk from San Fran — and what better to make it through long football days than a session IPA.
Yule See comes from Charlotte's Wooden Robot, who has already placed a friendly wager on the game with Denver's Little Machine Beer.  Yule See is basically what Panthers fans have been saying all season. This pretty much describes their season:
https://www.instagram.com/p/BA-7zb6s1ua/
Wicked Weed's Hiver Joie, which translates into "Winter Joy," packs a whole lot of punch. First, you get the sweet scent of the bourbon barrels in which it was brewed. Then the sour, acidic character hits you in the tongue so hard you can feel it in your teeth. And if that weren't enough, you'll feel the 10.5% ABV well after you've finished the galss. With Hiver Joie as part of your game plan, you can't lose.
So which team would win the Super Bowl if it were based solely on beers? Share your comments below!
Brady Akers, Jess Baker, Tristan Chan, Josh Ritenour and Chris Hilliard contributed to this article
---