No Comments
Event Preview | A Salted Cucumber Returns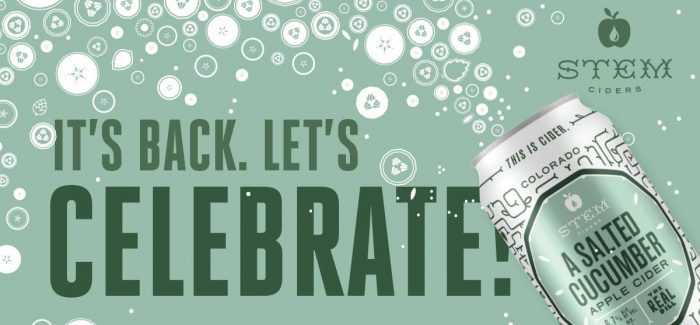 St. Patrick's Day isn't the only green-themed boozy celebration this month. Stem Ciders is feting the return of A Salted Cucumber, one of its most popular seasonal releases, with parties at both its RiNo taproom and its Acreage restaurant in Lafayette, Colorado.
Produced in collaboration with Denver-based The Real Dill, A Salted Cucumber is a Gose-style cider first created two years ago in honor of the pickle company's five-year anniversary. Stem will be selling 10-ounce pours for $5 throughout the day and night on Saturday, March 16 at its RiNo location.
March 16: A Salted Cucumber
Courtney O'Rourke, Stem's director of marketing and cider relations, said the decision to revive A Salted Cucumber was a no-brainer.
"The response was so phenomenal–the fans went wild–we knew we had to bring it to market," O'Rourke explained.
In addition to discounted pours, Stem is giving the first 50 customers a free keepsake glass. Cider lovers will also have the chance to compete for prizes from the Real Dill, Stem and Acreage. The event will also feature live performances from Gin Doctors and Scotty and the Late Nights.
March 17: St. Paddy's Day Pickle Party
On Sunday the 17th, Acreage and the Real Dill are throwing a joint "Pickle Party" bash complete with a spicy pickle eating contest and a special St. Patrick's Day menu. The Real Dill's signature Bloody Mary mix will likewise be flowing.
A Salted Cucumber will be available in all of Stem's markets the following week through September, according to O'Rourke.
Here's a link to the RiNo taproom event and here's a link to the Pickle Party in Lafayette.
https://www.instagram.com/p/Buum_Z-lEep/
---