apricot blonde – PorchDrinking.com
October 21, 2016 | Brian Phipps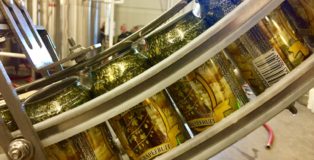 Avg. Reading Time:
1
min
Dry Dock Brewing Co. celebrates its 11th anniversary this weekend with an exciting tasting of specialty, rare, and vintage beers at its North Dock location (2801 Tower Road). The party goes from 12pm – 5pm on Saturday and tickets are just $35, which can be purchased here.
June 7, 2013 | Lizzie Bourque
Avg. Reading Time:
1
min
In case drinking out of a can was too difficult for you—no worries, we have an easy fix for that! Just add a handle to it. Now you can enjoy the feel of a stein right out of the can! (Does this sound like a bad infomercial yet?) Still, they would definitely get my $14.99 plus shipping and handling for this cool contraption. Just please don't throw in that Mexican wrestling doll as my free gift.