gluten-free beer Archives – PorchDrinking.com
March 17, 2020 | Michelle Pagano 1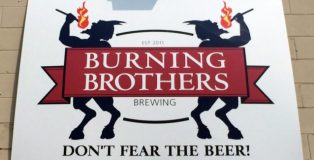 What do you get when two fire-eaters trade in their torches for mash paddles? You have Burning Brothers Brewery, Minnesota's only gluten-free brewery.
Dane Breimhorst, head of brewing operations and Thom Foss, head of business operations, formed the St. Paul, MN-based brewery, which is celebrating its sixth anniversary in April. The duo, who are life-long friends, was working at Minnesota's Renaissance Festival but decided to embark on a passion project when Breimhorst was diagnosed with Celiac Disease.
"Now, instead of eating fire, they run a dedicated gluten-free facility where they mix their own blend of quirkiness to brew great-tasting gluten-free "Craft Beer for Everyone," said Dom Liljenquist, sales and marketing manager.