Marika Josephson Archives – PorchDrinking.com
April 25, 2019 | David Nilsen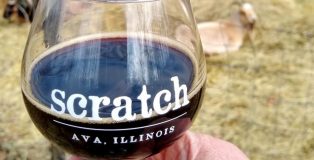 A new chapbook by Scratch Brewing co-founder and brewer Marika Josephson lays out a blueprint for what it means to run a true farmhouse brewery in the 21st century.
"There is an ironic disconnect in craft beer in which drinkers care a lot about beer being made locally but don't know or don't care about where the ingredients themselves are from," said Josephson when I interviewed her for a story for Civil Eats in November 2017.
The quote could serve as a thesis statement for her new chapbook Keeping the "Farm" in "Farmhouse Beer", published by Good Beer Hunting in 2018.