No Comments
Brewery Showcase | Scratch Brewing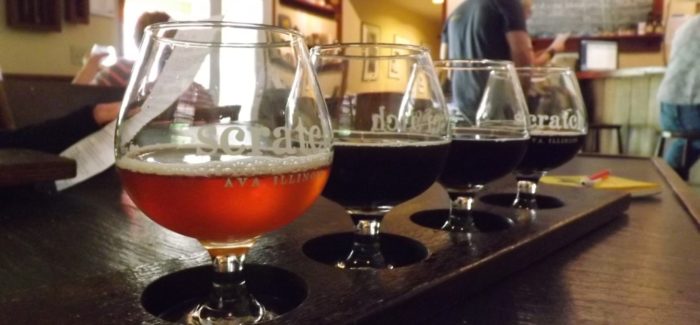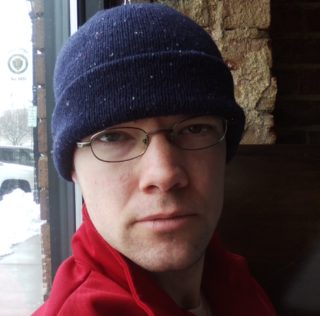 Nestled in the woods of southern Illinois, among the dips and low hills of a surprisingly wild region of the state, sits one of the most innovative breweries operating in the American craft beer scene today. That innovation, however, comes by way of ancient tradition. Owners and brewmasters Marika Josephson and Aaron Kleidon aren't pioneering cutting edge brewing technologies or using explosively flavorful new varieties of experimental hops. Rather, they're reviving the use of ingredients and techniques that humans have used for centuries to make beer. Foraging among the underbrush of their wooded property for edible bark, nuts, fruits, flowers, roots and mushrooms, and growing yet more ingredients at their brewery garden, the folks at Scratch are bringing unexpected flavors to beer drinkers lucky enough to make it to their rustic property.
Beer & Beauty in the Backwoods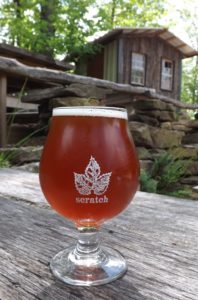 Finding said property is no easy feat, which means the steady stream of both locals and traveling beer hounds walking down the stone steps to Scratch's outdoor beer garden (even the stones are sourced from the property) testifies to both the quality of the brewery's liquid offerings and the congenial atmosphere Marika, Aaron and the rest of the team have fostered in the years they've been in business. My wife and I drove down the gravel, one-lane road to the brewery on a Saturday in early May, stepped out into sunshine falling through the leaves and instantly felt like we'd found a secret paradise, one in which we felt right at home.
Marika showed us around the brewery, proudly giving us a peek at their new 10-barrel copper boil kettle and taking a moment to lead an escaped goat named Shelly back to its pen before it had a chance to wander into the taproom. She introduced us to Aaron, who was in the process of weaving and tying willow branches to make a false bottom for a wooden puncheon being used as a mashtun. He referred to his finished project as "that Blair Witch-looking thing," and explained it would be covered with cedar branches to filter an upcoming mash.
The daily work at the brewery seems defined by both constant activity and a laid-back attitude. Marika and Aaron, along with a small team of friendly, like-minded beer lovers, seem like they're running a sustainable homestead or an intentional living community as much as a brewery. The locals who come in are often accompanied by their kids, their dogs and maybe even a bottle of their own homebrew to share with the brewers. One such gentleman left Aaron with a bottle and walked off. An hour or more later, I saw Aaron wander over the man's table and tell him the beer was good before turning to another task. It's high praise from the soft-spoken man; Kleidon laughs easily and has a kind spirit, but one imagines he's most comfortable when he's wandering through the woods alone with his thoughts and this land he knows so well. Kleidon grew up here, and the brewery bought their property from his dad, who also owns the surrounding land.
The use of local ingredients — and such wild, unexpected ingredients at that — gives a true sense of terroir to Scratch's beers. It's one thing to source your malt or hops locally (which Scratch does, except for a few hop vines they grow behind their brewery, out of reach of the goats), but it's another to have the trees and plants from the forest right outside your brewery's door lend their flavors and aromas to your beers.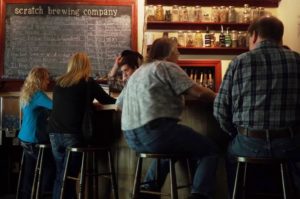 Foraging for Ingredients, Finding Peace
Everything the Scratch team is doing would be noteworthy even if their finished beers weren't, but what ends up in your glass is what raises Scratch from being a unique and quirky project to being one of the most pilgrimage-worthy breweries in the country. They won a GABF medal in the Experimental category in 2016 (all Scratch's beers have to be entered in that category, because no other style description would allow for their unusual ingredients) for their Oyster Weiss, a Berliner Weisse brewed not with oysters, but with oyster mushrooms. That particular beer wasn't on tap when we visited, and the brewery maintains no flagship constants on their ever-rotating tap list, but what was available was stunning. Let's take a minute to talk about Scratch's beers, because they're unlike anything you've likely tried.
The Wild Cherry Biere de Garde offered hibiscus, birch bark, rye bread and delicate Belgian yeast on the nose, with leather, birch and faded cherry on the tongue, and reminded me of a gentle but expressive Belgian dubbel. The Lemongrass Sorghum Saison was like sunshine in a glass, with lemon balm, field grass and wildflower notes evoking the high, hazy August sun on a prairie. 3 Brewsters, a Ginger Belgian Blonde brewed to help a fellow brewery that suffered a devastating fire in February, offered gentle ginger and rosemary notes that played atop the pillowy pale malt. The Fennel Porter gave surprising scents of camphor, fresh leather, background roast and sweetly spiced smoke. The fennel is stronger in the flavor and dovetails beautifully with the roast of the porter. This is the elegance a brash, absinthe barrel-aged stout wishes it had, and it shows the restraint that characterizes all of Scratch's brews; they're subtle, delicate and graceful. Not a single beer they offer punches you in the face with flavor or waves its titled ingredient around in the air like a banner. These are beers that reward careful attention and patience.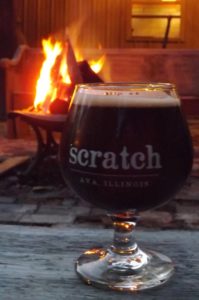 As we relaxed at the wooden tables around the beer garden patio, sipping these delicious brews in appropriate goblets and snifters and occasionally chatting with the staff, we sampled the simple but ample food offerings from Scratch's kitchen. Generously portioned rustic breads, wood-fired pizzas, pickled vegetables and an award-winning local goat cheese provide the perfect accompaniment to the beer without stealing the show from what's in the glasses.
As the sun set and most of the visitors left, a group of regulars, joined by the brewers, sat on reclaimed church pews around the patio's fire pit. A tornado went through the area in February, and the still-green wood cut up after the storm sizzled and crackled on the fire as we talked with Aaron about the brewing tasks of the day. He'd left sometime in the afternoon to go fishing and had come back to enjoy the fire. Though Scratch is a business for him and Marika and their employees, one gathers this is just as much their home, the place they'd rather be more than anywhere else. The property feels lived in, settled, like its roots are already digging deep into the Illinois earth even though Scratch is only a few years old.
We sat by the fire until well after dark and sipped the Barrel-Aged Hickory Stout, a stout made with toasted hickory bark and aged in Tennessee whiskey barrels. The hickory character came through softly and evoked thoughts of firewood, warm, damp flannel on a fall day, and the slight impression of wild yeast and a whiskey barrel that's lived long enough to give up wild for free. It's quite a life Aaron and Marika and their friends have carved for themselves in this backwoods corner of southern Illinois. They've built a haven not only for creative beers, but for a sustainable life lived close to the earth and the community. It's a haven my wife and I will be heading back to whenever we can.
Featured image courtesy of David Nilsen
---