#Nintendo Archives – PorchDrinking.com
July 13, 2016 | Scott Johnson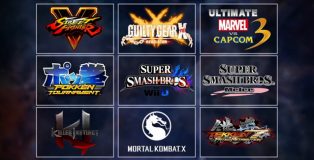 The world of eSports is vast and glorious; on the brink of mainstream acceptance through the understanding and mutual respect put into the time and skill of learning video games. There are games with underground followings like Counter Strike: Global Offensive and genres such as MOBAs that have reached the zenith of national sport. But today's Ultimate 6er is centered around a breed settled when the quarters were slammed on the arcade cabinet in the days of yore: Fighting Games.
The Fighting Game Community or "FGC" has had a vigorous history through years of rigorous reinvention and a fervent, dedicated fanbase of thrill-seeking gamers. Beyond the coordination and strategy of other gaming tournaments, Fighting Games have an unmistakably thematic flair. The ups-and-downs of comeback, the mind game of predicting your opponent and the study of position create a viewing experience unlike any other. It's just two players, two controllers, two characters drowning out the thousands of passionate fans to play the best match possible. Read More
April 26, 2013 | Nik Heimach
Have you ever read one of our Pop Culture Week In Reviews and thought, "Hey, that wasn't a review. Where's the criticism and acclaim? The judging and gauging? The hoopla and hollering?" Well, I have, dear reader. Late last night, whilst perusing the dark corners of the internet for my secret pop culture sources, I realized you probably finish these articles with an air of contempt. "This is garbage, I wasn't told what to think!" you say, contemptibly.
Lucky for you, I care, and while we usually pepper in our opinions with implicative subtext, today is not that day. So here's me, actually reviewing the most notable pop culture news and happenings of the week.