#ricosauvin – PorchDrinking.com
March 10, 2014 | Bob McGurgan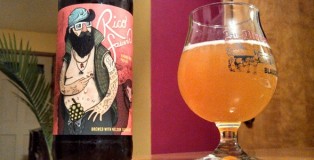 Avg. Reading Time:
2
min
Against the Grain Rico Sauvin
ABV: 7.6%
I passed a lone bottle of Against the Grain's Rico Sauvin IPA at Party Mart in Louisville, Ky. And then I stopped. And then I picked up the bottle. The gentleman on the wrapper peered suggestively at me. I registered vague surprise that the bottle wasn't sticky.
I mean… look at that dude. He is so skanky. The pimply nose… the hop cone mustache… the tickled nipple. He stares into the skanky part of your soul. Then again, I think he reflects the beer-drinking facet that I love the most: skanky soul-searching. Preferably at 1AM+. I carried the bottle to the counter.