April 22, 2016 | Brady Akers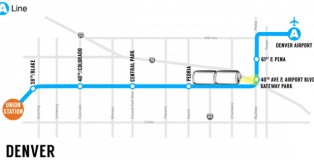 This post was composed due to the efforts of Stephen Adams on Data, Desiree Duzich on Graphics, Brady Akers and Tristan Chan in Brewery Descriptions, Dustin Hall  and Holly Gerard on Photos.
Denver's Light Rail system is making it easier to safely expand your reach of local breweries while also preventing drinking and driving. With the A Line opening tomorrow,  traveling through the River North (RiNo) District, even more breweries will be accessible through this convenient form of public transportation. This concept sparked the interest of Colorado Beer Geek, Stephen Adams to compile a list of all the breweries within a mile of a Light Rail station along RTD's A-Line.