#StraightJacket Archives – PorchDrinking.com
August 13, 2019 | Taylor Laabs
It has been a busy summer for Revolution Brewing. Between their Midlife Crisis barrel-aged release and the hyped-up IPA collaboration with Hop Butcher coming later this week, Chicago's largest independent brewer has made headlines during the hotter months. That being said, year three of Revolution's acclaimed Deep Wood barrel-aged series is set to generate buzz among the beer-drinking community for the upcoming colder months thanks to its consistent release of new and old canned barrel-aged creations from October to January. The 2019-2020 roster includes five returning favorites and five new creations, all available in 4-packs of 12oz cans. Here is what you need to know. 
July 22, 2019 | Taylor Laabs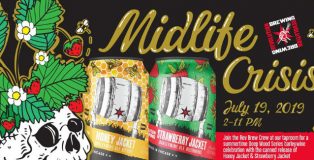 Hot or cold, Revolution Brewing sure knows how to throw a release party. Hundreds of barrel-aged fanatics, myself included, made their seasonal pilgrimage to Revolution's Kedzie taproom for the latest Deep Wood release. This series has quickly grown to national acclaim thanks to its bold portfolio of Barleywines, Barrel-Aged Stouts and adventurously-boozy experiments like last year's Code Switch, a Barrel-Aged Imperial Ale made with blackberries.
Many people associate Deep Wood beers with huge parkas, plunging temperatures and bitter Chicago winters given its annual winter release cadence. Boozy beers that push ABV limits typically go well with sub-zero winter nights. But Revolution's Midlife Crisis Barleywine release had none of the expected barrel-aged beer release trimmings. Coats were swapped for tanktops, boots for flip flops, and freezing temps for 100 degrees and brutal humidity.