No Comments
Préambule – Brasserie Thiriez and Akim T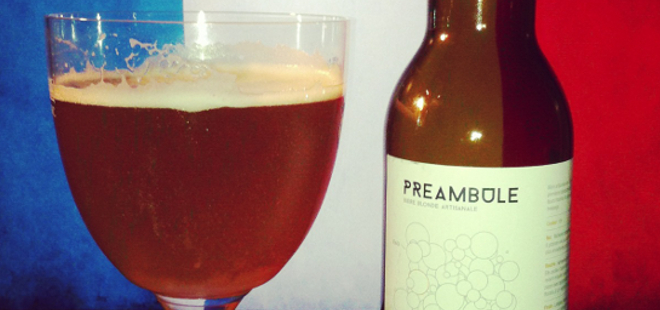 ABV: 5.8%
I have to be honest. I bought Préambule based on the label. I thought the bubbles were neat. And while you shouldn't judge a beer by its label, I did pretty well this time around. But I wouldn't have been as surprised by this provocative little beer if I had bothered to read what was written instead of fawning over the nice packaging. 
Préambule is the result of a collaborative brew between Lille-based brewery Akim T and Brasserie Thiriez, one of France's first and finest micro-breweries. I had a chance to visit Daniel Thiriez and his wife earlier this year at their home and brewery in northern France, the cradle of French beer tradition. Impressed once again by northern hospitality, I was also touched by the amount of passion and innovation that Thiriez puts into his beers. In addition to experimenting with his own recipes, he's a big proponent of collaborative brewing and has had several successful projects with American breweries, including Jester King Brewery in Austin.
So now that I know he had something to do with Préambule, I am less surprised at its superbly crafted flavor and meticulous execution. This beer is beautiful from pour to dregs. Frothy and golden, with a small but robust head, Préambule doesn't give much away at first, just a slight floral aroma. But take a sip and feel the flavors unfold: an initial hoppy bitterness that blooms into floral citrus and grassy notes, supported by just the right amount of malty body. I'm not sure about Akim T, but I know Thiriez is a fan of hoppy beers and this is no exception. Once the fresh citrusy intensity subsides, Préambule tapers to a subtle flowery je ne sais quoi that manages to avoid giving any impression of drinking perfume. Brewed with real jasmine flowers, it brought to mind a really fine tea, a taste I have never associated with or found in a beer.
This is a solid beer that does its Flemish roots proud, but offers something new with that touch of jasmine. The floral finish gives this pretty forthright and hoppy (for France anyway) brew the delicacy of tea. It's different, it's drinkable and it's fun.