No Comments
Pop Culture Week in Review 12/14-12/20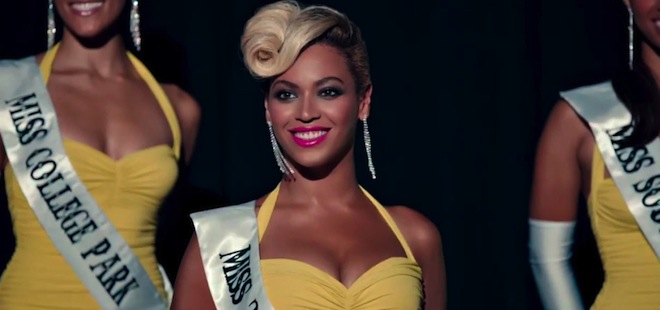 Hey Mrs. Carter
Beyonce really dropped a bomb on us last Friday when she sneak attacked us all with her new self titled album complete with videos for each song.  My brain about exploded when I got to work on Friday and saw the news. 'How did no one know about this?' I thought to myself. 'Is Beyonce a wizard? Some sort of magic secret wizard? Where her wizarding powers are not the secret, but her wizarding powers are used to keep secrets? Oh my god- WHAT ELSE ISN'T SHE TELLING US?!'
Though, I feel using the term 'bomb' to describe the album above is misleading as that implies it didn't sell well without all the pre-release hype. In fact, BeyBey shattered iTunes sales records selling 828,773 copies in three days. That's not terribly shy of platinum certification. In three days.
I know its all overwhelming.  14 songs AND 14 videos? Where does one begin? Well, the beginning probably. But if now, Please Help Me, Beyonce is here to the rescue. Go. Listen. Be yonce.
Nothing else important happened this week. Just Beyonce.
Just kidding.
Shia LeBeouf Doesn't Understand Plagiarism
Lebeef's short film, HowardCantour.com premiered at the Cannes Film Festival earlier this year but it has somehow taken this long for the internet to cry foul on Shia for not crediting his source material. The film is an adaptation of Dan Clowes' comic Justin M. Damiano. And there's really no argument for "No they're like, totally different! Mine has a little bing at the end!" The first line of the film is taken from the source material. Verbatim.  Somehow, the fact you can't just take stories from other sources was JUST NOW brought to LeBeouf's attention.  "In my excitement and naivete as an amateur filmmaker, I got lost in the creative process and neglected to follow proper accreditation," he tweeted.
Ok, benefit of the doubt or whatever.  Except for the fact that his apology was also plagiarized.  He thinks he's sooooooooo smart.
This Family Wins Christmas Cards
And These Pugs Win Christmas Movies
And our Ant-Man is….
Paul Rudd!  Rudd will star in the Edgar Wright directed Marvel film slated to premiere July 31, 2015.