No Comments
PorchDrinking's Weekly Denver Beer Beat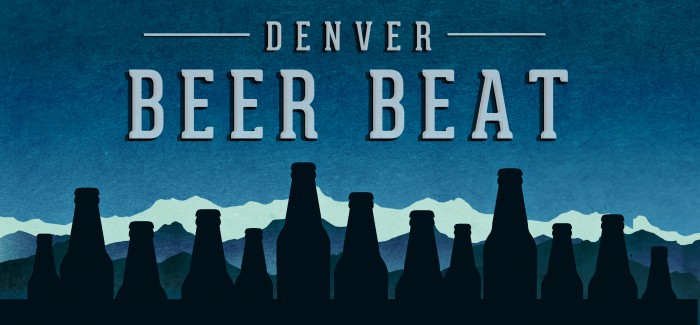 Hey there PorchDrinkers! Native to the city and looking for events to tide you over for the week? New to the city and looking for the best place to find tasty suds? Visiting and looking for events to hit while you are in town? Check out this week's Denver Beer Beat . . . did we miss any events in this week's? Let us know.

A bit of a slow week with the weather setting in on the Mile High City for the next few days. Plenty of big, warming beers to be had, though. So bundle up and support your local brewer!
Wednesday, February 5th

Crooked Stave Artisan Beer Project (Denver) – Last night, the folks over at Crooked
Stave tapped Mama Bear's Sour Cherry Pie. Tonight for Wild Wednesday, the crew will unleash the funk with a tapping of Veille w/Rose at 6pm which features a partnering with Happy Leaf Kombucha. Pucker up!

Yak and Yeti Restaurant & Brewpub (Denver) – Yak & Yeti Brewpub have rebranded its tap handles for 2014.  The old handles were hand-made wooden "Y"-shaped handles to represent the double Y's in the Yak and Yeti, but due to the recent deluge of new breweries a rebranding was becoming more necessary.  When the Yak & Yeti debuted their wooden wye there were only a few breweries in Colorado that had natural wood-based tap handles, less than two years later there are around two dozen breweries that are marketing a similar look.  The Yak & Yeti partnered with Taphandles.com for the manufacture of the handles, the entire process took about three months with artist concepts, revisions, prototyping and production.  The handles can be seen at the Yak & Yeti Restaurant (8665 N Sheridan Blvd, Westminster), the Brewpub (7803 Ralston Rd, Arvada) and select tap houses in and around Denver.  For those interested in purchasing one for your own collections the tap handles are retailing at the brewpub for $65 each (tax included).
Copper Kettle Brewing (Denver) – February is "Decadent Chocolate" Cask Month and their first cask of the month will be a "Cherry Chocolate Milk Stout" a sweet, roasted stout brewed with fresh cherries and cocoa. It goes on at 3 p.m. The Ckrepes food truck will be on hand at 4:30 p.m. Each Wednesday a new firkin will be tapped. Chocolate lovers are going to love this month.
Also, the brewery is looking for some hired help. Are you looking for a fun and exciting part time gig with a growing award winning company? Have bartending experience, particularly in the craft beer world? Have a great personality? Well then, this post may be for you! The Copper Kettle Brewing Company are looking for a part time bartender/server to join their awesome team; because they are expanding quickly (you'll start to see patio construction next week)! MUST HAVE SERVICE INDUSTRY EXPERIENCE!
Please submit resumes, references & availability to [email protected]. They will be accepting applications through Friday, Feb 7th.
Thursday, February 6th

Parry's Pizza (Highlands Ranch) – RENEGADE BREWING PINT NIGHT is this Thursday, February 6th starting at 5pm. Renegade Brewing will be at Parry's Pizza's Highlands Ranch location passing out free pint glasses to those that purchase one of their beers.
Friday, February 7th
Our Mutual Friend Malt & Brew (Denver) –  [Press Release} A while back we started working with Jonathan Power of the Populist on a new collaboration beer that would be ever evolving and compliment the seasonally changing menu that the Populist does. After much back and forth we decided to brew a light, straw colored, rye ale that would be kettle soured and then put in various types of barrels with a unique blend of wild yeasts to create a beer that will be brewed regularly, but aged and blended differently throughout the year (and years) to create a series of beers highlighting all the different variables at play.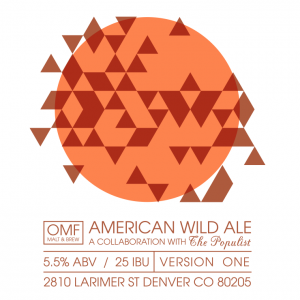 Today, February 7th at 4pm we will tap Version One, which simply put is the base beer that we are using in the rest of the series. It gives the opportunity to see what the beer is like at the beginning and officially launches the partnership between the Populist and Our Mutual friend.
Additionally, Version One will be available at the Colorado Makers Pig Roast, hosted at the Populist this Sunday, February 9th at 5pm.
Saturday, February 8th
Oskar Blues (Longmont) – This Saturday, February 8th at 4pm marks the Tasty Weasel's 5th Anniversary – or as they call it a Weaselversary! Come celebrate 5 years in their home in Longmont at The Tasty Weasel! Kort McCumber plays live music at 4:30pm, then it's the Jack, Ken & Juice trio followed by the Strategic Beef Plan B: The Morning After. Plus they'll have specialty beers throughout the day including the debut of a specialty version of G'Knight they're callin' G'Afternoon.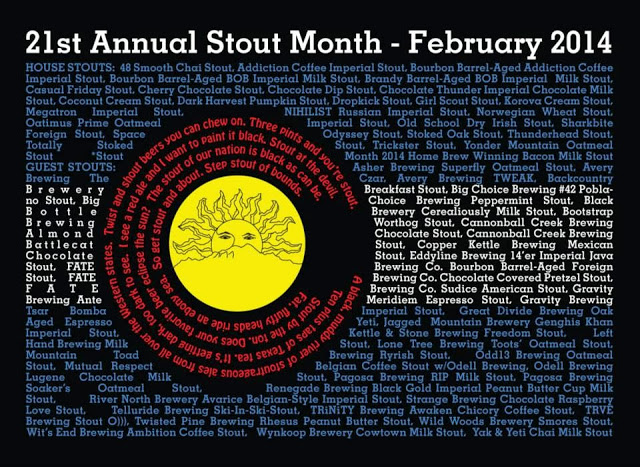 Mountain Sun Breweries (Boulder & Denver) – STOUT MONTH CONTINUES. The 21st Annual Stout Month lasts the entire month of February. What stout is calling your name this month? Still not convinced?
Sunday, February 9th
Avery Brewing (Boulder) – This Sunday, February 9th at 1pm at the Avery Taproom will be the next bottle release of their highly coveted "Uncle Jacob's Stout". The cost is $12 per 12oz bottle, cash only, and a limit of 1 case (24 bottles) per person. There will also be rare and exclusive beers on draft starting at 11am including: Khodynka, Tweak, 2012 Beast, Chewblacka, Bolder Weisse, Double Dry-Hopped Maharaja, and more! Then coming soon, the next in their Barrel-aged Sour Ale series – Opuntia (No. 18).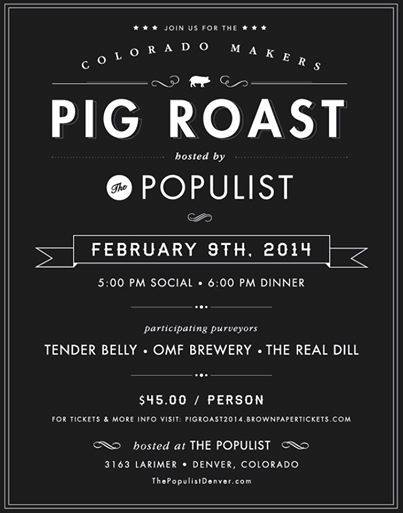 Our Mutual Friend Malt & Brew (Denver) – The blokes over at OMF are very excited to be part of the Colorado Makers Pig Roast at The Populist on February 9th. There will be lots of delicious foods and drinks provided by OMF, Leopold Brothers, Tender Belly, & The Real Dill. Pig roast by the Populist. Tickets available now at http://pigroast2014.brownpapertickets.com/ Cheers!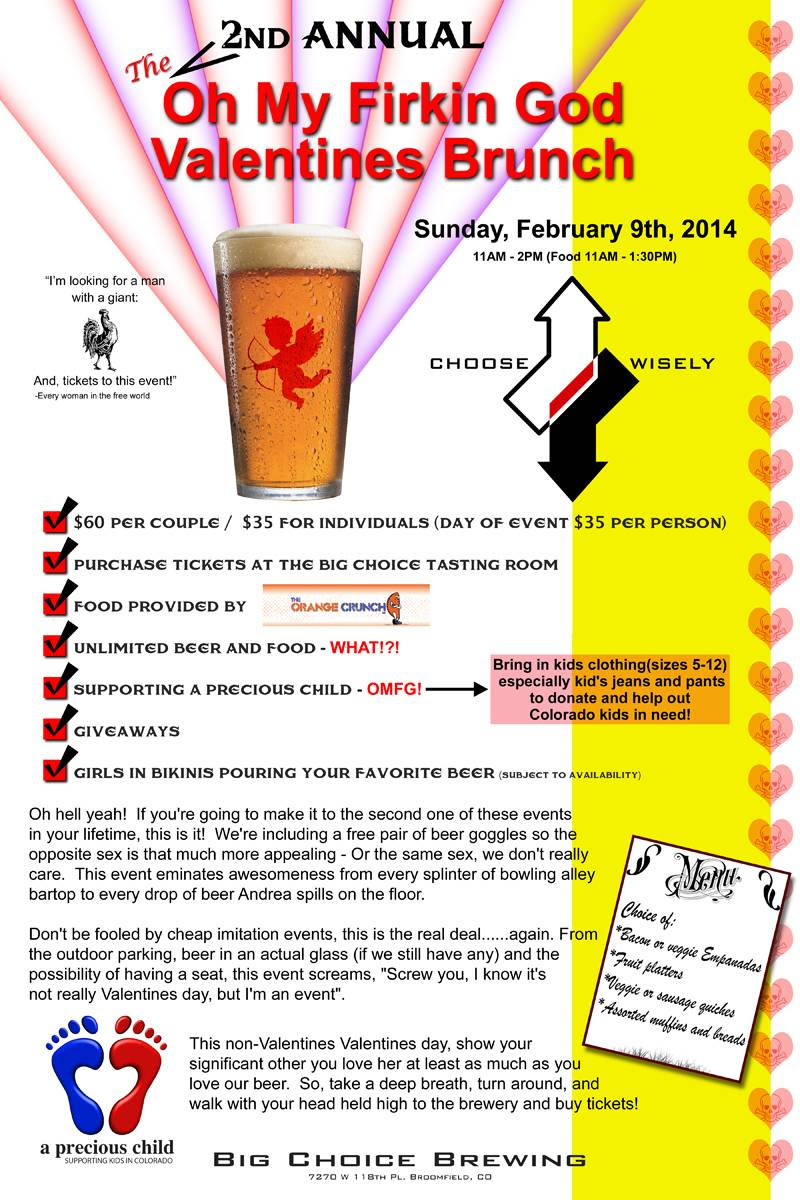 Big Choice Brewing (Broomfield) – Be sure to get your February 9th Non-Valentines Day, Valentines Day Brunch tickets! Don't forget we are supporting A Precious Child – bring in some clothing for the kids!
Monday, February 10th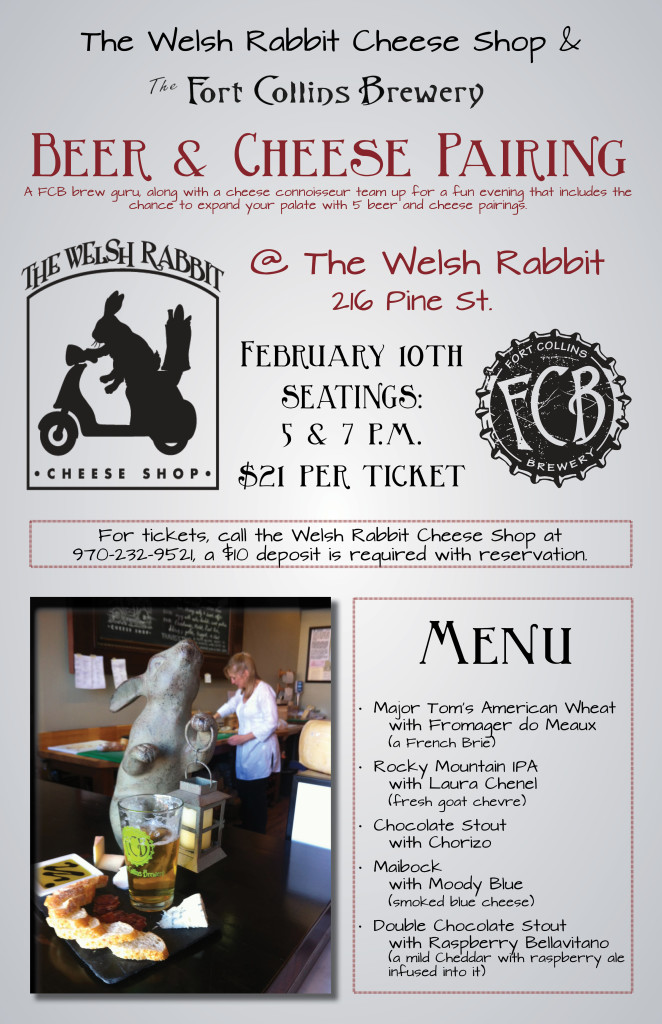 Fort Collins Brewing (Fort Collins) – The Fort Collins Brewery, along with Gravity 1020 Modern Tavern, is excited to team up with The Welsh Rabbit Cheese Shop for a Beer and Cheese Pairing night on Monday, February 10th at the Cheese Shop. At a cost of $21 a ticket, guests are in for an evening that consists of five beer pairings, the ability to ask questions to the representation from FCB and Welsh Rabbit about the styles of brew and cheese first-hand and a chance to expand their palate. The Beer and Cheese Pairing will be split into two sessions, starting at 5 p.m. and 7 p.m. For tickets, contact The Welsh Rabbit Cheese Shop at 970-232-9521, a $10 deposit is required.
Our Mutual Friend Malt & Brew (Denver) – Keep the glass night! Keep the Glass Tuesday is here! Stop in and grab one of their new artist glasses while supplies are limited. A Taste of the Philippines will be at the taproom too. Cheers!
Tuesday, February 11th

Crooked Stave Artisan Beer Project (Denver) – We will be tapping specialty blends and rare kegs from our Barrel Cellar every Tuesday @ 6:00pm
FUTURE EVENTS:
River North Brewery (Denver) – Anniversary #2 – The Beer and the Party! February 14th – 16th!
[Press Release]
It's our party and we'll brew what we want to!
Our second anniversary is less than two weeks away, and you know we like to go big.
Last year it was a 12.5% Imperial Stout. This year, we're taking it a different direction…
Introducing Anniversary Ale #2, a 10.1% Belgian Golden Strong Ale dry-hopped with Nelson Sauvin!
A wonderfully floral and tropical brew, Anniversary Ale #2 will serve as the centerpiece for our weekend-long birthday party, beginning Friday, February 14th and lasting until Sunday, February 16th. We'll have Anny #2 on tap all weekend, with $9 bombers to go (limit 6). But we'll also pull some rare beers from the cellar throughout the event. Such as:
Friday, 2/14: Side-by-side tapping of Anniversary Ale #1 and Anniversary Ale #2. Both huge, both delicious, both distinct. Opening early at 1pm with the first bottles and pours.
Saturday, 2/15: We'll rotate through some barrel-aged kegs throughout the day, giving the brewers choice as to what they want to drink.
Sunday, 2/16: J. Marie Barreled & Bretted on tap! We'll also host our first Cellar Sale…limited quantities of rare bottles from the past two years available to go, one day only!
We hope you can join us for the festivities, but if not, Anniversary Ale #2 will hit store shelves around Colorado after the party. For all the other beers, however, you gotta make it down here!