No Comments
Event Preview | Reading Liederkranz Oktoberfest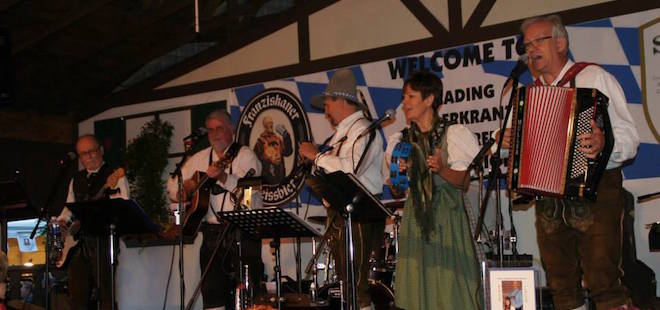 It's that time of year again! Something about fall makes it perfect for drinking an amber lager and listening to beerhall music among several thousand of your closest friends. For many, making the trip to Munich for Oktoberfest may be a financial or logistical impossibility, but there is still hope! The Oktoberfest at the Reading Liederkranz in Reading, Pennsylvania, aims to recreate those traditions and warm, cozy feelings of Gemütlichket right here on the East Coast.
The Reading Liederkranz is a German heritage club with roots reaching back to 1885, and they are proud to uphold German language, culture and sports. They host several events throughout the year, including Chistkindlmarkt at Christmas, Karneval in the spring, and their most popular: Oktoberfest.
Over 30,000 people flock to this party every year, so there must be something to it! Oktoberfest will be held from September 28 through October 2, and there will be fun and entertainment available for everyone aged 1-100 The full schedule of events is available HERE!
Check out this video that was created by students at nearby Kutztown University!
Food and Drink
If you are a fan of hearty fare, you'll be in for a treat. The Reading Liederkranz serves up a huge variety of German specialties, including bratwurst, knockwurst, goulash, fried Brie and more! For those with a sweet tooth, there will be a selection of cakes, pies, and strudel available as well.
Since it wouldn't be Oktoberfest without a cold beer, the Liederkranz keeps plenty of brews on hand. Pints and pitchers of German imports, domestic macro beers, and a few American craft beers (Complete list below) will be served from several different stands throughout the festival grounds. For the non-beer-drinker in your life, wine and soft drinks will also be available.
Admission
The price of admission is $8 per adult (21 and older). Anyone under 21 may enter for free. There is no advance ticketing for this event, so simply pay at the gate when you arrive.
Parking
Parking at the Liederkranz itself is extremely limited, so you may want to proceed directly to one of the two satellite parking locations. From these parking lots, you can take a free shuttle to Oktoberfest.
Reading Liederkranz: 143 Spook Ln, Reading, PA 19606
Berks County Fields Parking Lot: 2646 Hill Rd, Reading, PA 19606
Antietam Valley Rec Center Parking Lot: 905 Byram St, Reading, PA 19606
Complete Tap List
Spaten Oktoberfest




Spaten Lager


SpatenOptimator


Franziskaner Weissbier


Franziskaner Dunkle 

Budweiser

Goose IPA


Erdinger Oktoberfest

Andechs Oktoberfest

Andechs Dopplebock

Stella Artois

Das Schwarze


Miller Lite

Yuengling Lager

Stoudts Oktoberfest

Stella Cidre

Hoegaarden

New Belgium Fat Tire

New Belgium Pumpkick

New Belgium Ranger

New Belgium Citradelic

New Belgium Snap Shot

Schofferhofer

Hofbräu


Hofbräu Oktoberfest

Warsteiner


Warsteiner Oktoberfest

König Ludwig

Radenberger

Weihenstephan Lager

Weihenstephan Oktoberfest

Hacker-Pschorr Lager

Hacker-Pschorr Oktoberfest

Ayinger Celebrator

Ayinger Oktoberfest

Dinkelacker Oktoberfest

Dinkelacker Pils
---