No Comments
Firestone Walker's Terroir Project | An Experimental Crossover
For many people, the expectation is that breweries must always be innovating to be relevant. While smaller breweries have the luxury of chasing a trend and nimbly playing the field, many larger and established breweries find this a challenging task. Firestone Walker, though one of the larger craft breweries, has continued to find a way to create their own space. Whether it's through unique beer releases or highly curated events, they always seem to be up for the challenge.
Firestone Walker's Terroir Project event is a perfect example of bringing innovation to both the beer and festival model. When you hear words like "co-fermented," "locally-sourced" and "terroir," the first thing that comes to mind is not beer. Firestone Walker is looking to change that mindset.
For the event (which took place in Sept. 2019), 11 breweries from five countries blended their locally sourced wine grapes with an inspired grain bill to create their own Terroir Project beer. These beers ranged from 6.3% to 12.3% ABV. The choice of wine grapes ranged from English Triomphe d' Alsace to California Cabernet Sauvignon. Some trended towards wine and others trailed off in the sour/funk side of beer. Either way, these beers were a forward-thinking look into what the future of beer might be.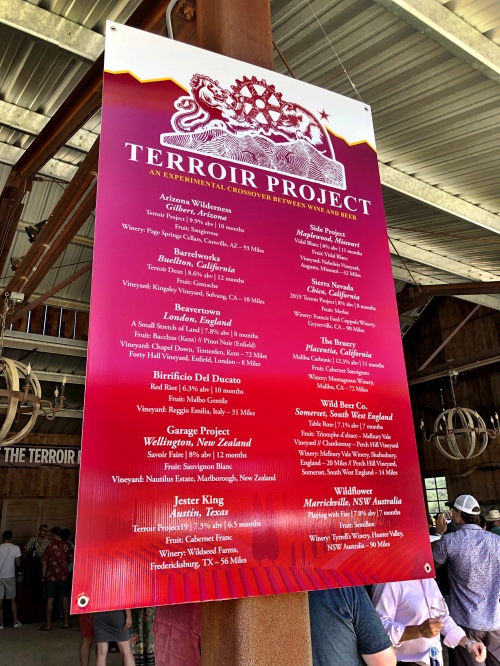 Rules, yes there are rules. Straight from the Firestone Walker website:
"From the West Coast to the East Coast, London to New Zealand, each participating brewery was invited to produce their own distinct hybrid, but with three binding stipulations: we all had to use the same grain bill; the same maturation period in barrels; and the same co-fermented percentage of wort & wine grapes. The kicker: all grapes had to be grown within 100 miles of each brewery.
The result is an unprecedented exploration into how "terroir"—or sense of place—drives what we taste."
Firestone Walker's hybrid project beer Terroir Deux included Grenache grapes grown on David Walker's private vineyard.
The Breweries
Arizona Wilderness, Gilbert Arizona
Barrelworks, Buellton, CA
Beavertown, London, England
Birrificio Del Ducato, Italy
Garage Project, Wellington, New Zeland
Jester King, Austin, Texas
Side Project, Maplewood, Missouri
Sierra Nevada, Chico. CA
The Bruery, Placentia, CA
Wild Beer Co, Somerset, South West England
Wildflower, Marrickville, NSW Australia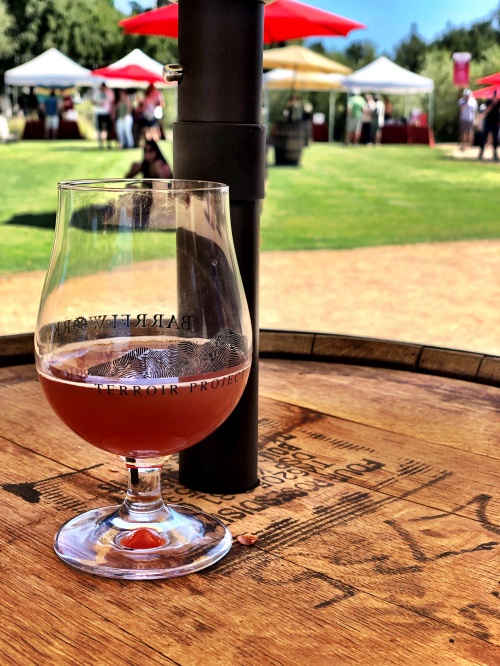 The event was held at West Ranch in Los Olivos, CA, a park-like setting that seemed more like a party than a beer festival. Ticket sales are held to about 300 and it never felt overcrowded. Along with the project beers, all the breweries brought along a second beer to enjoy. In addition, there was wine and beer tasting from both local and not-so-local spots.
As with many Firestone events, most of the beers were being poured by the brewery staff or ownership. All were willing to provide the insight and thought process that went into their beer. If you're looking to bring your beer and wine friends together, this just might be your solution. Be on the lookout for next year's event—this is not a by-the-book beer festival.