No Comments
Masters of the Brewniverse – Beer Festival and Brewery Pageant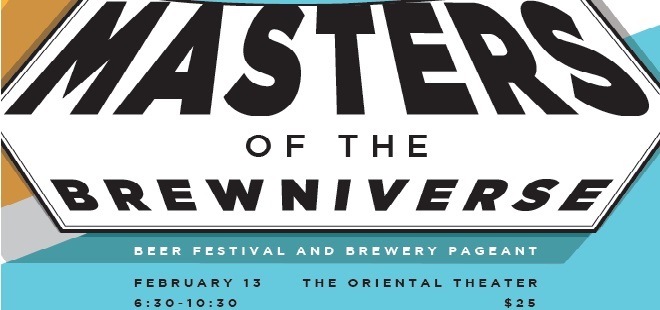 Who will be the first Master of the Brewniverse? The inaugural Masters of the Brewniverse Beer Festival and Brewery Pageant, presented by Wynkoop Brewing Company and Imbibe, will take place on Feb. 13 from 6:30 – 10:30 p.m. at The Oriental Theater (4335 W 44th Ave, Denver CO 80212).
"We can't think of a more exciting place to host our inaugural event than Colorado," said Shannon Berner, founder of Masters of the Brewniverse and beerfriender at Wynkoop. "We love creating events that showcase amazing beer, but we thought, why not create an event that showcases not only the beer, but the people behind the beer."
Guests will receive unlimited tastings from 16 breweries while watching reps and brewers from each brewery compete on stage for the crowning title of "Master of the Brewniverse." Teams from each brewery will showcase the personality of their brand through various rounds of beer pageantry including fashion, talent, and interview. The winner of Masters of the Brewniverse will receive numerous high-fives, loads of street cred, and a one-of-a-kind sash to put on display at their brewery or wear as a symbol of pride until next year's competition.
So, who is pouring/pageanting?
Breweries/Contestants:
Asher Brewing Company
Big Choice Brewing
Black Bottle Brewery
Caution: Brewing Co.
Crooked Stave Artisan Beer Project
Denver Beer Co.
Elevation Beer Co.
Epic Brewing Company
Great Divide Brewing Co.
Left Hand Brewing Company
Mountain Sun Breweries
Renegade Brewing Co.
Twisted Pine Brewery
West Flanders
Wynkoop Brewing Company
Yak and Yeti Brewery
Contestants will be judged by a renowned panel of beer judges. The judges are:
Steve Kurowski, Colorado Brewers Guild
Marty Jones, legendary beer man
Emily Hutto, Eater Denver and author of Colorado's Top Brewers
Eric Gorski, Denver Post
Katilyn Davis, Miss Wyoming 2011
Chad Hatlestad, Brewers Supply Group
Masters of the Brewniverse is open to adults 21 and older. Event tickets can be purchased online for $25 at ImbibeDenver.com/Brewniverse.
Proceeds from Masters of the Brewniverse will benefit the Mile High United Way.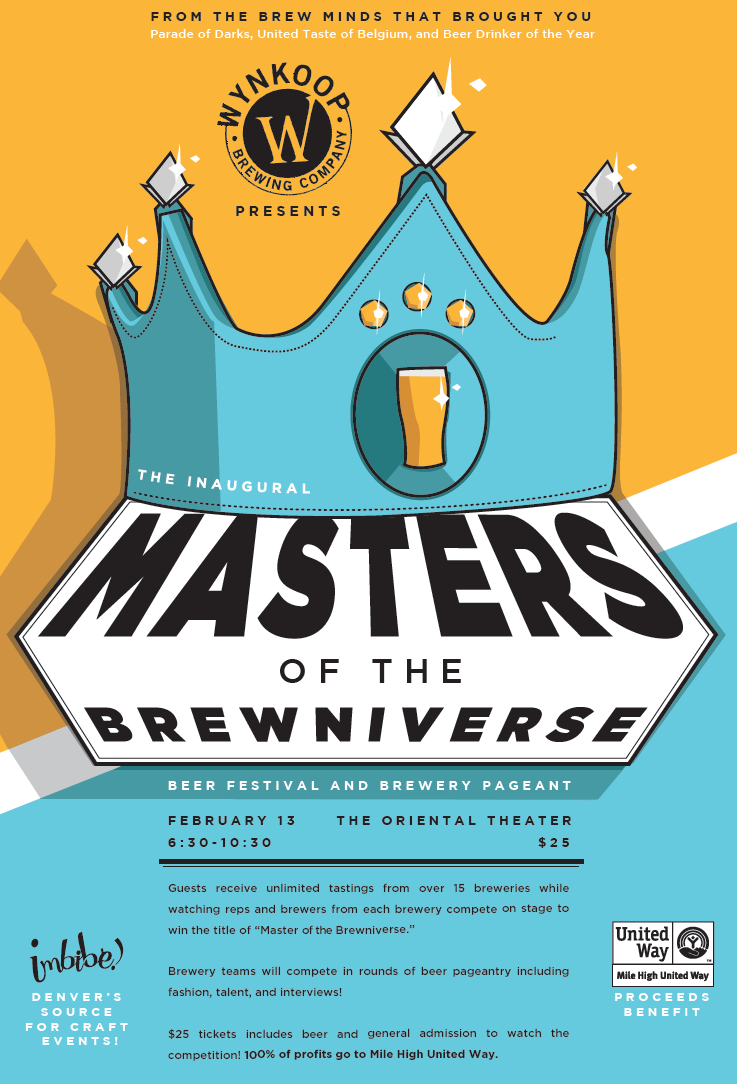 About Wynkoop Brewing Co.
Founded in 1988, Wynkoop is Colorado's first brewpub and Denver's first microbrewery. Famous for small-batch beers, great food and even better people, Wynkoop's commitment to the community has made it a Denver institution for more than 25 years.
About Imbibe
Imbibe is a Denver-based event production company and website that coordinates with the best restaurants, bars, music venues and other fine establishments to create unparalleled events and packages. Learn more at www.imbibedenver.com.