No Comments
Festival Recap | United Tastes of Belgium 2014 – Wynkoop Brewing Co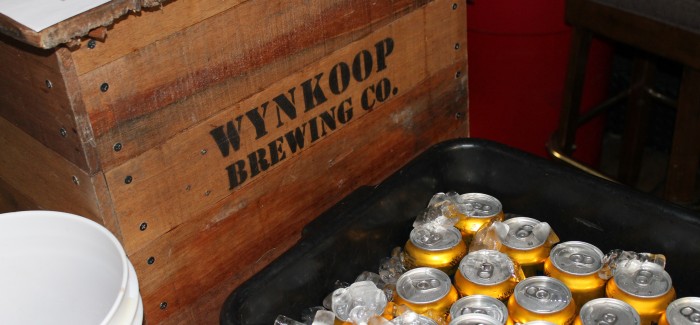 The United Tastes of Belgium festival featured over 30 breweries showcasing their authentic Belgian beer recipes along with some American takes on Belgian style beers. These offerings were inspired by experimentation of styles such as barrel-aged, sour, wild ales, triples, quads and many more.
The event included unlimited tastes of Belgian Chocolates and Cheeses. For $30 bucks, you really can't beat the unlimited pours, nibbles and noshes of an event like this. You can be jealous; its okay, its not your fault.Beer in Belgium dates back to the age of the first crusades, long before Belgium became an independent country. Under the Catholic Church permission, local French and Flemish abbeys brewed and distributed beer as a fund raising method. The relatively low-alcohol beer of that time was preferred as a sanitary option to available drinking water. What are now traditional, artisanal brewing methods evolved, under abbey supervision, during the next seven centuries. The Trappist monasteries that now brew beer in Belgium were occupied in the late 18th century primarily by monks fleeing the French Revolution. However, the first Trappist brewery in Belgium (Westmalle) did not start operation until 10 December 1836, almost 50 years after the Revolution. That beer was exclusively for the monks and is described as "dark and sweet." The first recorded sale of beer (a brown beer) was on 1 June 1861.
Fast forward 150 years, as we walk up the stairs to Wynkoop, we were ushered into a spread-out, little-to-no congestion, palette pleasing party for our taste buds.  The limited number of tickets sold to this event makes the event an intimate foray into the tastes of Belgium without having to be elbow over elbow to get your favorite pour of deliciousness. The Trappist, Abbey, Lambics, Saisons and fruited beers lined the walls behind each brewery's table. Fromage trays lined the pool tables with spreads of brie, perfectly smoked gouda, unctuous and funky (functuous?) blue cheese and, my favorite, sage derby cheese. It's a gorgeous green marbled chunk of culture. So . . . damn . . . good. Discs of Belgian chocolate and semisweet chips were also part of the spread and were placed inconspicuously so that each participant could pick and choose their own pairings. This was great for those folks that want to find their own pairing but we wish that folks had the option to talk to a cheesemonger or fromagolist (is that a word?) to help guide guests that need some guiding. The great thing about Belgian beers is that they pair well with most foods so easily that there may not be any 'bad' pairings. So, there is that.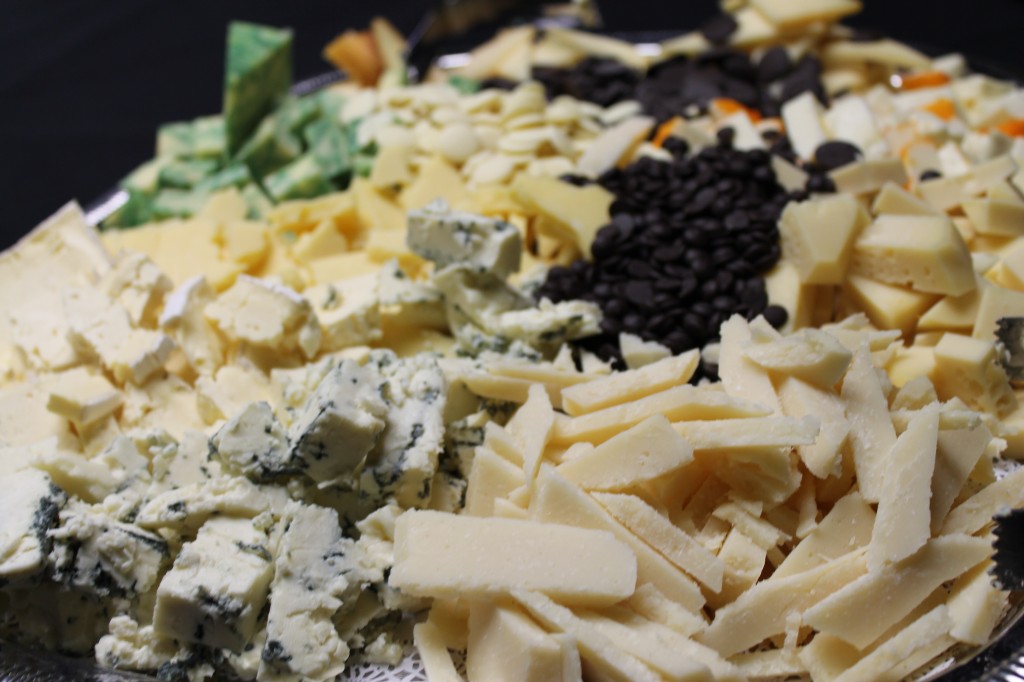 As Belgium exports 60% of its beer, its increasingly evident that their brewing styles and history has influenced many a brewer here in the continental United States. And what better way to pay homage to those that have come before us than to imbibe on creations mimicking and inspired by those great beers. To Belgium!                  
On to a list of some of our favorite pairings and brewery offerings!
The folks from Southern Colorado's Saison-slinging yeast-freaks at Trinity Brewing brought a little gem called Hopped Toddy. The Saison de Miel was a big swinger at 13.8% abv but was a flavorful work of art.
Verboten Brewing brought out a Belgian Pear Tripel called Forbidden Hops that wasn't shy with it's abv at 8.8% abv. Huge, sweet tripel with big meaty pear spice. Yum!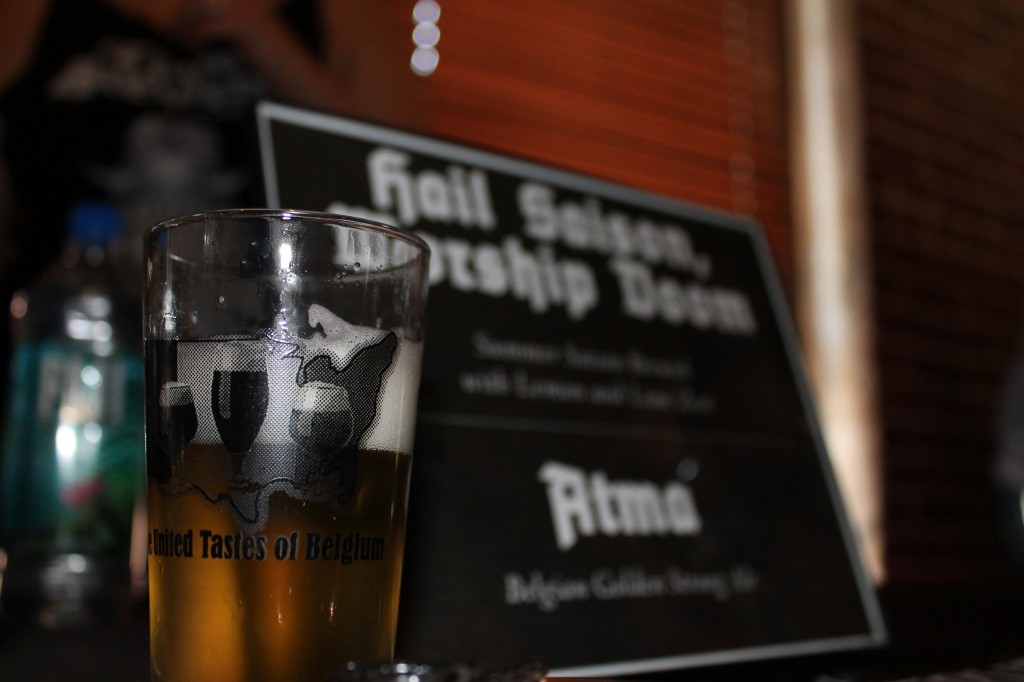 Trve Brewing brought their Belgian Golden Strong Ale, Atma but their TRVE competitor was their Hail Saison Worship Doom ale; a saison with lemon and lime peel that fulfilled each quaff of its lovely body with full mouthfeel and effervescent aftertaste. A great summer drinker.
A surprising Saison was also showcased by the Denver Beer Co with their Swingtown Saison which was brewed with kumquats. A fruity, sessionable ester-driven ale that had little to no spice and low hop aroma. This beer was a return drinker by our crew throughout the day for its simple yet favorable profile and penultimate quaffability.
The folks with Artisanal Imports were pouring Kwak Belgian Strong Pale, Jacobin Rouge Flemish red and Seef Belgian ale while dropping mad education to the masses with their prowess and expertise on the Belgium brands. It was truly great to listen in on the history of Belgium beer from these guys as they poured brews that boast recipes from hundreds of years ago.
Oskar Blues brought their canned variations that always dazzle our eyeballs with their unique color ways and hip designs. Their Good Game  Belgian Quad  clocked in with a 11% abv and was my favorite beer of the day. A big sweet and spicy Belgian ale with a big malt bill and lots of Belgian candy sugar. They also brought Freedom Tickler, a French Saison 6.8%, that showcased a less spicy yeast and the Tickled Pink  Raspberry Saison.
The folks from Black Bottle Brewery may have the biggest list of beers on tap in Fort Collins and they may be the best new brewery in town as well. The dudes from BBB brought down There Goes The Neighborhood – Belgian Rye Saison 7.3%, The Last Unicorn – Tart Cherry and Raspberry Lambic 9%, American Graffiti – American Sour dry hopped with Equinox 7.3% ABV. Each beer performing bounds and backflips on the tongue. The standout was the Last Unicorn. Big, bright sour cherry and sweet raspberry swimming around in sour lambic. Each taste unveiled another layer of flavonoid and gastronomic bliss. I LOVE THIS BEER. I love it. I want to marry it. I do.
Finally, Yak and Yeti Restaurant & Pub brought their Barrel-aged Saison-Saison aged in Leopold Bros American Whiskey barrel for 6 months and it was great.The ale is sharp and warm with peachy whiskey undertones up front making way for a big spicy, lemony Saison that was softened only so slightly by its time in the barrel.
Wynkoop, always a great host, didn't take it easy on their offerings as they showcased their BBQ Quad. A bourbon Barrel-aged Quadrupel made with BBQ-pit smoked rock sugar with an ABV of 11%. This beer was a great variation on the quad style and paired really well with the Sage Derby cheese.
The United Tastes of Beglium is a great 'staycation to Belgium 'for us Denverites. Beer, cheese and chocolate are staples of the Belgian diet and for one Saturday a year, Wynkoop hosts an event to remind us how awesome Belgium is. So, let's celebrate them right back with a giant cheers! Gesundheit (Flemish) and Santé (French)! To Belgium and to Wynkoop and all of the breweries involved in the event. We are already salivating for next year!