2 Comments
PorchDrinking's Weekly Denver Beer Beat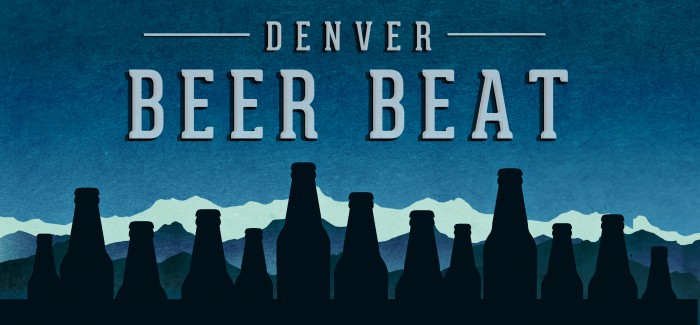 **UPDATE: Ska 19th Anniversary Tickets are SOLD OUT!!**
Hey there PorchDrinkers! Are you native to the city and looking for events to tide you over for the week? Are you new to the city and looking for the best place to find tasty suds? Visiting and looking for events to hit while you are in town? Check out this week's Denver Beer Beat and every week to find all things #craftbeer.
Welcome back to another installment of PorchDrinking's Weekly Denver Beer Beat. The Denver Beer Beat brings news of openings, special tappings, firkins and one-off batches, bottle releases, dinners, pairings, anniversaries, tap takeovers etc.
Wednesday, August 27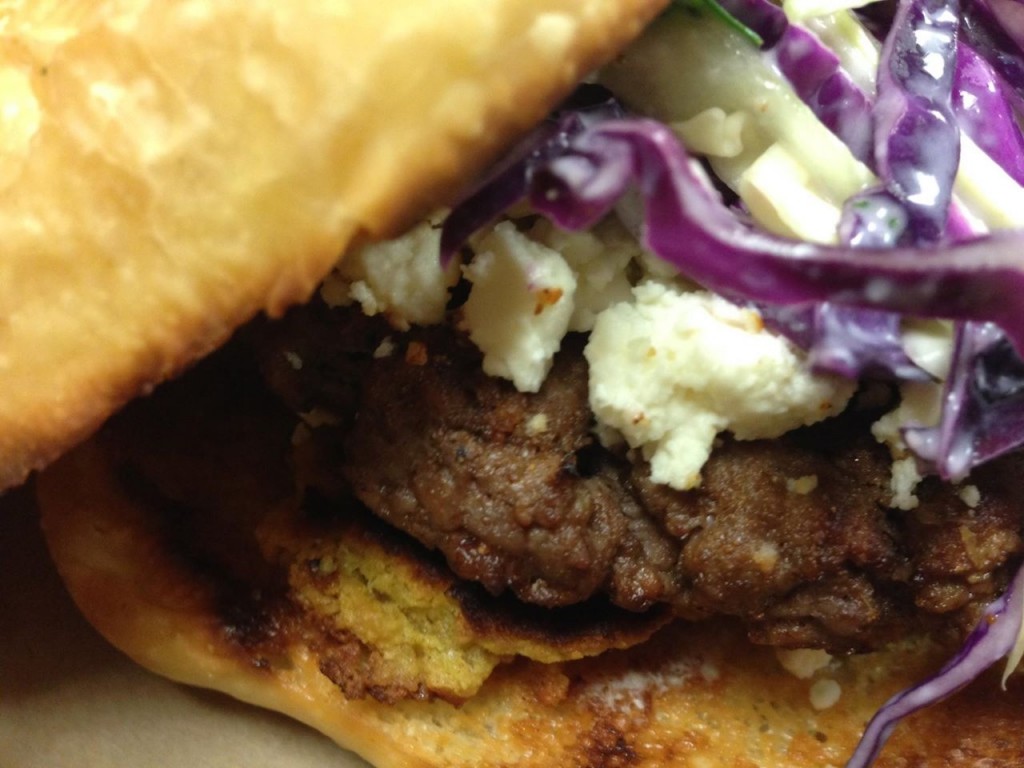 Hops & Pie Artisan Pizzeria and Craft Brew Taproom (Berkeley) – Hops and Pie's Wednesday special is $2 Craft Can Night from 5pm to close. This week's artisan sando: Griddled Western Daughter's beef/pork patty, hummus fritter, tzatziki/cucumber slaw, tomato and feta dressing on house roll!!week's artisan sando: Griddled Western Daughter's beef/pork patty, hummus fritter, tzatziki/cucumber slaw, tomato and feta dressing on house roll!!
Dorchester Social Eatery (LoDo/Union Station) – Dorchester Social Eatery are excited to announce their partnership with Great Divide Brewing Co. for the kickoff of our Dorchester Tap Series! TONIGHT, Great Divide will be bringing in a keg of Heyday Belgian-Style White Ale, which we will be pairing with a tasting plate of Belgian dishes from our menu. For $25, enjoy Belgian mussels, meatballs, frites, and waffles and wash it all down with a glass of Heyday!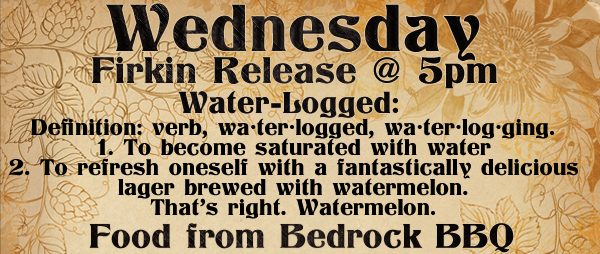 High Hops Brewery (Windsor) – FIRKIN'EH! – For this week's Wednesday firkin, High Hops will host another firkin release. Their firkin this week is named "Water-Logged"; a delicious lager brewed with watermelon.
River North Brewery (Fivepoints/Ballpark) – Can you feel it?!? Fall is coming! So for this week's Wayward Wednesday, they'll dig into the cellar for a beer not seen since winter…How about some River North B-Side Avarice?!? Single keg only, first pours 3p Wednesday!
Copper Kettle Brewing Co (Southeast'est Denver) – August is "Childhood Cereal Cask Month" at Copper Kettle Brewing Co. Each Wednesday, they will tap a special cask of beer that has a unique cereal infusion. This week try out the Apple Cinnamon Cheerios/Apple Jacks ale. This cereal was like apple pie in the morning and inspired an American Blonde base with apple cider from Colorado Cider Company and cinnamon added giving it a sweet and zesty taste! CKrêpes & CKatering will be here at 3pm serving up their yummy and authentic Asian/Hawaiian inspired cuisine!!
Front Range Brewing (Lafayette) – Front Range Brewing Co spend the weekend kegging up some "Evil TED". They took their original TED's Watermelon Ale and blended it with some lambic and added some Brettanomyces for a funky, slightly tart, crisp brew. It goes on tap Wednesday, August 27th.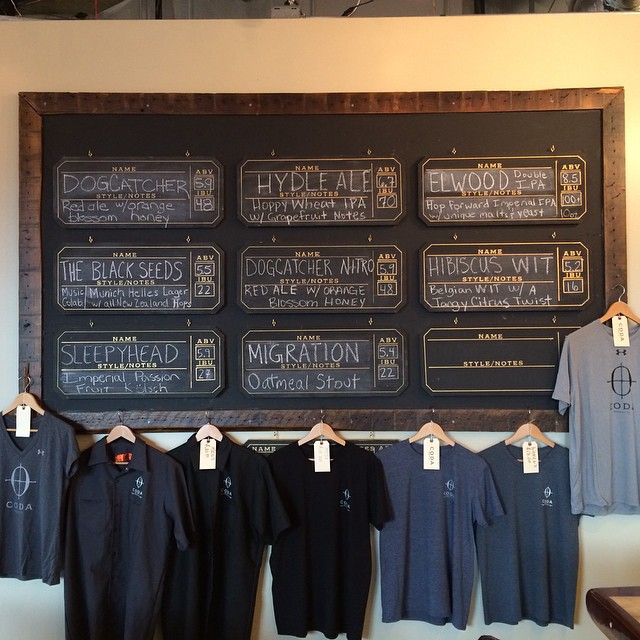 Coda Brewing Co (Aurora) – Fans of their Passionfruit Kolsch can be even more excited about visiting Coda Brewing this week. Their Sleepyhead Imperial Passionfruit Kolsch and their Migration Oatmeal Stout are now back on tap! Stop in and try one or both. They've also got new shirts in stock including under armour, work shirt and regular shirts.
Choice City Butcher & Deli (Fort Collins) – The first kegs of Southern Tier are finally arriving at Choice City Butcher! Pumpking and Warlock will be on tap this Wednesday at 5pm with $1 off beers and $1 specialty sliders. Welcome to Colorado, Southern Tier!
Thursday, August 28
38 State Brewing Co (Littleton) – 38 State State Brewing Co hosts their first ever Hop Picking Party! Cold brews, Thursday Night Football with your Denver Broncos vs the Dallas Cowboys, and help 38 State produce their next great barrel of beer. The Cascade hops that you help pluck will be added into a signature batch of brew that will be entered in the first ever Bines and Brew Fest Competition to be held on September 20. Dig hops but need another reason to stop by 38SBC? How about a pair of GABF tix getting raffled off! A brew gets you a ticket, and a ticket gives you a chance to enjoy some of the best suds at the big dance.
New Belgium Brewing (Ft. Collins) – New Belgium and REI Denver are getting back together at the REI Denver parking lot this Thursday night for New Belgium's The Cycle-In Cinema on Platte. Ride your bike to the event, enjoy some tasty New Belgium beers and watch some fun classic movies. This week's movie is Pee Wee's Big Adventure. Gates open at 7:30pm and the films start at dusk. REI Denver is located at 1416 Platte Street – Denver, CO. Tickets are $8 in advance online, or $10 at the door. Ticket and beer sales proceeds go to Bike Denver!

Denver Bicycle Cafe (Capitol Hill) – TAP TAKEOVER! 6 beers from Fate Brewing Co.!!! Try them all with a $6 flight. Tapping at 7pm. Get shwag too!
Snowbank Brewing Co (Ft. Collins) – One of Ft. Collins' newest breweries wants you to stop in and try their most popular brew to date: their Colorado Red. It's an American-style red ale with notes of ripe pineapple and peach on the nose, ribbon candy and caramelized peaches on the tongue and a sweet tangerine finish. Stats: 7.0% ABV and 45 IBUs. Taproom open today 12pm until 6pm.
Barrels and Bottles Brewery (Golden) – TAP TAKEOVER! – Our 49th state is not only a magnificent wonderland, it's home to award-winning Alaskan Brewing Co.! Barrels & Bottles Brewery is proud to host the fine folks of Alaskan Brewing Co for a Tap Takeover with a great line up of beers. Beers Include: Alaskan Imperial Red Ale (Pilot Series), Jalapeno Imperial IPA (Pilot Series), Alaskan Barley Wine (Pilot Series), Alaskan Amber and Alaskan Smoked Porter. More beers will be added!
Friday, August 29
Dry Dock Brewing Co. (Aurora) – FIRKIN Tapping. Dry Dock offer up another spice and herb firkin this week with their Chocolate Orange Peel Imperial Stout. More info here.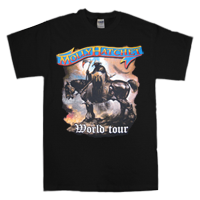 Wonderland Brewing Co (Broomfield) – Wear your classic concert t-shirt this Friday to Wonderland Brewing and get entered into their raffle. WONDERFUL prizes are up for grabs! They'll also have Happy Hour from 3-6pm. Enjoy $2 off pints before The New Classics Band takes the stage! Also, plan to attend their Plum(b) Crazy Sour release party this Saturday (8/30) at 2pm.
Great Divide Brewing Co (Five Points) – If the sun can stay out longer, so can you. They've extended their hours through August so you can make the most of your summer patio beer time. Sun & Mon 12-8pm, Tues-Thur 12-10pm, Fri & Sat 12-11pm. Also, stop in to support bicycle culture this month with 100% of proceeds from beer samples in the taproom being donated to charity. This month's charities are: Bike Denver, Bike Depot, and Bicycle Racing Association of Colorado.

Denver's Last Call Lots (LoDo/Downtown) – Headed to have some drinks this weekend for the Labor Day weekend? Increased DUI enforcement is on, so don't even take the chance! Park and let CDOT take you home and back to your car the next morning.Here's how it works: 1 – Park for FREE overnight in a secure LoDo parking lot 2 – Receive a Lyft voucher to get home and then back to the parking lot the next morning by 10 a.m. 3 – Receive a discounted brunch on Saturday at Hi*Rise or The Lobby 4 – Have a great night out and avoid a DUI by joining in Last Call Lots! Arrive anytime after 6 p.m. – 30 parking spots are available, and it's first come, first served. Your car will be locked up and protected by security guards until the next morning. Pick up your car no later than 10 a.m. So forget your ride, never risk a DUI and go chase the night of your life! #LastCallLots
Saturday, August 30
Hops & Pie (Berkely) – Noon-5pm – 2 slices of the day + 3 drafts = $16 per person no exceptions please. This is a steal! Don't go telling EVERYONE, okay?!
Freshcraft (LoDo/Union Station)- Stop in this Saturday, August 30th for Freshcraft's 4th Birthday celebration. Join them at 11am and help them celebrate their 4 year Anniversary!! With their kitchen cooking up some amazing BBQ, along with some special beers on draft, this should be a great day. On tap will be: Dry Dock Brewing Company Sour Apricot Blonde Stone Brewing 18th Anniversary The Bruery Sucré (sixth anniversary) Avery Brewing Company Double Dry-Hopped Twenty-One Grimm Brothers 4th Anniversary Upslope Brewing Company Barrel Aged Brown and many more!!!
City Star Brewing (Berthoud) – The 13th annual Bums of Berthoud (BOB) community BBQ is this Saturday 8/30 in Berthoud's Fickel Park 2-7pm, complete with free barbecue, silent and live auctions, music by "The Bumkins", kids activities and more. Each year the BOB's host a FREE barbecue and fundraiser to benefit a local family in need. This year's recipient is Nevaeh Stanford… 100% off all funds raised will go to her family. To coincide with the Bums of Berthoud BBQ, City Star will donate $1/beer sold all day Saturday in the taproom to Nevaeh Stanford's family.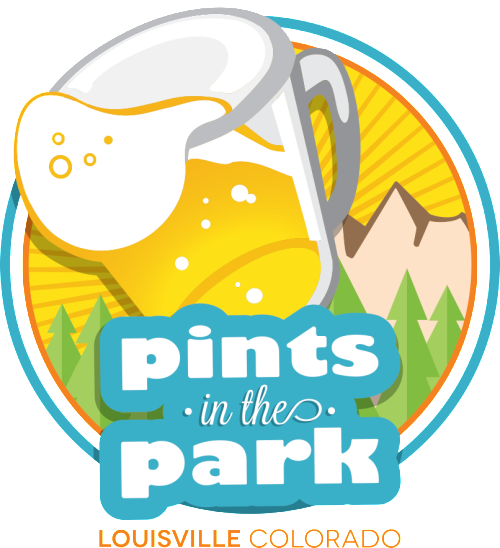 Pints in the Park (Louisville) – 12pm-4pm – Come enjoy a leisurely afternoon in the park in Louisville, Colorado. There will be 16 local breweries pouring beers for your enjoyment. There will also be several restaurants and food trucks on site. The idea for this event is to highlight local businesses and have something that brings adults together to have fun. This is a 21+ event only. Breweries include: Gravity Brewing, 12 Degree Brewing, Crystal Springs Brewing, Odell Brewing, Oskar Blues, Fate Brewing, The Post Brewing, Odd13 Brewing, 300 Suns Brewing, The Old Mine Cidery & Brewpub, Industrial Revolution Brewing, West Flanders Brewing, Upslope Brewing, Front Range Brewing, Boulder Beer, and Liquid Mechanics Brewing. Website: www.pintsintheparkco.com.
Sunday, August 31
Hops & Pie (Berkeley) – For a yearly $60 bucks, you get anytime happy hour; which equates to $1 off our craft drafts, slices of the day & 10" pies, whenever you come in. Every Sunday we open an hour early just for you! And you get your 3rd draft free!!! On the 2nd Sunday of each month, we treat you to 50 cent select drafts.
American Homebrewer Association (Boulder) – Want to win a pair of tickets to the Great American Beer Festival this October? How to enter the contest: Entering is as easy as being an AHA member! Here are the details: Join the AHA or renew your membership between August 1 – August 31, use coupon code 'GABF14' when checking out to enter into the random drawing, AHA Lifetime Members are automatically entered. Find out more about the contest here.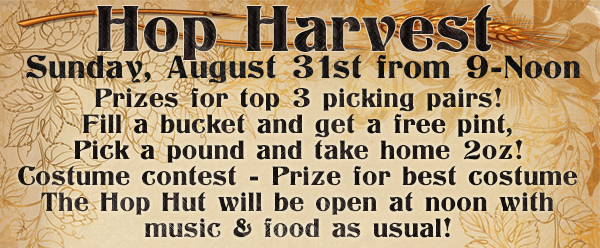 High Hops Brewery (Windsor) – This Sunday, August 31st from 9am to Noon is High Hop's annual Hop Harvest Party! The brewery will give out prizes for the top 3 picking pairs. Fill a bucket and get a free pint. Pick a pound and take home 2oz of hops for yourself. There's also a Costume Contest. Dress in your favorite hop picking costume and get a chance to win best costume and a prize. The Hop Hut will be open at noon with music and food as usual. Lone Tree Brewing Company (Lone Tree) – It's Growler Monday where you'll save between $1 to $3 on LTBC growler refills depending on size. Getting a deal on a Monday makes that 'case-of' just a little bit easier.
Monday, September 1
Left Hand Brewing (Longmont) – Left Hand is strengthening its commitment to the United Kingdom. This September, the Colorado-based brewery will expand supply across the UK with distribution partner James Clay. In addition, Left Hand has established its first onsite, international brewery rep, Sharona Selby, to represent the brand in the UK market.
Federal Bar & Grill (Jefferson Park) – Monday night Beer Club tonight at Fed Bar & Grill! They have select craft pints for $3 from 6pm-11pm for Beer Club members. Sign up is free.
Tuesday, September 2
Hops & Pie (Berkeley) – Tuesday night 23! Every Tuesday, snag one 18" 2-topping pizza + 2 drafts = $23 from 5pm-close.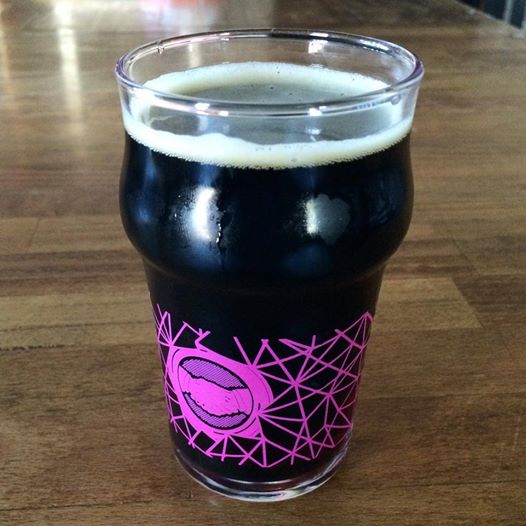 Our Mutual Friend Malt & Brew (Five Points) – Keep the Glass #12! Every Tuesday for $10 you get an artist series glass (10oz) and three fills (under 8% abv). Every month (or while supplies last), Our Mutual Friend will feature a new artist. Support local art and local suds!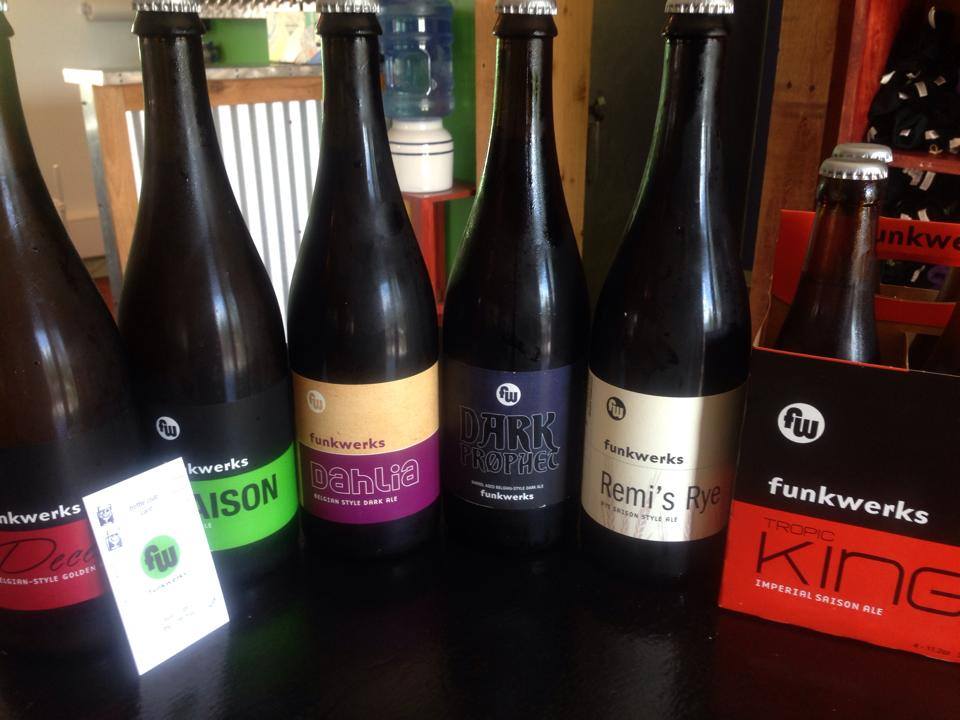 Funkwerks (Ft. Collins) – Today is Double Stamp Tuesday! And their cooler is full of yummy beer. Plus Saison 4-packs! You can receive a stamp (or two on Tuesdays) for a 4-pack, but you can only redeem a full stamp card for a 750ml bottle.
Odyssey Beerwerks (East Arvada) – Get a FREE BEER every Tuesday from Odyssey Beerwerks when you buy a growler fill. Offer good all day on Tuesdays. Also enjoy Happy Hour 3pm to 5pm.
Future Events
Sept 5th – Save the Ales 2014: Our Air. Our Water. Our Beer. At Exdo Event Center (Denver). Tickets here.
Sept 5th – 6th Annual Fall Harvest Brewfest (Fort Collins). Tickets here.
Sept 6th – Ska Brewing's 19th Anniversary (Durango) with The Skatalites. Tickets here. **UPDATE: TICKETS ARE SOLD OUT!!**
Sept 6th – Tour De Fat (Denver) at City Park. Tickets here. 10am – 4pm.
Sept 27th – Falling Rock Fresh Hop Festival at Falling Rock Tap House (Denver) – Tickets here.
Oct 3rd – 2014 Beers Made By Walking Festival at Wynkoop Brewing (Denver). Ticket Sales start on Sept 3rd.
That's a wrap for this week's Denver Beer Beat.  Cheers to ye and may eternity find us in as good company as this! Stay Thirsty and Keep Denver Beer'd! Did we miss any events in this week's? Let us know.