One Comment
Event Preview | Beers Made By Walking Festival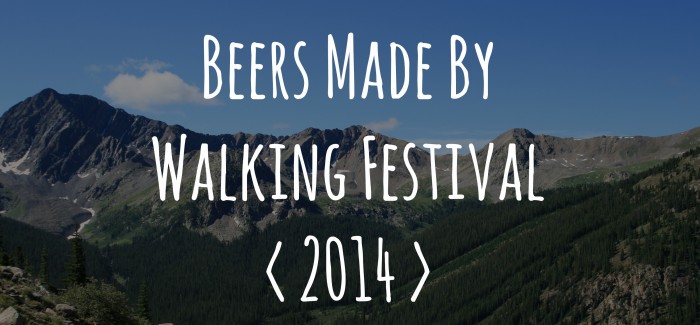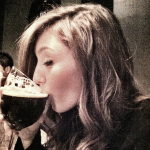 This week, folks from across the country will flock to Denver, Colorado for the Great American Beer Festival. While here, they'll partake in one of the greatest events our city hosts, undoubtedly stumbling upon beautiful architecture, delicious food, and incredible people during their stay.
Fall in Colorado is host to indescribable mountain beauty, and what a shame it is that GABF visitors might only catch a glimpse of the changing Aspen trees from an airplane flying in. If you can't make it to the great outdoors this week, bring the great outdoors to you at the Beers Made By Walking Festival October 3rd at Wynkoop Brewing Company.
In it's fourth year, Beers Made By Walking has challenged local brewers to visit Colorado's most magnificent scenery and create beers inspired the landscapes, plants and communities they find. The event will feature 30 place-based brews, 20+ of which were created specifically for this event.
For $40, attendees will receive commemorative festival glassware, as well as unlimited tastings of the beers until they disappear! Get your taste of the Colorado outdoors on October 3rd from 12:00 – 4:00 p.m. at Wynkoop Brewing Company, located at 1634 18th Street, Denver, CO 80202. Check out the list of breweries and place-inspired beers below!
The event is sponsored by Walk2Connect and Wynkoop Brewing Company. Half of the proceeds raised will support the Cottonwood Institute in Denver, Colorado.

Breweries & Pour List
Aspen – Lady Bug IPA
We took wort from our Independence Pass Ale mash and reworked our hops additions to use wild hops from the Rio Grande Trail in Aspen.
Bonfire – Bushwhacker Sagebrush Juniper Blonde
An ode to the high desert, sagebrush and juniper flavor reign supreme supported by a malty backbone. This beer is inspired by the Boneyard mountain biking trail in Eagle.
Boulder Beer – Spikeberry Saison
This beer features dried elderberries, yarrow flower, prickly pear syrup and home grown hops. We chose these ingredients because these plants were seen on our hike at the National Center for Atmospheric Research.
Breckenridge – High Mountain Harvest
A wet hopped Belgian Double IPA aged on wild raspberries gathered along Montgomery Reservoir.
CooperSmith's – Chokecherry Gose
A Gose, old-German style wheat beer with salt and lactic acid, turned deep purple from the addition of chokecherry. This beer is inspired by a hike to Grey Rock in Roosevelt National Forest.
Copper Kettle – Horehound Chocolate Stout
Chocolate Stout made with Hershey's syrup and Horehound, a plant from the mint family found in Colorado. This beer is inspired by a hike on Mt. Galbraith in Golden, CO.
Crazy Mountain – TBA
Brewed with Pale Ale wort, with fir needles instead of flavoring and aroma hops. The beer is inspired by a hike along West Lake Creek Road in Edwards, CO.
Crooked Stave – TBA
Dad & Dude's – TBA
Elevation Beer Co – Porcini Mushroom Ale
Pale Ale with wild Porcini Mushrooms added post-fermentation, inspired by a hike at Marshall Pass and Waterdogs Lake.
FATE – WILD Flower Honey Wheat
The same great honey-wheat beer we brought to BMBW last year, inspired by a hike in Boulder's Chautauqua Park. It has been aged with Brettanomyces in oak for a full year.
Former Future – Golden Feather Batch II
Inspired by a stroll in Platte Park, we added peaches, lavender, and our house yeast "Johnny Appleseed," which was propagated from a neighborhood apple tree. The beer was aged in a sherry cask.
Fossil – Hair of the Hound
Saison brewed with organic sage and horehound based on a hike in Red Rock Canyon.
Fremont – Brother Imperial IPA with Spruce Tips & Elderflowers
A big, bold Northwest Imperial IPA with spruce tips that round out the piney hop character and elderflowers which impart a subtle floral accent based off a hike in Discover Park in Seattle, Washington.
Horse & Dragon – Perambulation Ale
Amber ale with gin-like characteristics from Juniper and Cedar, inspired by a walk at The Gardens at Spring Creek in Fort Collins, CO as well as other perambulations around the state.
Odell – Colorado State Tree Stout
This BMBW Stout has a spruce almost maple flavor derived from spruce tips I (brewer Johnny Benson) cut from my Family property near Horsetooth Reservoir in northern Colorado.
Oskar Blues – Pollen Buzz
Inspired by a hike on Rabbit Mountain, Pollen Buzz is a honey lager made with orange blossom honey and Tettnang hops.
Paradox Beer Co – Osa Frambuesa
Brown ale, sour mash, with our house Brett strain and souring bacterias. Raspberries were added during secondary fermentation. The beer was inspired by a hike in the Pike National Forest, near Signal Butte.
Pateros Creek – Hike to the Falls Stout
Creamy milk stout enhanced by mountain sage and juniper berries inspired by a hike to Horsetooth Falls.
Riff Raff – Spruce Juice
Colonial style ale brewed with the new growth from Spruce trees, inspired by trails in the surrounding San Juan Mountains.
Station 26 – Prickly Pear and Yarrow Cream Ale
Cream Ale brewed with Colorado grown and malted barley, Colorado grown hops, prickly pear and yarrow, inspired by a 3 mile walk from the brewery to Bluff Lake Nature Center in Denver.
Strange Craft Beer- Choke Cherry Trail Beer
Cream Ale finished on chokecherries that were harvested off-trail on South Table Mesa overlooking the Coors Brewery in Golden, CO.
Trinity – Farmhouse Red
Crafted in the spirit of wild harvest. Featuring a feral brettanomyces strain, aged on rhubarb and wild Colorado chokecherries, this beer was inspired by a hike in Cheyenne Canon, Colorado Springs.
Trinity – Mr. Saison
Inspired by native ingredients found on the Catamount Trail in Green Mountain Falls, CO. We used amaranth, mustard seed, rose hips and lemongrass in this Saison.
TRVE – Wild One
A pale beer fermented in white wine barrels with two wild yeast strains cultured from the skins of fruit. The beer was aged on Palisade peaches and sage. This beer was inspired by a hike to Hanging Lake.
West Flanders – Post Apocalyptic Foraged Choke Cherry Farmhouse Ale
We hiked along South Boulder Creek which flooded last year leaving behind a lot of uprooted trees and debris along the creek. The heavy moisture last year set up an abundance of fruit, including chokecherry.
Wild Woods – Roasted Root Amber Ale
Inspired by a walk in the Boulder foothills, we roasted both Chicory and Burdock roots and added them to both the boil and secondary fermentation.
Wit's End – Six Pistils
A fashionably anarchic take on an English Pale Ale, this beer was inspired by a walk in the Pike National Forest. It is brewed with sagebrush, thyme, lavender, anise hyssop and wild bergamot for aroma and bitterness.
Wit's End – Killer Rabbit
Falling somewhere between a Belgian blond and a saison, Killer Rabbit comes from a walk along our neighboring South Platte River Trail where an abundance of Rabbitbrush lines the trail.
Wynkoop Brewing – The Denver Pacific
Lightly smoked milk stout aged on American oak.
Indigenous Beer Category
Fonta Flora – Salted Sunflower Saison
Salted Sunflower Saison brewed with local barley, wheat and rye from Riverbend Malt House of Asheville, North Carolina and sunflowers from Bluebird farm of Morganton, North Carolina.
Fullsteam – Stinging Nettle Saison
An earthy and spicy saison brewed with foraged stinging nettle from the NC mountains and Santiam hops. 5% ABV.
Fullsteam – Paw Paw
Hoppy Belgian Ale brewed with Belma and Jarrylo hops and North Carolina paw paw fruit.
Fullsteam – 2014 First Frost
Our first foraged beer and a Fullsteam tradition, we brew this Belgian Winter Warmer with foraged native persimmon (Diospyros Virginiana) and farmed Fuyu and Hachiya persimmons.
Fullsteam – Tree-to-Sea Gose
A food-friendly, balanced Gose with six indigenous ingredients from the mountains to the sea: North Carolina spruce pine, hops, wheat, barley, coriander, and Outer Banks sea salt.
Ladyface – Trébuchet
Golden Farmhouse ale with local wildflower honey from Bennett's Honey Farm, Fillmore, CA, and locally-grown Sauvignon Blanc grapes & aged in a barrel from Semler's Malibu Family Wines' Estate.
Scratch – 105
Saison brewed with 105 different plants and fungi found around our property.
Scratch – Black Trumpet Milk Stout
Milk stout brewed with black trumpet mushrooms.
Scratch – Wild Carrot Seed Ale
Amber ale brewed with wild carrot seed (a.k.a. Queen Anne's Lace) root and seeds.
Scratch – File' Saison
Saison brewed with dried sassafras leaves.
Scratch – Cascade Sumac Saison
Saison brewed with Cascade hops from our property and sumac found 6 miles from our brewery.
Wicked Weed – Terra Locale: Hipster Nouveau
A collaboration with Fonta Flora Brewing. Inspired by visits to local farms, it was fermented with Saison yeast and Brettanomyces and transferred onto 75 lbs of fresh, local Rhubarb.