No Comments
The Final Four of Beer Styles | PorchDrinking Staff Picks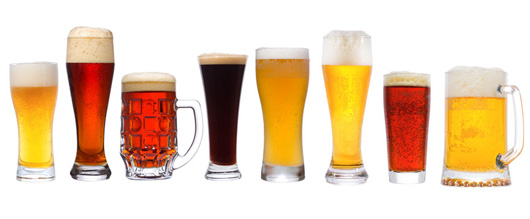 The calendar says April, but for millions of sports fans it's still March Madness. The 68 teams that qualified for the tournament have been reduced to the Final Four, who will battle in Indianapolis on Saturday. Will you be drinking a beer while watching the game? If so, what beer? Let's be honest, picking which beer to enjoy can sometimes be tough. That got us thinking: If a there was a beer style competition, what styles would make the Final Four of Beer Styles? Our staff provided their picks — what are yours?
Mathew "BBA" Powers
Okay writers, let me ask you a question. If you held a beer style competition, what beer styles would make your final four? Think about it — and have fun! 
Aaron MJ Gore 
Oooooooooooooh. I tend to be pretty into styles with a good balance between hops and malt, so for me:
American Pale Ale
Strong Bitter
Czech Pilsner
Schwarzbier
Brea Reimer-Baum 
Nice!!
Pilsner
Oatmeal Stout
Fruited Sour
Märzen
Tristan Chan
I really dig this prompt:
Pilsner
Barrel-Aged Stout
Bretted Table Beer
West Coast IPA
Brandon Cohran 
Echoing on this one: West Coast IPA
Adjunct Stout (pastry/BA)
Helles Lager
American Pale Ale
Katie Camlin 
I love this!!! Mine would be:
Quadruple
Pilsner
Barrel-Aged Stout
American IPA
Mathew "BBA" Powers
I suppose I should give my answer, too. This will be tough. Okay, here goes:
American Pale Ale
Belgian Wit
BBA (duh) – Stout
Märzen
Elijah Rivera 
This is near impossible for me, but I'd probably go with representation from four of the world's great brewing traditions.
German: Helles
Belgian: Gueuze
British: Oatmeal Stout
American: Red IPA
Kindsey Bernhard 
West Coast IPA
American Wheat Ale
Pilsner
Schwarzbier
Eric Griffin 
Bourbon Barrel Aged Stout
Barleywine (also prefer BBA *smile*)
Belgian Quad
American Wild Ale
Honorable Mentions:
Helles-style lager
Gueuze Lambic
Nathan Jahns 
West Coast IPA
NE IPA
Brut IPA
Triple IPA
I think I have an IPA problem… *laughing*
Seth Garland
Dunkel
Imperial IPA
BBA Stout
Spicy Pepper Beer (whatever I don't care if it's an official category or not)
Dan Renfro 
Hazy Pale Ale (IPA/PA Region)
Milk Stout (Dark Beer Region)
Fruited Sour (Flavor Bomb Region)
Altbier (Wish I Saw it More Region)
Jason Ley 
Double (West Coast) IPA
Lambic
BBA Stout
American Barleywine (don't hate)
David Nilsen 
Brutal, and could easily change:
Vienna Lager
White IPA
Adjunct Stouts
Belgian Pale Ale
Scott Johnson
Pilsner (Czech)
American Pale Ale
Strong Belgian Dark Ale
Barrel Aged Imperial Stout
Karl Kalinkewicz
Gueuze
Fruited Lambic
Double IPA
BA Barleywine.
I'm hoping Pastry Stout is upset in the first round by a 15-seeded Kellerbier
Karen Mills
Pilsner
West Coast IPA
Lambic
Helles
Emma Wargolet
Saison
Sour IPA
NEIPA
American Wild Ale
Ken, Better on Draft
Altbier
English Style Brown
Dubbel
English Mild
Jessica Spengler
West coast IPA
Black Lager
Kölsch
Irish Red
Jason Murphy 
Pilsner
DIPA
BA Stout
Imperial Sour
Jereme Zimmerman 
Mostly obscure and not so obscure farmhouse / historical styles…
Saison
Bière de Garde
Rauchbier
Sahti
Abby Schmeling
West Coast IPA
Mexican-Style Lager
Gose
German-Style Pilsner
Scott Grossman
Loving all the responses!
Helles
Saison
Jalapeño Beer (I'm with Seth on that one!)
Bock
View this post on Instagram
---