2017 Beer Release Calendar
January 18, 2017 | Tristan Chan 3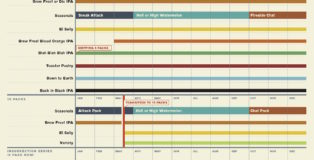 Avg. Reading Time:
4
min
*Updated 3/20/2017: Elevation Beer Co*
*Updated 1/31/2017: Around the Bend Beer Co., Tennessee Brew Works*
*Updated 1/27/2017: Stone Brewing*
*Updated 1/26/2017: Mountain Town Brewing, Oskar Blues Brewery, Pelican Brewing, Southern Tier*
*Updated 1/22/2017: Breckenridge Brewing, Boulder Beer, Bur Oak Brewing, Cascade Brewing, Foothills Brewing, Second Self, The Bruery, Victory Brewing*
*Updated 1/19/2017: Bronx Brewery, Funkwerks, Santa Fe Brewing, Virtue Cider*
For the past two years we've helped compile a round up of beer release calendars featuring some of your favorite breweries from around the country. It was another massive year for American beer as we've now crested over 5000 active breweries in the US and believe it or not, 2017 is shaping up to be even bigger. To help get you excited about the new brews coming out in 2017, we bring you the 2017 Beer Release Calendar round up.
Please keep in mind that these are merely a framework for anticipated releases. All dates and beers are subject to change. Breweries often end up producing these as a framework for their yearly production schedule, but will often adapt accordingly throughout the year.