#AtG Archives – PorchDrinking.com
October 8, 2021 | Kindsey Bernhard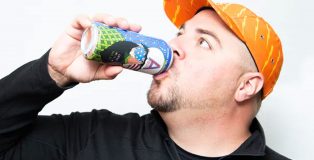 Against the Grain Brewery opened its doors in 2011 as Louisville's first brewer-owned and operated brewery. And over the past ten years, Against the Grain has grown to four locations and a production facility. From the beginning of the Smokehouse in 2011 to opening the Public House in 2019, ATG has made a name for itself as a brewpub. However, this past year ATG decided to dabble into something more than beer and opened their first music venue, the Flamingo Lounge. ATG went back to its roots, and most recently, opened the ATG Sandwich Emporium which sits above the Flamingo Lounge in downtown Louisville.
March 10, 2014 | Bob McGurgan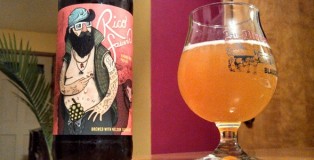 Against the Grain Rico Sauvin
ABV: 7.6%
I passed a lone bottle of Against the Grain's Rico Sauvin IPA at Party Mart in Louisville, Ky. And then I stopped. And then I picked up the bottle. The gentleman on the wrapper peered suggestively at me. I registered vague surprise that the bottle wasn't sticky.
I mean… look at that dude. He is so skanky. The pimply nose… the hop cone mustache… the tickled nipple. He stares into the skanky part of your soul. Then again, I think he reflects the beer-drinking facet that I love the most: skanky soul-searching. Preferably at 1AM+. I carried the bottle to the counter.