Lincoln Park Zoo Archives – PorchDrinking.com
June 25, 2019 | Paul Lewis 1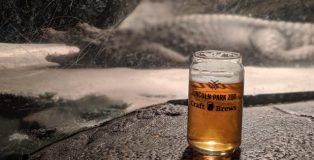 A Saturday filled with thunderstorms and unseasonably cold weather did not stop a large crowd of craft beer enthusiasts from descending upon Chicago's Lincoln Park Zoo after hours to enjoy the annual Crafts Brews at the Zoo.
The event featured several local Chicagoland breweries including a select few from across the country and beyond. VIP ticket holders were welcomed with a half hour-early admission complete with access to a light appetizer bar and special tappings from Pollyanna Brewing (including a thick, delicious Malted Milk Ball Pastry Stout). As we've come to expect from a Lou Dog Events! festival, the event was very well organized with brewery pouring stations located throughout the park, embedded into many of the zoo's animal exhibits. This allowed ample space to move around, see some animals and sample some great beer.
The weather kept a few of the animals indoors, but festival attendees had the opportunity to see an eastern black rhinoceros, Japanese Macaque and, of course… penguins! In addition to entertainment, we had some great beers being poured from breweries both local and beyond.