#PinkBootsChicago Archives – PorchDrinking.com
April 12, 2019 | Mathew Powers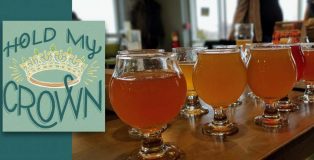 The Women of Suburban Chicago, who took part in the Pink Boots Live Brew Day at Skeleton Key Brewing for International Women's Day in March, had one thing in mind: make good beer. The brewers and brewery professionals, who happened to be women, came together to do what all beer fans love: transform yeast, malt, hops and water into a wonderful, fermented beverage. As a byproduct of brewing in the Pink Boots' event, the women did accomplish one extra item: they demonstrated (again) that brewing prowess has zero to do with gender. Any doubt that women can brew was immediately stripped away when patrons enjoyed the nine varieties (of the 10 made) of Hold My Crown Rustic Lithuanian Pale Ale, released April 5 at Iron & Glass bottle shop. From base beer to Kombucha, the variants proved to not only be delicious, but a geeky exploration of flavor combinations.
March 8, 2019 | Mathew Powers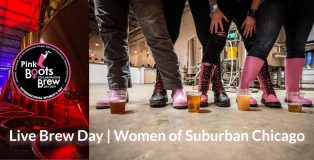 The Pink Boots Society's "Live Brew Day: Women of Suburban Craft Beer Collab" event at Skeleton Key Brewing (Suburban Chicago) focused on one principal goal — make great beer.
Certainly, Pink Boots Society events present a bonding opportunity for women of the industry, while simultaneously fostering awareness of their contributions. Nevertheless, from the presence of Omega Yeast Labs to the many brewers and industry women present, the event made it abundantly clear that crafting excellent beer served as priority #1. And, in doing so, demonstrated how possession of a Y-chromosome has nothing to do with becoming a skilled, imaginative beer professional.